By Magui Rubalcava Shulman, Founder & President
As 2018 gets fully underway, we at Borealis are both looking ahead and reflecting on the past year—where we have been, where we are, and where we are going.
2017 was a time of growth and change for us—we launched two new funds, added 10 new staff members, and expanded grantmaking in our existing funds.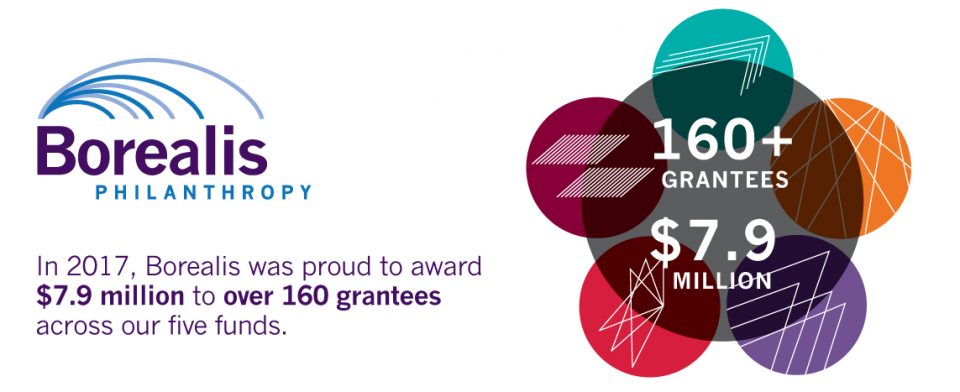 We have been honored and humbled to support organizations and movements who are protecting and building power for the most vulnerable among us.
Here's a snapshot of what our funds accomplished in 2017:
Our inaugural fund, the Transforming Movements Fund (TMF), awarded grants to 32 organizations for a total of  $1.35 million. The TMF doubled the number of donors from 3 to 6, adding additional perspectives on criminalization and gender justice to the donor table.

The TMF also offered dedicated funding and coaching for leadership and organizational development, providing support that helps grantees strengthen their own individual and organizational abilities to work towards their missions. Read about the TMF's December 2017 grantees. 
In 2018, the TMF looks forward to offering holistic safety and security assistance to its grantees, and sharing the story of the fund's impact.
The Black Led Movement Fund (BLMF) awarded $1.26 million to 32 organizations, providing resources and support for the Movement for Black Lives (M4BL). Grantees received funding for organizational development, were connected to coaches and trainers, and came together for an in-person convening to share learning and develop strategies.

The BLMF looks forward to renewing grants in 2018 and continuing to be a source of support and space for information gathering for the M4BL. Read more about BLMF. 
The Fund for Trans Generations (FTG) announced its inaugural grantees in 2017 and awarded $1.33 million to 85 grantee organizations. The FTG prioritizes funding groups that incorporate a racial justice lens in their work for a future where trans people live with freedom, safety, self-determination, and participation in public and social institutions. In 2017, the FTG also created an advisory committee comprised of trans and gender non-conforming leaders to offer feedback and guidance on the fund's grantmaking.

In 2018, FTG will continue to strengthen its capacity building program for grantees, and prioritize grants for organizations with smaller budgets. Read more about FTG's second round of grantees.
In 2017, the Immigration Litigation Fund (ILF) launched and in its first year awarded close to $2.50 million to 39 grantees. The ILF supports litigation efforts that seek to challenge or change immigration enforcement policies and practices that are inhumane, harmful, or unconstitutional.

The ILF looks forward to continuing its grantmaking in support of impact litigation efforts challenging immigration enforcement policies and practices that are inhumane and unconstitutional.  In 2018, Borealis will also expand its immigration related grantmaking to include support for work combatting the criminal prosecution of migrants and immigration enforcement efforts targeting women and children. Read more about ILF. 
In 2017, Borealis launched the Communities Transforming Policing Fund (CTPF), awarding $1.44 million to 10 grantees. In additional to project support grants, the CTPF provides grantees with organizational development grants and coaching. The fund supports grassroots organizing efforts to reform policing and ensure law enforcement is transparent and accountable to the communities they serve.

In its second year, the CTPF will launch its second cohort of grantees and also begin rapid response grantmaking to support communities of color dealing with police crises. Read more about CTPF. 
Stay tuned for more information about what our funds are up to, and read about what's ahead for Borealis Philanthropy in 2018.