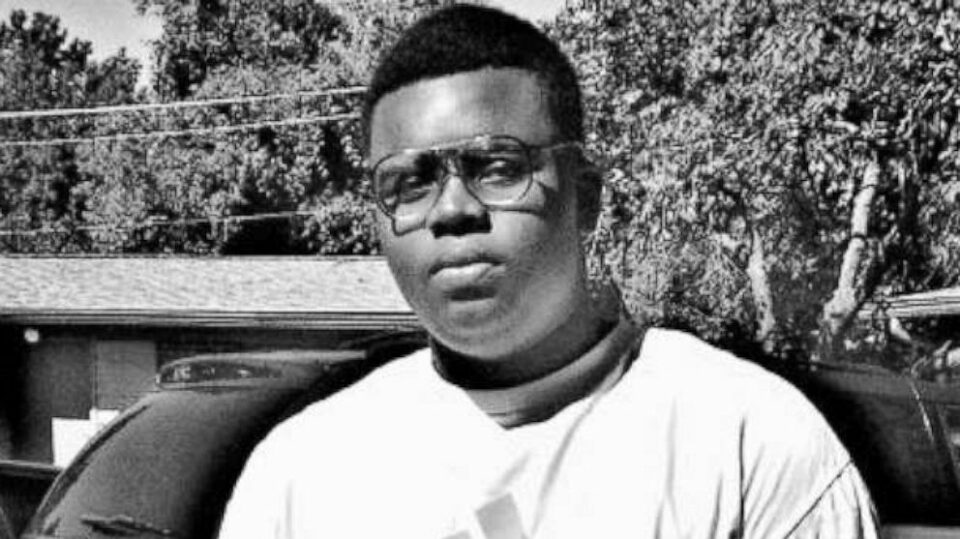 A photo of Micheal Brown posted to Facebook in 2013. (Source: abcnews.com; Photo courtesy of Brown Family from Facebook)
Today marks eight years since the 2014 police killing of Michael "Mike" Brown Jr., an unarmed Black teenager, in his hometown of Ferguson, Missouri.
For many folks, Mike's killing was an entrypoint into the Black Lives Matter movement and the work of Black liberation. Sadly, in death, Mike became yet another social icon reminding us of law enforcement's continued disregard of Black life and fractured relationship with Black people.
Today, we are reflecting on the brief yet resonant life of Mike Brown, as well as the impact of the Ferguson Uprisings on community organizers, and lessons we in philanthropy can apply to our work in supporting safety for and in Black communities.
Remembering "Big Mike"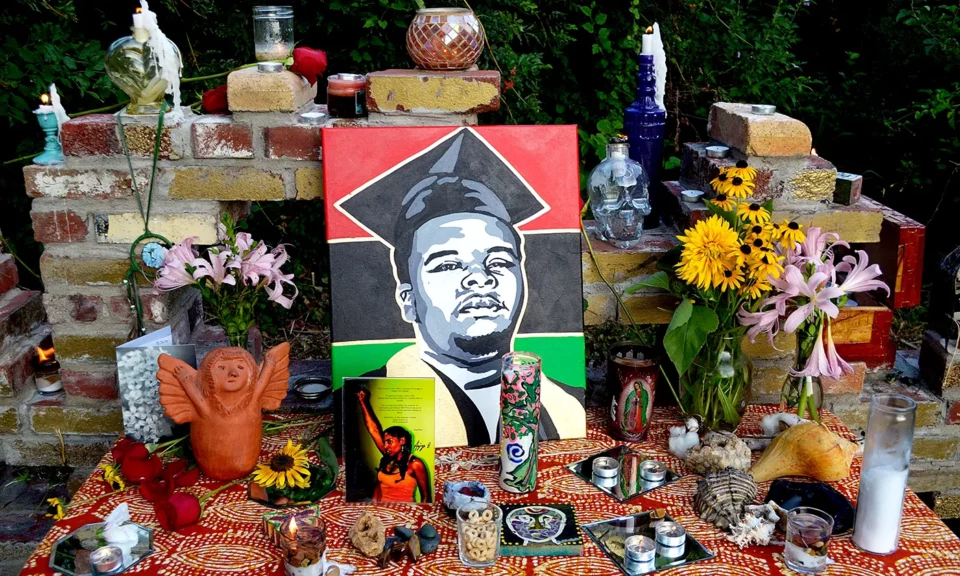 Liberation altar created in honor of Micheal Brown Jr. by the Artivists STL artist collective. (Source: yesmagazine.org; Photo by Harry Wadlington)
To his family, close friends, and neighbors, Michael was affectionately known as "Big Mike."
He was a charismatic, good-natured teenager who had recently graduated from high school and was just days away from attending Vatterott College. His true passion, however, was music, and Mike hoped to one day pursue a career as a producing engineer.
He was also a cherished son, a loving brother, and a supportive friend to many in Ferguson. Folks in his community fondly remember his cheerful disposition and positive attitude, and willingness to always pass a smile to those around him.
Calls for Justice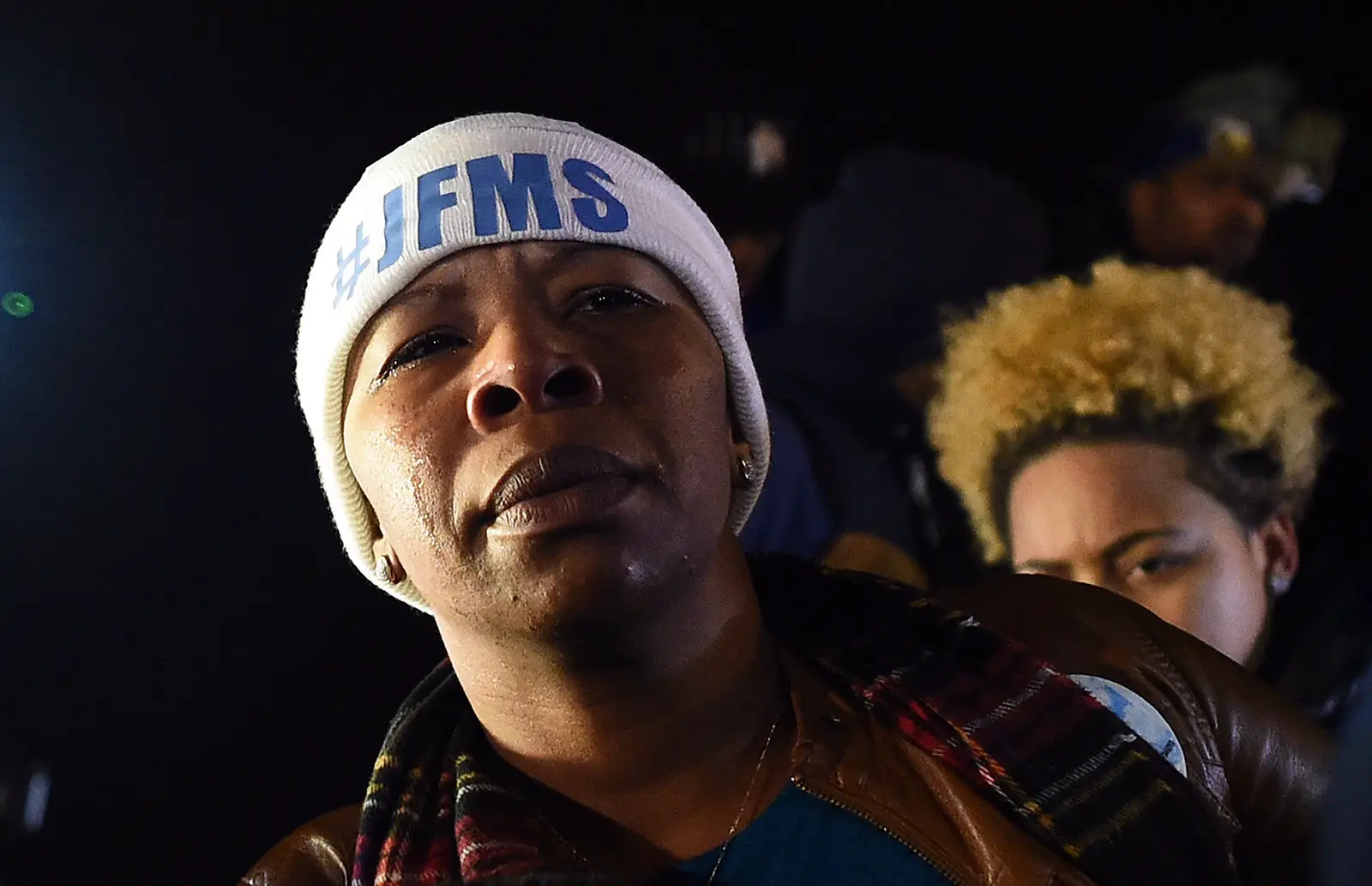 Michael Brown Jr.'s mother, Leslie McSpadden, cries outside the Ferguson police department after hearing of the grand jury's decision. (Source: buzzfeednews.com; Photo by JEWEL SAMAD/AFP / Getty Images)
Now all that's left for Mike's family is sweet memories of his young life—and the continued fight for justice. In 2021, Mike's mother, Lesley McSpadden-Head, shared her frustrations with the Washington Post:
"I need to see equality; I need to see the officers who have chosen to be in the profession, who have chosen to wear the badge and have chosen to serve and protect be held accountable. We weren't given a choice. I didn't choose for my son to die. I didn't choose to become a mother of the movement. I didn't choose to become a civil rights activist."
To this day, Darren Wilson, the officer who killed Mike Brown has not been held accountable for Mike's death. Still, his family continues to advocate for reopening the case. And in his hometown of Ferguson, MO, several foundations have been created in his honor—working with the youth to increase awareness of social justice issues affecting their communities and what they can do to take an active role in seeking change.
From Police Accountability to Community Safety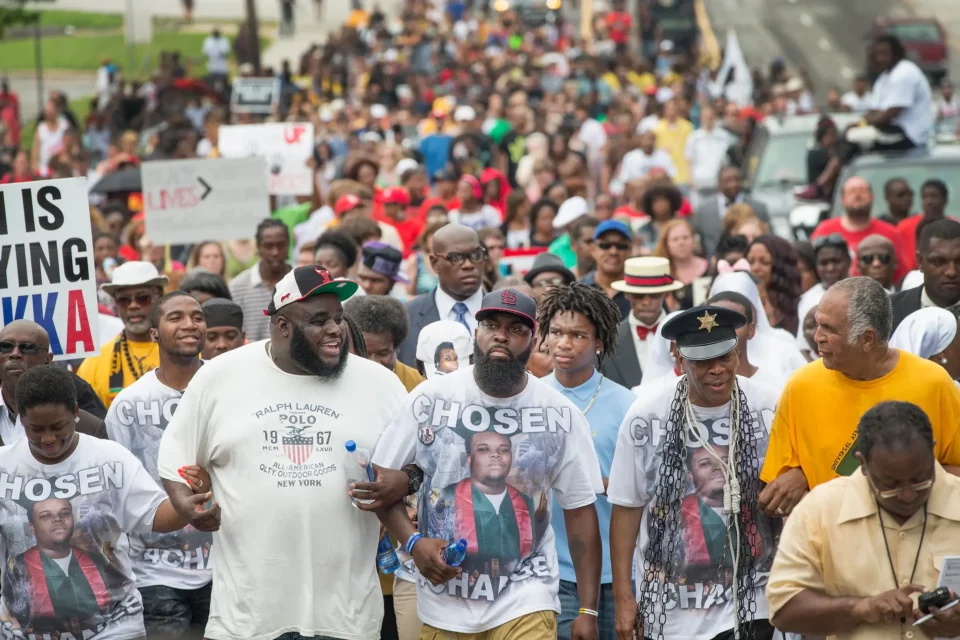 Michael Brown Sr. (front-center) leads a memorial march for his son Michael Brown Jr. on the one year anniversary of his death. (Source: insider.com; Photo by Scott Olson/Getty Images)
Since Mike's murder, countless lives have been tragically lost as a result of police violence, which still disproportionately impacts Black communities.
However, from the Ferguson Uprisings to today, we continue to witness pivotal shifts in how community organizers are responding to police violence and the need for community safety.
"Our grantees have learned a lot, and the number of folks that are mobilizing around ending police violence and trying to build a world that is safe for all has really expanded," shares Jeree Thomas, Director of Borealis' Communities Transforming Policing Fund. "We've seen a sharpening of analysis and so much more political education around what abolition means and what it means to shift resources and power away from policing, incarceration, and punishment to communities and more proactive safety strategies."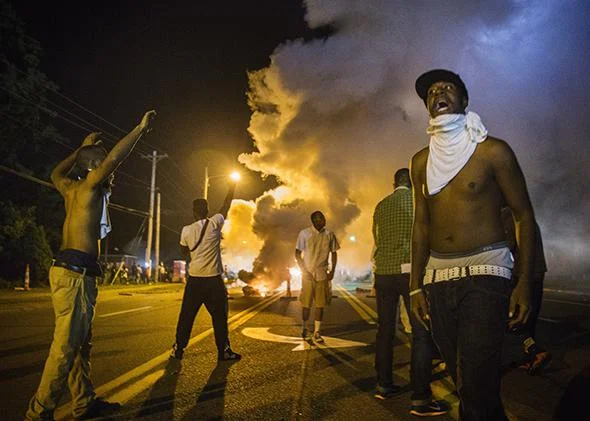 Demonstrators in a cloud of teargas during a protest in Ferguson, MO. (Source: slate.com; Photo by Lucas Jackson/Reuters)
Borealis Philanthropy is committed to resourcing grassroots organizations as they continue to develop new ways to challenge oppressive systems rooted in white supremacy. Julia Beatty, Director of Borealis' Black-Led Movement Fund, has noted that Black organizers, including Borealis' grantee partners, have seen huge victories around power building, developing our collective consciousness of abolition, and reallocating resources to programs that benefit marginalized communities.
"The movement is continuing to do what the Black movement has ALWAYS done: to fight for our full human and civil rights—to be free and experience the same joy as everyone else," says Julia. "This is a 400+ year legacy that this current-day iteration of the Black movement is carrying on—not the first and also not the last."
Philanthropy's Role in Centering Wellbeing Moving Forward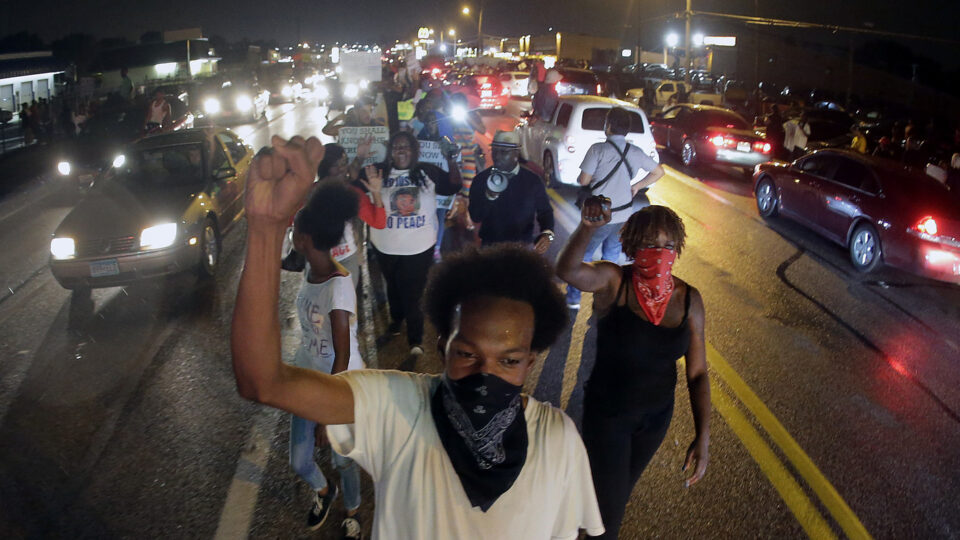 Protesters marching in honor of Michael Brown in Ferguson, MO. (Source: npr.com; Photo by Charlie Riedel/AP)
As the Black organizers, community members, and activists continue to make strides in accessing a collective freedom rooted in safety and equity, it is also clear that dedicating oneself to this vital work often comes at a hefty price of our physical and mental wellness.
With each progressive step forward, the backlash from the right can be swift and have real-life consequences such as criminalizing protesting or targeting and surveilling activists for participating in mobilization work. (Learn more about how philanthropy can support movement actors to respond to safety and security concerns in Funders for Justice's Safety & Security Institute Report.)
"There's this question of how to support folks who are now being targeted because they're pushing back and mobilizing against police violence," adds Jeree. "That's the larger issue that we need to come together around. I think philanthropy should not just look at the moment, but at the long-term impact on people's lives and ultimately on our democracy when we're not supporting folks in a more sustainable way."
Now is philanthropy's opportunity to act and support our community organizers facing activism fatigue and personal targets from the media. Here's how philanthropy can support grassroots organizers working for transformative change:
Educate yourself and your organization about activism fatigue. Most importantly, listen and validate organizers' concerns and expression of burnout and strategize ways that your organization can step in and provide support.
Invest in capacity building for grantee organizations with multi-year, long-term funding. This shifts the focus away from having to scope out budgets for the upcoming year, so they can spend more time working on expanding their operations and building their team. More support within their organizations will allow folks to take a break, rest, and recharge while the work continues.
Consider funding groups focusing on mental health, like Black Emotional and Mental Health Collective (BEAM) and Vision Change Win.
Mike Brown Jr. should be alive today. His killer should be held accountable. And Black communities should not have to worry for their safety whenever they come into contact with law enforcement.
To honor his life as well as the countless others killed by the police, Borealis Philanthropy commits to continue resourcing Black-led organizations and grassroots groups working to transform policing in our country. To learn more and join our efforts, we invite you to contact Maya Berkowtiz at mberkowitz@borealisphilanthropy.org.