Our work calls on us to dream and build a new world into existence—a world built on dignity and liberation for all people. It will take all of us, our movements, and our institutions to create. Within our organizations, it takes the unwavering commitment of our staff and board leadership.
At Borealis, we are incredibly lucky that in the midst of this past year of intense work and struggle, we have built an incredible board of trustees, new and old, who are supporting the transformational work of our staff and grantee partners. Their collective wisdom, experiences, and voices calling for change are leading Borealis and our community into a new chapter of impact and change.
Our Board of Directors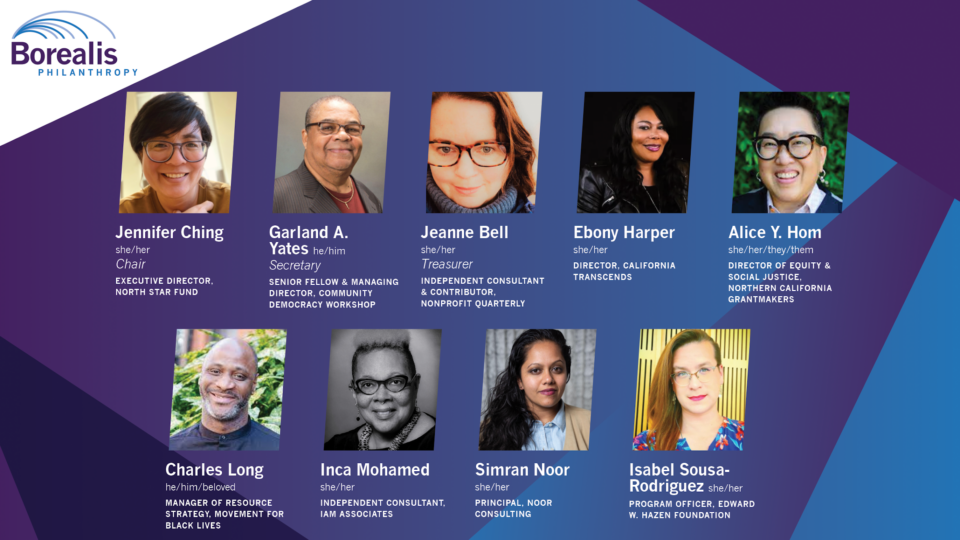 Jennifer Ching, Chair (she/her) – Executive Director, North Star Fund
Garland A. Yates, Secretary (he/him) – Senior Fellow & Managing Director, Community Democracy Workshop
Jeanne Bell, Treasurer (she/her) – Independent Consultant & Contributor, Nonprofit Quarterly
Ebony Harper (she/her) – Director, California Transcends
Alice Y. Hom (she/her/they/them) – Director of Equity & Social Justice, Northern California Grantmakers
Charles Long (he/him/beloved) – Manager of Resource Strategy, Movement for Black Lives
Inca Mohamed (she/her) – Independent Consultant, IAM Associates
Simran Noor (she/her) – Principal, Noor Consulting
Isabel Sousa-Rodriguez (she/her) – Program Officer, Edward W. Hazen Foundation
With these incredible leaders, Borealis is leaning into what's possible when we act as a bridge builder, connecting movements for liberation and freedom with the resources they need to win, heal, and thrive.
Please help us in welcoming this amazing group of leaders, our board!