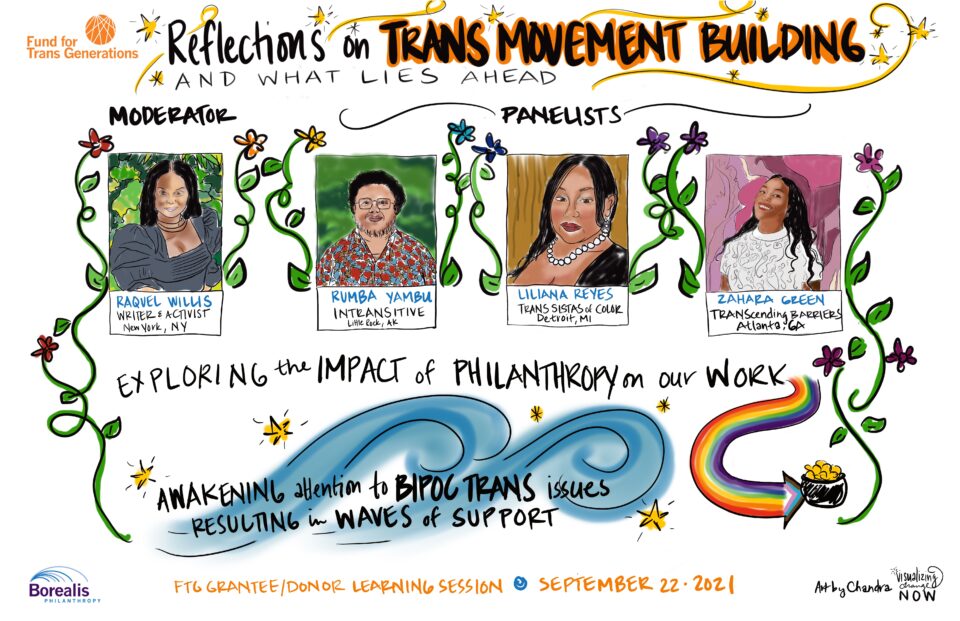 At Borealis Philanthropy, we believe in a future where transgender, gender nonconforming, and nonbinary people live with freedom, self-determination, and safety. This fall marks the fifth anniversary of our Fund for Trans Generations (FTG)—a time for celebration, and also a time to reflect on lessons we've learned, while necessarily centering trans activists of color who are leading this work towards a limitless future.
On September 22, 2021, FTG hosted BIPOC Trans Leaders in Conversation: Reflections on Trans Movement Building and What Lies Ahead. This vital donor-learning event provided an opportunity for funders to learn firsthand about what is happening in trans communities across the United States directly from leaders of grantee partner organizations. We brought together donors, along with our advisory committee that consists of five trans and non-binary activists, to reflect on the past five years, the impact of FTG's support, and what the next five years might look like for trans movement building.
The featured panelists included community leaders Rumba Yambú of InTRANSitive, Zahara Green of TRANScending Barriers, and Lilianna Angel Reyes of Trans Sistas of Color Project. Writer, activist, and past FTG advisory committee member Raquel Willis served as moderator for this conversation.
During the webinar, each of the panelists imparted wisdom from their trans movement building work, speaking frankly yet from the heart on wins, setbacks, and where philanthropy must do better.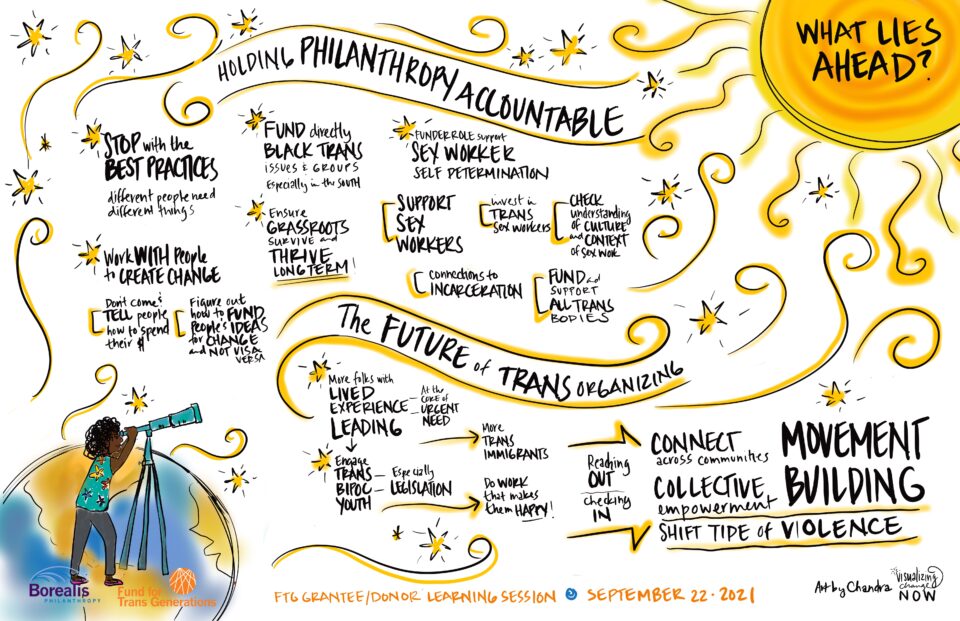 We extend deep gratitude to Rumba Yambú, Zahara Green, and Lilianna Angel Reyes for sharing their respective reflections and visions for the next five years of FTG. We encourage you to invest in the powerful work of BIPOC trans organizers and to consider partnering with the Fund for Trans Generations at Borealis Philanthropyso that together we can ensure that the needs of these communities are resourced.
To learn more about joining the Fund for Trans Generations donor collaborative contact Maya Berkowitz, Borealis Development Director, at mberkowitz@borealisphilanthropy.org.