The Disability Inclusion Fund is built on the belief that policies and progress must be informed and led by those affected by injustice. That's why the Disability Inclusion Fund practices a participatory grantmaking model. Our grantmaking committee includes these incredible advocates:
Chris Adams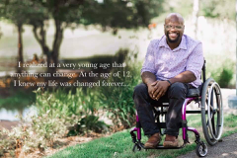 Chris Adams is a career coach for people with disabilities in Birmingham, AL. As a result of the flu, Chris lost the use of his legs at 12 years old, due to inflammation of the spinal cord. Currently a facilitator for the Advocacy-In-Action Academy, Chris has experience advocating on behalf of those with disabilities at the state and local levels. Chris has served on local and state-wide civic disability advocacy organizations, including as a member of People First of Alabama Young Emerging Leaders, Social Security Administration Advisory Board, Treasurer of The Association for the Severely Handicapped (TASH), and most recently,  Alabama's Public Relations Society of America (PRSA) Diversity Symposium.
Chris dedicates his life to making the voices of people with disabilities heard and responded to. Chris is a former Social Security Administration employee. He has spoken with thousands of people with disabilities in the state of Alabama and millions in the country, and he has heard the concerns of many people who are living with disabilities. Chris also serves as a mentor to young men and adults with disabilities who are interested in learning life skills for personal and professional development such as physical, financial, and occupational wellness.
Lydia X. Z. Brown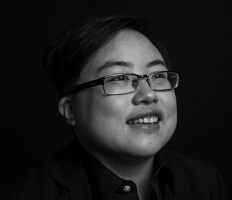 Lydia X. Z. Brown is a disability justice advocate, organizer, educator, attorney, strategist, and writer whose work has largely focused on interpersonal and state violence against multiply-marginalized disabled people living at the intersections of race, class, gender, sexuality, nation, and language. They are Policy Counsel for the Privacy and Data Project at the Center for Democracy and Technology; Adjunct Lecturer in Disability Studies for Georgetown University's Department of English; and Director of Policy, Advocacy, & External affairs at the Autistic Women & Nonbinary Network. They are also founder and volunteer director of the Fund for Community Reparations for Autistic People of Color's Interdependence, Survival, and Empowerment. Currently, they serve as a founding board member of the Alliance for Citizen Directed Supports, presidential appointee to the American Bar Association's Commission on Disability Rights, and co-chair of the American Bar Association's Section on Civil Rights & Social Justice, Disability Rights Committee.
Previously, Lydia worked on disability rights and algorithmic fairness at Georgetown Law's Institute for Tech Law and Policy, served as Justice Catalyst Legal Fellow for the Bazelon Center for Mental Health Law, and worked at the Autistic Self Advocacy Network's national office as a member of the policy team. They are former Chairperson of the Massachusetts Developmental Disabilities Council, Visiting Lecturer at Tufts University, Holley Law Fellow at the National LGBTQ Task Force, and Patricia Morrissey Disability Policy Fellow at the Institute for Educational Leadership.
In 2015, Lydia was named to Pacific Standard's 30 Top Thinkers Under 30 list, and to Mic's list of 50 impactful leaders, cultural influencers, and breakthrough innovators. In 2018, NBC featured them as one of 26 Asian Pacific American breakthrough leaders for Asian Pacific American Heritage Month, and Amplifier featured them as part of the We The Future campaign for youth activism. Most recently, Lydia was named to Gold House Foundation's A100 list of the most impactful Asians in America for 2020. Their work appears in numerous scholarly and community publications, and they have received many awards for their work, including from the Obama White House, the Society for Disability Studies, the American Association of People with Disabilities, the Washington Peace Center, the Disability Policy Consortium, and the National Council on Independent Living.
Michelle Garcia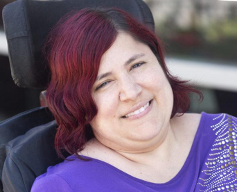 Michelle Garcia is the Immigration and Latinx Community Organizer at Access Living, where she's brought her passion for educating and collaborating with the Latinx community about disability rights and services since 2009.  Through her work she has had the opportunity to collaborate with other Latinx groups, organizations, and communities to help expand knowledge about disability-related issues.  She is the coordinator of a Latinxs and immigrant advocacy group called Cambiando Vidas, whose mission is to create social change within the immigrant community.
Michelle works to increase the number of Latinxs and immigrant leaders with disabilities, as well as to raise awareness about the interconnectedness between disability rights and immigration within Latinx and other immigrant communities. Through her work, Michelle has helped plan numerous educational forums and events to educate Latinx and other immigrants with disabilities about disability rights and services. Michelle has also helped plan national events to connect the work, challenges, and power of Latinx and immigrant communities, including with the National Coalition of Latinxs with Disabilities and a Disability and Immigration Summit. Most recently, she has been involved in supporting the Disability and Immigration Task Force. Michelle currently serves as the representative of the 7th District Commission on Women's Issues where she focuses on issues that impact women, including immigrant and disabled women.
Angel Love Miles, PhD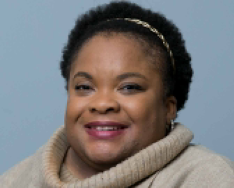 Angel Love Miles received her doctorate in Women's Studies at the University of Maryland College Park. After completing her postdoctoral fellowship in the College of Applied Health Sciences at the University of Illinois at Chicago, she became the Healthcare/Home and Community Based Services Policy Analyst at Access Living of Metropolitan Chicago. In this position she is responsible for monitoring disability rights developments in healthcare and home and community-based services, and facilitating systems advocacy efforts through an intersectional lens.
In multiple capacities, she continues to speak, teach, write, and advocate on issues pertaining to social justice and inequality, especially as they impact women and people of color with disabilities. Her article entitled "Strong Black Women: African American Women with Disabilities, Intersecting Identities, and Inequality" was published in the February 2019 Gender & Society special issue: Gender, Disability, and Intersectionality. In April 2020, her piece "Disability: What Have Black People Got to Do with It?" was published by The African American Intellectual History Society (AAIHS) blog Black Perspectives as part of the Blackness, Disability, & Gender Identity Series organized by Vilissa Thompson.
Yvonne Petersen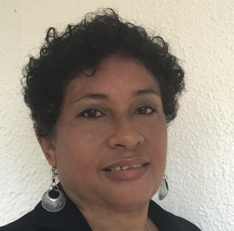 Yvonne Petersen was born and raised on the island of St. Thomas, Virgin Islands of the U.S. but refers to herself as a territorial Virgin Islander, acknowledging her deep Afro-Caribbean family roots on all three islands (St. Croix, St. Thomas, and St. John).
As a child, Petersen excelled scholastically despite being diagnosed at the age of thirteen with a disability known as dyslexia. As an undergraduate at the University of the Virgin Islands, Yvonne served as President of the Commuter Student Association and promoted the divestment of the U.S. in South Africa due to the institutionalized segregation system of apartheid and co-sponsored trips to Caribbean islands to promote unity and support for this cause.
Petersen earned a Bachelor's Degree in Business Administration in 1978 and went on to forge a career in public service, including 30 years in executive leadership with extensive experience in not-for-profit management. Yvonne currently serves as the Territorial Executive Director of the Virgin Islands Developmental Disabilities Council, Inc, and has been a grant peer reviewer for HHS and EPA federal funds since 1995. Of all her professional accomplishments, Yvonne considers her three adult children her proudest achievement and relishes her role as grandmother to three and great grandmother to one.
Risa Jaz Rifkind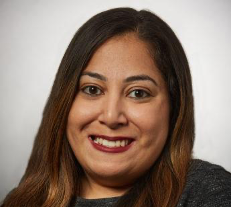 Risa Jaz Rifkind is a justice advocate who seeks to make change by shifting access to power and influence.
As Director of Civic Engagement and Marketing, Risa propels ADA 25 Advancing Leadership to realize its vision to have people with disabilities lead with power and influence. By identifying and developing strategic partnerships, Risa positions members to take on leadership roles that advance their careers, civic engagement, and equity for people with disabilities. By integrating this vision into all internal and external communications, she leads Advancing Leadership's brand awareness, public and private member programming, and community engagement and outreach. She is also an Advancing Leadership Member.
Previously, Risa was Program Manager at The Chicago Community Trust where she developed disability inclusion priorities and practices and managed several disability inclusion initiatives including the Disabilities Fund, ADA 25 Advancing Leadership, and ADA 25 Chicago. Risa is passionate about the arts and serves as the Co-Chair of the Steering Committee for the Chicago Cultural Accessibility Consortium as well as on its Board of Directors as Treasurer. Risa also serves on the Accessible Airports Advisory Committee for the City of Chicago and the Access Advisory Committee for the Chicago History Museum. Risa received a B.A. from Johns Hopkins University.  
Seema Bahl