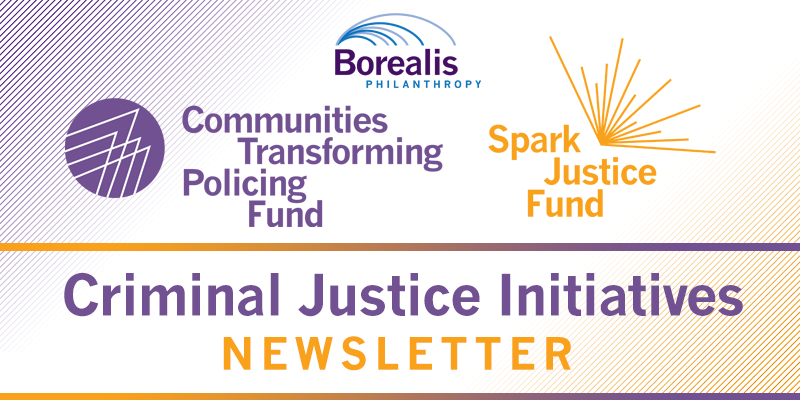 Supporting communities to build power, dismantle harmful systems, and advance a transformative vision of justice
Fall Edition: October 25, 2021
---
In this newsletter, we share some recent highlights, including:
CJI Highlights
Donor Education
Grantee Partner Updates
Resources & Reports From the Field
---
Borealis Criminal Justice Initiatives Highlights

Spark Justice Fund Awards $2 Million to 15 Organizations and Refines Mission to Reflect the Movement 
The Spark Justice Fund (SJF) will focus on supporting grassroots organizing and power-building groups to decarcerate, close jails, and advance transformative visions of pretrial justice in the communities most impacted by incarceration. The fund will prioritize its grantmaking to support grassroots organizations advancing one or more of the following strategies:
Decarcerative policy reform and/or policy implementation efforts to end cash bail and other key policy drivers of jail populations
Campaigns to close jails or stop jail expansion and drive investment into the communities most impacted by incarceration
Creation of innovative, community-driven alternatives to pretrial detention
This year, the SJF is excited to announce we have awarded $2 million to 15 organizations around the country working to decarcerate, redirect resources from jails to community, and ultimately transform the vision of community-led safety. Read more here.

Communities Transforming Policing Fund Participatory Grantmaking Process and Request for Proposals 
The Communities Transforming Policing Fund (CTPF) is launching a new participatory grantmaking process. The Fund, which launched in 2017, is transitioning its grantmaking model to center the leadership of individuals who have been most impacted by policing and criminalization. A new grantmaking committee, selected by current CTPF grantee partners, will be reviewing applications submitted through its fall request for proposals released on October 5, 2021. CTPF staff along with partners at the Black Emotional and Mental Health Collective will be facilitating the grantmaking process in 2022. Read more about the process here.
Register today to learn more about this grant opportunity at the applicant webinar on October 27, 2021 at 2pmET/11amPT.
Spark Justice Director Job Announcement
Borealis Philanthropy is hiring a new SJF Director to lead the Fund's strategy, grantmaking, fundraising, and capacity building focused on ending the correctional control of people of color and the harms inflicted by the criminal legal system. Read more about the position and apply here.
Donor Education

Arc of Justice: Supporting Ballot Initiatives for Transformative Change
November 18, 2021 | 12pmPT/1pmMT/2pmCT/3pmET
The Arc of Justice: Supporting Ballot Initiatives for Transformative Change is a donor-learning webinar highlighting successful strategies to fund, win, and defend ballot measures. This webinar will cover the multiple facets of support needed, including funding communications research to combat the negative narratives around these measures, and legal support towards the successful implementation of ballot measures once a measure succeeds. Registration Link
Spark Justice Fund highlighted in Inside Philanthropy: Countering Philanthropic Fragility with Philanthropic Collaboration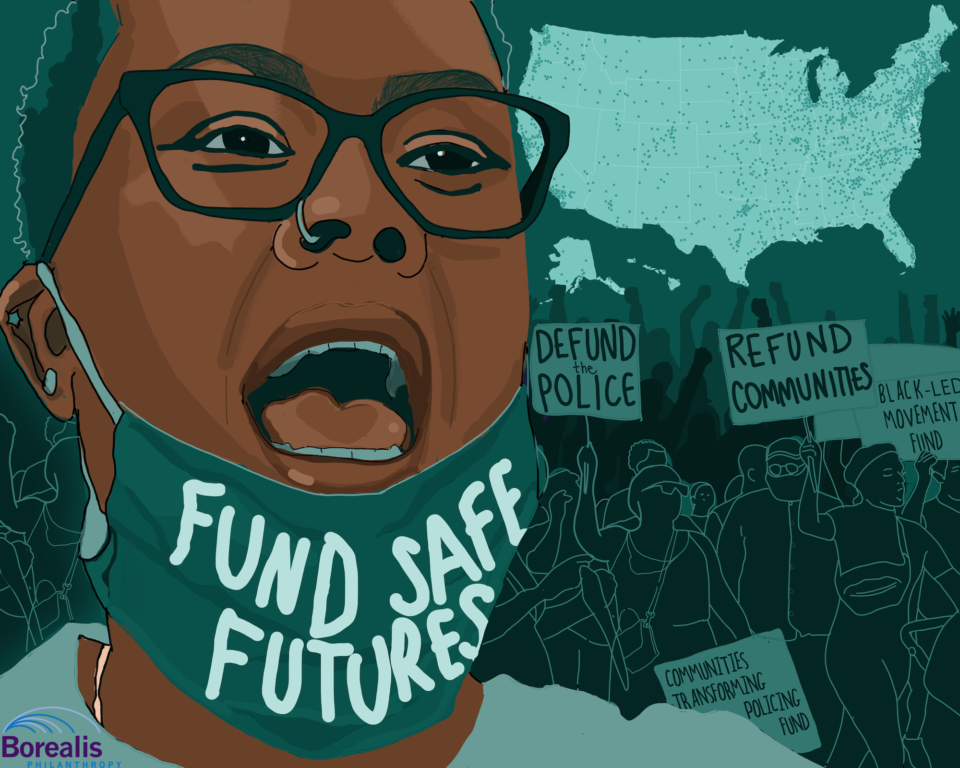 ---
Criminal Justice Initiatives Grantee Highlights
CJI grantees are making progress in communities across the country. Below is a round-up of some recent campaigns, updates, and resources.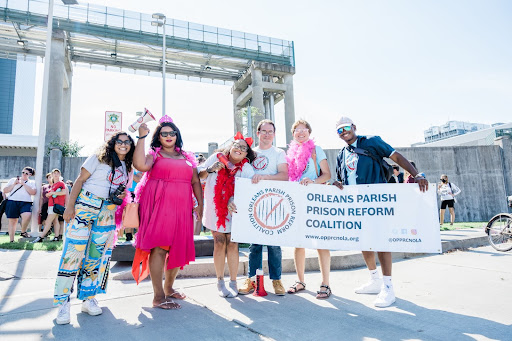 The Orleans Parish Prison Reform Coalition (OPPRC), and partners, second lined to encourage the City Planning Commission to recommend against building the Phase III Psychiatric Jail
"The Orleans Parish Prison Reform Coalition (OPPRC) and other criminal justice reform organizations hosted a Jazz funeral for the hopeful death of the Phase III psychiatric jail proposal. 75+ community members met in front of the jail, at 2800 Perdido St, to march down to the bridge to nowhere, the empty plot of land on Perdido Street where Sheriff Marlin Gusman is proposing to build a $51 million psychiatric jail, despite public disapproval from City Council, business leaders, and medical professionals."
Yes 4 Minneapolis continues to garner support for its "Yes on 2" Initiative to create a new Department of Public Safety
"A new poll finds that 49 percent of respondents in Minneapolis support replacing the city's police department with a new "Department of Public Safety." A total of 41 percent are against doing so, and 10 percent are undecided, the poll finds. The poll was conducted by a partnership between the Star Tribune, MPR News, KARE 11, and FRONTLINE."
African American Roundtable releases a new report on Milwaukee's Police Pension Problem
"Milwaukee Police Pension Impacts in FY2023 and Beyond takes a deeper look at how the planned increase in the city's police pension obligation in 2023 and beyond will negatively affect all other city departments and functions. It examines four plausible scenarios the city can choose to solve this problem without raising additional revenue. "We think it's about time that the people of Milwaukee know what's going on," said Devin Anderson, coalition and membership manager for AART and one of the report's authors. "Milwaukee is in trouble, and this report is sounding the alarm."" Read Press Release Here
Justice Committee supports the Families of NYPD Shooting Victims in Opposing New Cop Guns
"The families of 21 New Yorkers who were shot and killed by NYPD officers voiced strong opposition to plans to give cops easier-to-fire handguns. "This will not increase safety for New Yorkers or help the NYPD uphold the law," the Justice Committee family group wrote in a letter this week. "All it will do is make it easier for officers to play the role of judge, jury and executioner, as they did with our loved ones.""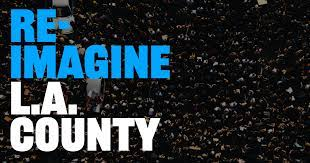 La Defensa, CURB and the Re-Imagine LA County Coalition successfully advocate for LA County to commit to community investment- to match Measure J
"The Los Angeles County Board of Supervisors voted on Tuesday, Aug. 10, to commit 10% of unrestricted county-generated revenues to community investment, mirroring the aims of Measure J, which was struck down by a legal challenge. In July, Los Angeles Superior Court Judge Mary Strobel ruled that Measure J was unconstitutional because it interfered with the board's own authority under state law to set the county's budget. That decision is under appeal."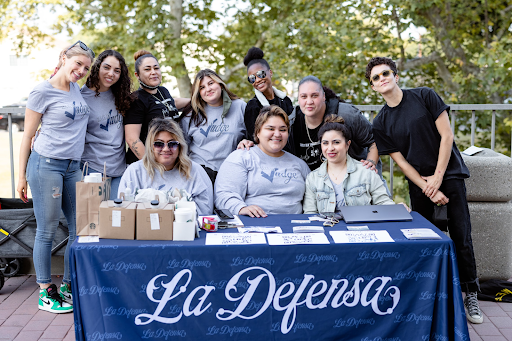 Rate My Judge Gives the Public an Online Tool For Courtroom Transparency
During July, La Defensa launched their revolutionary judicial accountability website, where community members can provide feedback based on the experiences they have with LA County judges. Rate My Judge is a public resource and interactive watchdog website for community members, loved ones, family members, practitioners, public defenders, and others engaged in fighting for justice, to provide honest reviews of their day-to-day interactions with LA County Judges, and their experiences within a judge's courtroom.
Hays County sets aside $5 million in next year's budget to launch public defender's office
After a 3-year-long campaign led by Mano Amiga to push for Public Defender Office, Hays County Commissioners Court votes unanimously during a budget workshop to allocate $5 million for its creation. "The establishment of a holistic public defender office is long overdue and will do wonders to address years of neglect to our severely underfunded system of indigent defense," said Eric Martinez, Policy Director with Mano Amiga.
---
Resources & Reports from the Field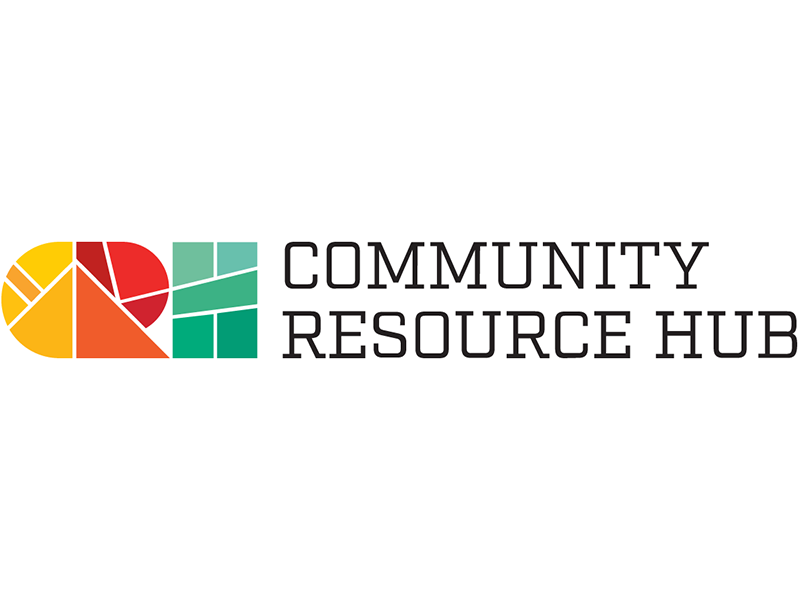 The Community Resource Hub for Safety and Accountability (CRH) works to "ensure all people have access to resources and tools to advocate for systems change and accountability in law enforcement." The Communities Transforming Policing Fund has supported in partnership with CRH several important resources for organizers and advocates including:
(Image Credit: Community Resource Hub)
---
Color of Change | Police Foundations: A Corporate Sponsored Threat to Democracy and Black Lives
The Lancet | Fatal Police Violence by Race and State in the USA, 1980-2019: A Network Meta-Regression
Prison Policy Initiative | States of Incarceration: The Global Context 2021
Chicago Appleseed Center for Fair Courts and the Chicago Council of Lawyers | REPORT: 10 Facts about Pretrial Electronic Monitoring in Cook County
---
CJI includes the following funds: Communities Transforming Policing Fund (CTPF) invests in local communities to increase police accountability and transparency, while shifting power and resources from the police and the carceral state to communities to create public safety; and Spark Justice Fund (SJF) supports constituent-led grassroots efforts to end money bail, transform pretrial justice, and build power in the communities most impacted by incarceration.