From our inception, Borealis Philanthropy's Fund for Trans Generations (FTG) has been working to prioritize the needs of so many trans-led organizations that are grossly underfunded, and create opportunities to access financial resources for their communities. For us, rapid response grantmaking is a critical tool in ensuring that our trans community is both cared for and protected.
We are proud to announce that since April 2020 FTG's COVID-19 Rapid Response Fund has moved over $500,000 in 87 grants to trans-led groups in the United States.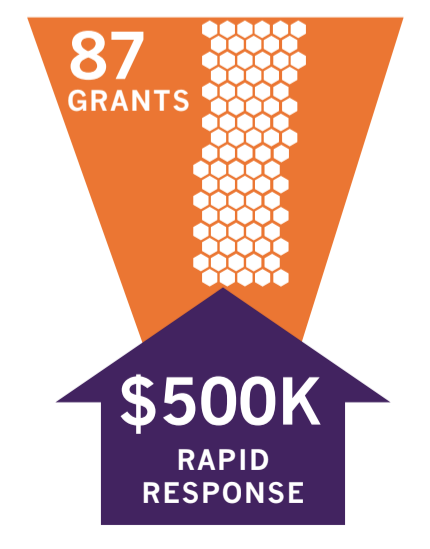 These grants, which ranged between $2,000 and $20,000, came quickly and without strings to meet the pressing needs of trans communities of color in particular, with 80% being awarded to Black, Indigenous, and People of Color (BIPOC) trans-led organizations. Our COVID Rapid Response grants supported mutual aid efforts providing for basic needs in our trans communities, medical services, healing and grief support, and much more.
FTG's COVID RR Fund supports
Mutual aid efforts that provide basic needs including housing support, shelters, launching transitional housing programs, paying for hotel stays, utilities and rent assistance,
Food delivery and the establishment of food pantries,
Medical services (both trans- and disability-related medical care),
Safety precautions supplies like PPE equipment, hand sanitizer and more,
Transportation costs for frontline workers and support in accessing medical services, and
Healing and grief support, care packages, and mental and emotional support resources and programs.
Of the 87 grants we've made, 80% were awarded to Black, Indigenous, People of Color (BIPOC) trans-led groups with nearly half of all of these grants going to Black trans-led groups. At Borealis, we define Black- and trans-led groups as organizations with predominantly Black and/or trans boards, executive leadership, staff leadership and constituents. For us, it is imperative that we follow the wisdom of folks who experience the challenges facing Black and trans communities, as they often have clearer understandings of what is at stake, as well as the solutions needed in order to create safe and thriving communities.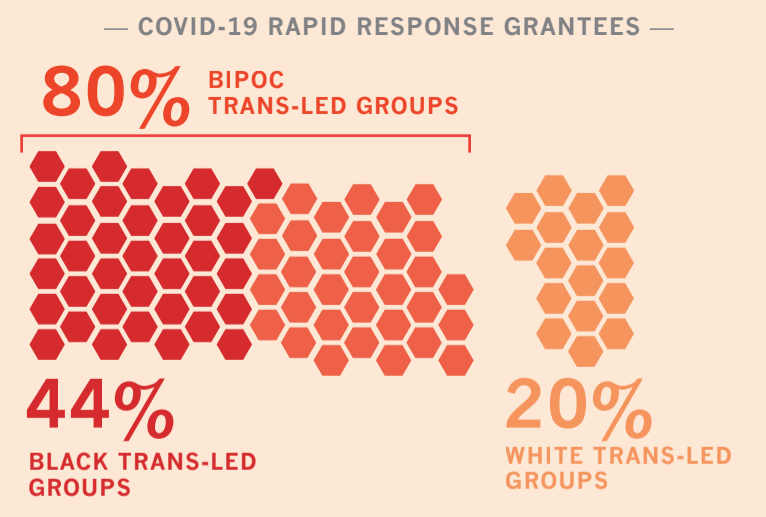 Funding this work has been important to FTG for a myriad of reasons. Namely COVID-19's disproportionate impact on BIPOC disabled, poor and working class trans folks who already face significant barriers to healthcare in general and access to the institutions and systems supporting people's needs.
"FTG's COVID-19 support has been invaluable to me and my work. With this funding, TRANScending Women members were able to access direct assistance in the form of meals to hundreds of Black TGNC folx: the people hardest hit by the pandemic but most neglected by traditional relief efforts. Thank you for providing the means for all women–transgender, gender non-conforming, LGBQ—to sustain themselves so that they can become agents of change in New Orleans and beyond." — Wendi Cooper, TRANScending Women
While these rapid response grants provided much-needed resources for trans communities, it also provided us an opportunity to listen and learn from our community. Here are some lessons we've learned from our grantee partners:
Rapid response grants are a priority for trans communities especially amidst the short and long-term impacts of COVID-19,
BIPOC trans led groups need long-term, flexible funding,
BIPOC trans led organizations continue to be the trusted organizations that trans communities look to for support, community, and healing, and
Funding basic needs is still crucial and foundational to organizing and movement building.
We offer many thanks to the funders whose partnership and sustained commitment make this work possible. The funders who have supported the COVID-19 Rapid Response Fund are:
Levi Strauss Foundation
Libra Foundation
Overbrook Foundation
Tides Foundation
Collective Future Fund
Grassroots Global Justice
Laughing Gull Foundation
Anonymous
"Trans organizers have been building power through healing and leading efforts for social change for decades. The Collective Future Fund provided the Fund for Trans Generations with rapid response funding and additional general operating support funds because we anticipated the violence to increase with COVID and because we truly believe in trans leadership and liberation as central to our collective future." – Aleyamma Mathew, Director of Collective Future Fund
Apply for the COVID-19 Rapid Response Fund
We still have rapid response funds available to support our trans community members as we continue to endure the pandemic. Access this link to apply for support today.
Join our efforts to fund trans communities
It is a priority for the Fund for Trans Generations to remain a trusted resource for trans-led organizers and movement builders who are working for the dignity and respect of all trans people. To learn more about partnering with Borealis Philanthropy's Fund for Trans Generations and the powerful work of grassroots groups and organizers please contact Ryan Li Dahlstrom at rldahlstrom@borealisphilanthropy.org.