Established in 2016, Borealis Philanthropy's Fund for Trans Generations (FTG) proudly resources trans-led organizations that are building futures where transgender, gender non-conforming, and nonbinary people can thrive, access joy, and live with self-determination. This month, the FTG awarded $2.5 million in flexible general support and organizational development grants to 47 trans-led organizations across the United States, representing its largest annual grantmaking budget to date.
Of grants awarded, the majority were renewals, with a handful of new grants for organizations that were invited to apply based on advisory committee, donor, and staff recommendations. For the first time ever, the FTG also introduced 18 multi-year grant commitments.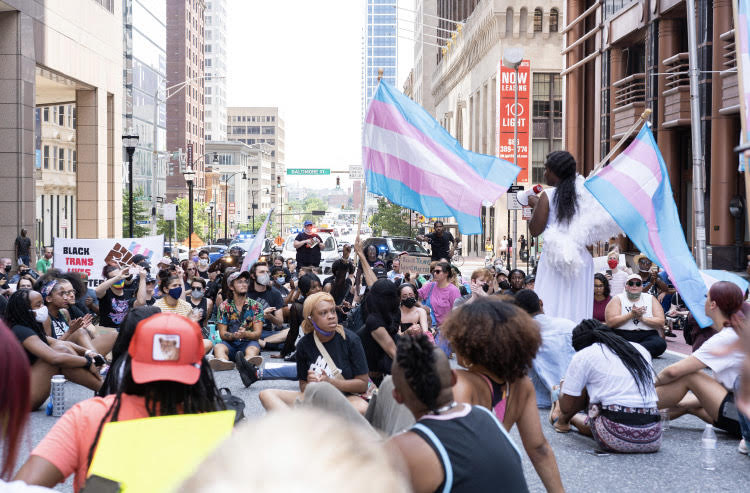 Baltimore Safe Haven organizers at a rally in downtown Baltimore.
Faced with an onslaught of anti-trans legislation, urgent needs related to the ongoing pandemic, and continued violence and discrimination, FTG grantee partners have led efforts to bring safety, resources, and healing to their communities over the past year. During this grantmaking cycle, organizations identified a number of shared priorities, including the creation of mutual aid and care networks; the procurement of land and other physical community space; increased accessibility for virtual gatherings; the expansion of legal and advocacy work; and support for incarcerated, migrant, houseless, and/or disabled trans folks. Proposals also lifted the need for harm reduction, sex worker organizing, spiritual healing, and abolition work in service of trans communities. 
The FTG's grantee partners are working locally, regionally, and nationally to address the unique issues facing their communities. Their work spans the United States, with organizations based in 26 states and Puerto Rico, and three grantee partners working at the national level. The FTG continues to prioritize moving resources to historically under-resourced areas, with over 40% of current and prospective grantee partners based in the U.S. Southeast and Gulf Coast. The FTG also prioritizes resourcing emergent groups that have had limited access to national funding streams. In the future, the FTG anticipates continuing to prioritize funding for organizations with smaller budgets (under $300,000), while also supporting some organizations as they grow. In providing flexible and long-term support for both emerging and growing groups, the FTG aims to bolster and expand the broader trans movement building ecosystem.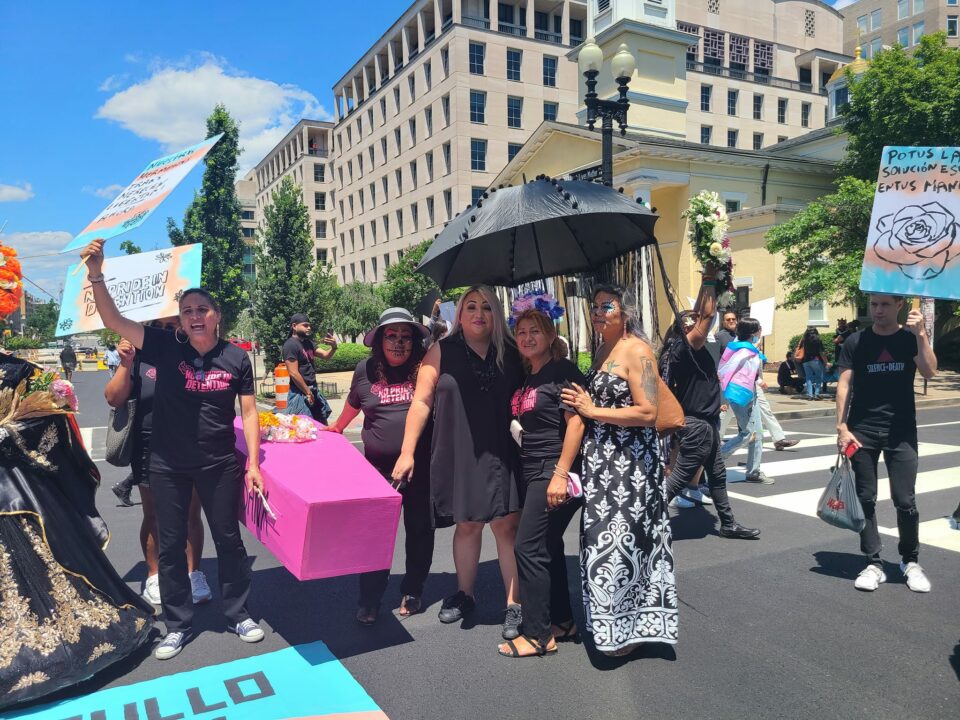 Organizacion Latina de Trans en Texas rally outside the White House.
The FTG's participatory grantmaking process is led by an Advisory Committee, which ensures trans community involvement and accountability. The FTG's Advisory Committee is supported by a facilitation team, accessibility coordinator, language justice practitioners, and staff to ensure that the decision-making process is held with care, clarity, transparency, and compassion. Advisory Committee member Rumba Yambú, Executive Director of inTRANSitive of Little Rock, AR, shared, "It was an incredible experience to be among changemakers. Reading the proposals of trans-led organizations moving mountains all across the country and being able to resource their work filled me with joy and hope. We, trans organizers, are crafting futures and manifesting new worlds." Borealis Philanthropy and the FTG are grateful to the activists and leaders who provide essential field knowledge to support our annual grant review process by participating on this committee.
In this overwhelmingly trans-antagonistic moment, funders must listen to, trust, and invest in trans leadership—and provide long-term, stable, and flexible funding to sustain and strengthen the work of trans-led organizations. To learn more about partnering with Borealis Philanthropy's Fund for Trans Generations, please contact FTG@borealisphilanthropy.org.