Earlier this year, our world came to a slow with the emergence of COVID-19. A few months later, with the murders of Tony McDade, Breonna Taylor, George Floyd, and countless other Black folks at the hands of law enforcement, protests erupted around the country, calling for an end to anti-Black racism and to defunding the police. Specifically, these dual pandemics have disproportionately impacted BIPOC queer and trans communities.
In June, the Transforming Movements Fund at Borealis Philanthropy held a conversation with Jennicet Gutiérrez, lead organizer at Familia Trans Queer Liberation Movement (TQLM), and Vanessa Flores-Maldonado, co-director at Providence Youth Student Movement (PrYSM). Familia TQLM works at the local and national level to achieve liberation for trans, queer, and gender non-conforming Latinx folks through organizing, education, and advocacy. PrYSM is a youth and queer-led organization supporting Southeast Asian and Black communities in Rhode Island through advocacy, organizing, and leadership and mentorship programs.
In our far-reaching conversation with Jennicet and Vanessa, we discussed this current moment, the implications on cross-issue movement work, and the push for collective liberation.
COVID-19 and the Magnification of Inequality
COVID-19 has hit queer and trans BIPOC communities hard, forcing communities and organizations to constantly adapt, and furthering inequities that existed before the pandemic.
As Vanessa Flores-Maldonado explains, "The city of Providence is half white, half people of color and yet, Black and brown folks make up the majority of the cases. COVID is happening, and we're addressing housing, food, safety, health, and employment issues. Our community needs right now are constant. We need rent. We need utilities. We need food. We also need to figure out if our employers are really thinking about their survival as in their profits, or if they value our survival as people."
In response to the lack of local and federal resources for COVID-19, PrYSM, with five other Rhode Island organizations, established the Rhode Island Solidarity Mutual Aid Fund. The fund is being used to support communities with rent and utility payments, while calling for rent freezes.with five other Rhode Island organizations, established the Rhode Island Solidarity Mutual Aid Fund. The fund is being used to support communities with rent and utility payments, while calling for rent freezes.
For many grassroots organizations, mutual aid funds have become a key organizing strategy at this moment. For example, Marsha P. Johnson Institute, a national organization advocating for Black trans folks, has a mutual aid fund specifically for Black trans and non-binary folks impacted by the health pandemic, particularly those who are sex workers and/or were formally incarcerated. In California, California Immigrant Youth Justice Alliance, a youth-led immigrant organization, has established a relief fund for undocumented workers who were not able to receive federal and state assistance.
At the same time, strategies are shifting as organizations are having to adapt to the moment while protecting the health of queer and trans BIPOC communities.
"The work we were doing was about bringing people together through regional gatherings and having our Jota Summits (a space specifically for queer and trans Latinx organizers to mobilize for 2020). We were going to launch our first campaign in El Paso. Then COVID came and we shifted to virtual conversations and organizing. Then the protests and rallies against police brutality came. So we had to scratch that and think about how do we utilize this moment, as we are seeing people again going out and protesting," Jennicet said. As people gather in the streets, in the midst of the COVID-19 pandemic, Jennicet and Vanessa are still pushing for larger, societal changes.
The Call to End Policing
Right now, we are seeing the groundwork laid by young, BIPOC queer and trans organizers take center stage. Organizations like PrYSM and Familia have been pushing for the end of policing in all arenas, even before it was headline news.
"For the last 20 years, we've been working on youth empowerment and working on issues that are related to queer and trans people of color specifically. We believe that Black Lives Matter. We believe we need to abolish police, including ICE. We are working toward a world without prisons, without police, without borders and the leaders bringing us there are our youth of color, queer and trans youth, femmes, women, people who are out there directly impacted by this work," said Vanessa.
In 2017, PrYSM succeeded in this work with the passage of the Community Safety Act (CSA) by the Providence City Council. The CSA establishes police-community relations, such as new protections for trans folks and immigrants and mandates for police accountability and transparency.
When discussing liberation and the end of policing, trans women of color, particularly those who have been criminalized, are on the frontlines and have been instrumental in tearing down carceral systems.
"In this moment, people are risking their lives to save lives," Jennicet shared. "Familia contributed to the fight for liberation through the successful shut down of Santa Ana's LGBTQ pod. City officials and the police department tried to renew the contract for an additional 10 years because it expired. But because of powerful organizing, and the key component of uplifting people that experience dehumanization and abuse in ICE facilities, eventually the Santa Ana City Council decided to cancel the contract. That was a win."
As highlighted by Jennicet and Vanessa, BIPOC queer and trans folks—especially Black organizers—leading at the intersections of movement work is pivotal to collective liberation.
Supporting Black Organizing & Next Steps
When discussing cross-issue movement work, Vanessa and Jennicet discuss the critical role of Black organizing for the broader movement and the necessary work of non-Black communities of color to stand in solidarity for Black lives.
"I get really inspired by Black organizing and Black radical voices that push us and challenge us in the direction of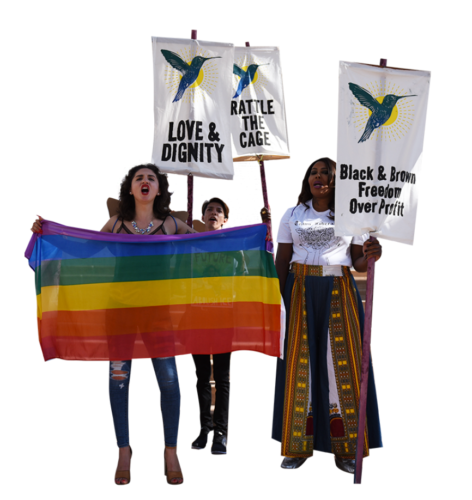 what we have to do," Jennicet said. "I'm always thinking, how can we support their struggle and their fight for liberation."
"I think it's important for us, and for me as the leader of an Asian-Pacific Islander organization, to address how anti-Blackness shows up in our work and communities. We all have to show up no matter what our race, ethnicity, or documentation status is because our liberation is tied to Black liberation," said Vanessa.
Jennicet and Vanessa share the vision of the Transforming Movements Fund. They understand that this is not just a moment, this is about our survival. Their organizations, Familia and PrYSM, stand alongside other visionary grantees led by young, BIPOC queer and trans organizers who understand that intersectional organizing has never been an option—it's our road to collective liberation.
So, we have to fund our movements like we want them to win. That means we must:
Move away from single-issue funding to funding cross-issue movement work. Funding multi-issue organizing better reflects the lived experiences of our communities and better addresses the root causes of the oppressions they face.
Support movement infrastructure, early, for the long-term, and with general operating support. We have to support movements before they become national headlines, so organizations and leaders have the ability to rise to the occasion in the moment.
Move resources to those most impacted by issues, specifically those that are BIPOC AND LGBTQ. We must trust community leaders who are closest to the problems, because they are also closest to the solutions.
Intersectional Organizing is How We Win
Together, this translates to longer term power and greater progress. Now is the time for funders to move their money and increase their funding to frontline organizations that understand that intersectional organizing is how we win.
Seeing organizing without recognizing the complexity and connection between movements is no longer an option. Whether it's through direct support for organizations such as Familia or PrYSM, or through joining funding collaboratives like the Transforming Movements Fund, we invite donors to step up and join us in investing in the power, beauty, and brilliance of cross-movement work.