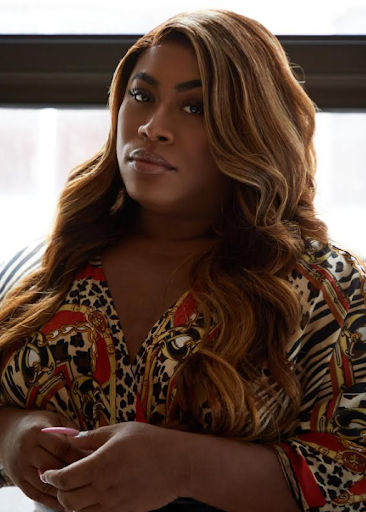 The Fund for Trans Generations is thrilled to share that we've welcomed Dominique Morgan (she/her) as our new Program Director!
Dominique is an international award-winning artist, activist, and TEDx speaker. She partners her lived experience of mass incarceration (including 18 months in solitary confinement) with a decade of change-making artistry and advocacy to activate powerful work in the spaces of sex education, radical self-care, and transformative youth development. She leads this work with the intention of dismantling the prison industrial complex and a theory she describes as the "gender to prison pipeline."
Dominique joins Borealis Philanthropy after five years of historic growth and innovation as the Executive Director of Black and Pink National, and her work as the Founder and CEO of Starks and Whitaker Consulting. She is a Ten Outstanding Young Americans Award recipient, NAACP Freedom Fighter Award recipient, JM Kaplan Innovation Prize recipient, and the 2021 United States nominee for Ten Outstanding Young People in the World. She is the only global model in Apple's history and has been featured in People, The Advocate, and Out Magazine.
We spent some time learning about what brought Dominique to the FTG and the principles that guide her work. Learn more below!
Where do you come from? (place of origin or growth, racial and/or ethnic identification etc.) I was born and raised in Omaha, Nebraska. After 40 years of living in what we call the "The Heartland," I moved to Atlanta, Georgia in August.
Does your identity or background inform and influence your work? If so, please feel free to share how/why. Where I come from and what I've come through are the reasons I continue to offer my time, life, and lived experience to creating access for systems-impacted people in our communities. As a Black Transgender Woman—someone who has survived mass incarceration and someone who has navigated the juvenile justice system—I believe I'm right where I need to be: existing as a servant leader to my people. I choose to be relentless and uncompromising in my work, because someone fought for me the same way.
What's your role at Borealis Philanthropy? What do you do? I am the new Director of the Fund for Trans Generations at Borealis Philanthropy. I'll be focusing on enriching the Fund both financially and strategically. I will be bringing my unique experience as someone who has needed housing assistance, ran a housing assistance program, created a housing program, and now funding such programs. I'm excited to bring my whole self to this role.
What brings you to Borealis Philanthropy? I've been aware of the work for Borealis since 2020, when I received a rapid response grant from FTG as an Executive Director. I admired the participatory grantmaking approach of the organization, the diversity of leadership, and I am overjoyed to work under an incredible Black Woman in leadership, Amoretta Morris. I want to be a part of demystifying philanthropy—and leading a change to bring a call for equitable and transformative philanthropic funding for Black Trans leaders, from our words to our actions.
What excites you about being part of the Fund for Trans Generations team? More than anything, I'm excited to learn. Aldita and Lupe are powerhouses in this work and experts of the Fund. The opportunity to learn from them—and I hope to grow with them as a team—is something I truly am looking forward to. I also have the unique opportunity to learn from Ryan Li, who led the Fund from the start. I've been set up for success and I'm so thankful.
What do you like to do for fun? Music has been a way to express myself since I was 7 years old. Writing songs and sharing my POV is like therapy for me (don't tell my therapist I said that, lol!) I'm very blessed that I'm able to write, record, and perform now because it brings me so much joy. If I'm not in the studio or performing for my joy, you'll find me in the kitchen cooking for my loved ones.