Faith in the Valley is a faith-based, grassroots community organization in California's Central Valley, led by volunteer leaders who are among the people most impacted by equity issues: low-wage workers, young people, immigrants, and the formerly incarcerated. The organization, which is a grantee of the Communities Transforming Policing Fund at Borealis Philanthropy, has a vision for a future in which everyone is included, treated as sacred, and has a chance to thrive and live a healthy, decent life.
We talked to Toni McNeil and Josth Stenner, community organizers in San Joaquin and Kern counties, as well as Faith in the Valley Fresno Interim Director Andy Levine about what's on the horizon for police reform in California, how the impact of police officer-involved shootings reverberate in communities throughout the state, and how the organization is shifting the narrative around public safety.
What brings you to your work?
Toni McNeil (Toni): My youngest child is a Black male child, he is 23 years old and 6 ft 3 in. There was an encounter where he got pulled over in the middle of the night, while he was providing delivery service for his work. When the officers pulled behind him, he went live on video. I was in bed asleep and my phone dinged; I looked and saw flashing lights behind him. I went into a full-blown panic, there are no words to articulate the anxiety I felt. I was already drawn to the work from a perspective of righteous indignation. When it was my son and the lights were flashing and people were saying, be still, don't make any sudden moves, I found myself sitting in the driver's seat of my car with no shoes on, in my nightclothes, and his father texted and said "I'm here, he's safe, I've got him." I broke down into tears. It became very personal.
Josth Stenner (Josth): I am based out of Kern County in Bakersfield and I started doing work in immigration. I come from a family where I'm the only citizen. Being an immigrant, and having immigrant parents, there was no police interaction that was anything less than anxiety inducing. I realized that even though I didn't have the same issues as my parents, I still felt that deep anxiety when it came to the police and I began to wonder why and what that signifies for us as immigrants, and what that signifies for the larger community. I started to get more involved in figuring out why something that is such a huge presence inside of our communities can feel so oppressive at times, and yet when you look around and speak with people in their community, that's the only conception they have around safety.
Andy Levine (Andy): I was born and raised in Fresno and I moved back in 2012 out of this recognition that the Central Valley needs power building for community. Policing in Fresno historically has represented an intentionality of protecting white folks from communities of color, sending a message that only certain people get protection and rights. For me as a white man, it was important to me to do something about that core injustice.
What's on the horizon right now in terms of police reform in California?
Josth: Assembly Bill 392, it's called the use of force bill, will change the use of force standard in California about when a police officer can use force. Right now, it's whenever a police officer finds it reasonable. The bill changes that standard to necessary – so that police officers have to look for alternatives so they don't escalate to deadly force. That shift could reverberate throughout the country.
So far, one of the biggest lessons we've learned is that though the community supports the police, that doesn't mean community supports the police union and the unions are behind keeping things the way that they are.
Andy: From outside California, there is a perception that California is progressive and is resisting what's happening in D.C., but when it comes to police accountability, California is one of the most police friendly states in the country. It's not like the whole state is the same – we are in the Central Valley, and we get referred to as the "other California" because our region is much more conservative and has far more vulnerability. Too often our legislators are on the wrong side of our communities.
In this case, law enforcement and unions pushed one of our policy makers, a state senator from North Central Valley, to introduce a competing use of force bill to stop AB 392. We put together responses on social media and did public education through community meetings, press events, and healing circles. Within a couple of weeks, Senator Caballero agreed to amend her bill to make it a complementary bill a training only bill. Legislatively, her bill can only go into effect if AB 392 also passed. That's a good sign of the Central Valley starting to lead.
Governor Gavin Newsom signed the bill into law on August 19.
How does the impact of police officer-involved shootings reverberate across the state? How are communities responding?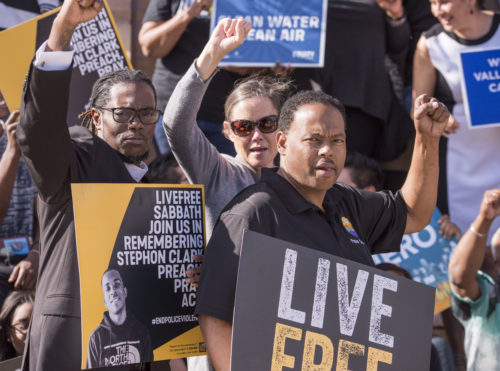 Toni: When Stephon Clark was shot in Sacramento and the courts released a statement that the officer wouldn't be held accountable, we had to facilitate a lot of trauma and healing spaces in Stockton because it triggers the trauma people have experienced in the past. Across the state, we have to link arms in agreement, and support each other because we know we're dealing with an issue that has a domino effect.
Colby Friday, one of our leaders, got shot four years ago in Stockton. Every time a police involved shooting takes place, it triggers his mother, she is re-traumatized  and we have to relive that over and over again within the community. Being able to do lobby visits, actions, protest, whatever it takes, to support other cities – is a part of the healing process.
What do you wish funders would do differently when supporting police reform?
Andy: There is a growing recognition in philanthropy of needing more flexible, less restricted funding that we can use to be responsive to our communities. Funders outside California need to understand the nuance and the specific needs in the Central Valley compared to the rest of the state – we see a lot more attention and resources going to the coastal regions because they see potential and capacity there. I hope funders see that the valley is a place that has significant needs, but we're not a charity case – there is a growing movement here with the right investment that could take off in a big way. We don't need helicoptering in, but we do need investment.
What work are you most excited about right now in the Central Valley?
Toni: We're doing a lot of great things here in the city of Stockton when it comes to policing, with minimal staffing. There was not as much attention and intentionality when I came on as an organizer to address the policing issue. As organizers, we were strategic about working with the police chief who was doing the national work. Two years later, we're actually setting a huge example in what it would look like to change the culture of policing and lead the work. Faith in the Valley is working to bridge the gap between community and law enforcement not only by regularly bringing new community members into policing trainings on the History of Policing and Implicit Bias, but also by co-facilitating these trainings alongside law enforcement.
What is the narrative around public safety right now? How is that shifting?
Josth: We are starting a conversation about reimagining public safety–communities are saying it's not in the hands of police that they feel the safest. It's when we have parks and resources, like mental health resources, inside of communities, that put us in direct relationship with our own neighbors. The biggest shock has been the type of arrests that police are doing in our most impoverished communities. The majority of arrests are around substance abuse. Data shows that police officers are going to the same houses and neighborhoods, arresting the same people, for the same things. It's not making community safer or getting at root issues.
Toni: Over the years, we have been creating spaces for community to define safety. We are having courageous conversations with our police chief where we try to give police officers an understanding of how we perceive them when they come into our communities, what it looks like and feels like to us, and give them feedback on how things could be done differently. We give commendation and criticism. We are working heavily on the narrative that there needs to be more law enforcement. What we actually see and have come into agreement on is that there are areas (hot spots) within the community where there is over-policing.
Law enforcement tends to be defensive, and there is a history attached to the uniform they wear. We understand that. The tension that is created through dialogue is what we need in order for it to become a healthy space. There is no way to change the culture of policing if we do not have the tension in those courageous conversations. It's time for police officers to hear how they are viewed when they enter into the community. We are advocating for more trauma informed services and more accountability spaces in the communities now.
Learn more about Faith in the Valley: check out their website, follow them on Twitter, and like them on Facebook.