Meet Nikki Brown-Booker and Shayla Robinson, the new staff for the Disability Inclusion Fund (DIF) at Borealis Philanthropy.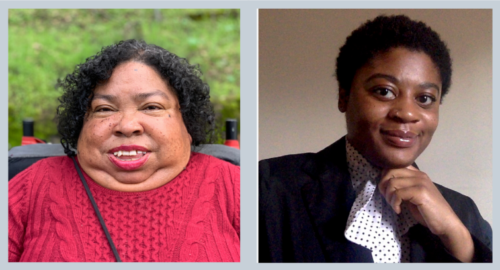 Nikki is the Program Officer for the DIF. As a person with a disability and a biracial woman, she has been interested in the intersection of disability justice and racial justice. Most recently she was the Executive Director for Easy Does It Emergency Services, a nonprofit that provides emergency attendant care, wheelchair repair, and transportation for people with disabilities and seniors in Berkeley. She has also been doing organizing work with Hand in Hand: the Domestic Employers Network and helped pass the California Domestic Workers Bill of Rights. Read Nikki's full bio here.
Shayla is the Senior Program Associate for the DIF. She is a Southern, Black, disabled lesbian with a passion for Black art, social liberation, and facilitating change through communal and individual support. Shayla previously served as the Program Specialist for a reproductive justice non-profit focused on educating queer and trans youth of color in reproductive justice advocacy and leadership development. Read Shayla's full bio here.
We talked with Nikki and Shayla about what brought them to Borealis, what they are excited about for this fund, and why it is meaningful to them:
What brings you to your work on this fund at Borealis? 
Nikki Brown-Booker (Nikki): I wanted to do something that's really moving the disability field forward and to provide support in a different way. I did a fellowship with the Women's Policy Institute, which is a program of the Women's Foundation in California, and spent a lot of time with people in philanthropy and saw there is a need to learn about disability issues. The way foundations have been funding disability issues focuses on employment and health, but disability is so broad and encompasses every part of life. I was interested in being on the other side of the coin, to make sure money goes to really enhance the community.
Shayla Robinson (Shayla): I was really excited to see a job that was about disability issues, because I feel like it can be a hidden oppression. It's rarely the main talking point. I had actually been a recipient of Borealis' grantmaking through a different fund, and I remember how much that had a positive impact on me. I wanted to be a part of that and be able to affect change. I love being in a supportive role, and this was an opportunity to put the wheels to the pavement in a tangible way.
Why is the Disability Inclusion Fund needed right now?
Nikki: I think the disability field is at a crossroads right now. I feel like there's this new edge of activism in the field that's focused on disability justice and intersectionality. I'm thinking about how we can join together to work for a common justice and liberation for different types of people, across movements. There's a lot of learning that needs to happen within the field. It's very timely for the movement to move into a different phase of its development, and I want to be part of that growth.
Shayla: We're in a moment right now that is primed for highlighting how disability issues connect to everything else because of the emphasis on intersectionality. There wasn't quite that emphasis a couple of years ago – right now, people are being more intentional about being more inclusive. Giving voice to that is really important.
What are the challenges you are thinking about? 
Nikki: I think that there's a lot of need out there and I want to make sure that we fulfill the needs of the community in a thoughtful manner. For people with disabilities and in the disability rights community, it's always about trying to fit our needs into what funders are willing to fund. One thing that is really exciting and unique about this fund is that we're going to shift that dynamic and move it towards funders and communities being on the same wavelength. That process takes time and we want to make sure that we're taking the time we need so the community gets their needs met. I don't want to rush into giving money without hearing what the community wants and will be useful. 
Shayla: These are issues about personhood and autonomy—it shouldn't be hard to make the world navigable for us. The challenge is partly getting other movements to take disability seriously. Sometimes it's mentioned, like "text me for accessibility notes." But then you ask and it's like, there are 32 steps and no elevator. People have to understand that choice of venue and action can affect how people are able to participate and how we're able to show up and have our narratives counted. In Atlanta, Anthony Hill was a veteran who suffered from PTSD; he had an episode and the police unjustly killed him. It's rarely framed as a disability issue in addition to a race issue. The disability part is also a driving factor. We need disability to be seen in its full breadth.
What are you most excited about for the fund?
Nikki: I'm feeling super excited that I'm going to really have an impact in the disability justice community – the community is struggling for capacity and there's great work being done, but a lot of the organizations are new and need capacity building and money to advance the cause.
Shayla: I'm excited about having the opportunity to dive deep into people doing disability justice work, especially the queer and trans people already doing the work. It is a great opportunity to get resources and capital to people on the frontlines who really need it. I would love to see this movement grow and pick up steam.
Disability justice sees the fullness of personhood and autonomy and tackles issues beyond the care we need—issues like parenting, sex and sexuality, being involved in other aspects of life. Disabled people are not a problem, regardless of how each individual disabled person feels about their relationship to their body –we are people too, we are whole, we deserve to live a full and happy life that is not centered around people's pity and the infantilization of disabled people. Justice encompasses the whole spectrum about what it means to live a disabled life in the world.
What's unique about this fund?
Nikki: Most funders think about disability from a health perspective: how can we make people healthier or live healthier lives or help people be gainfully employed to be part of society? Those things definitely need attention and focus, but that's not the only way we should be looking at supporting disability justice. It's about art, making the world more accessible, letting people express who they are, it's not just about making people healthier.
Shayla: We have funders who are really dedicated and want to be better on this issue and want to commit time and money. 
The fund will have an advisory council and will include activists so they can advocate for their field and for themselves. Disabled people are intimately familiar with the oppression that comes with being disabled and the hoops you have to jump through and the history of work that's been done. The fund's emphasis on queer and trans disabled people of color is also unique. It's a tangible shift for people to understand what disability looks like for people of other races, documentation statuses, genders, sexualities, etc.   
Why is your role in this fund meaningful to you?
Nikki: I was diagnosed with my disability at a really young age, at 2 years old. The goal of all of the people around me, my family and doctors and nurses and therapists and social workers was to make it so that I can walk – that's such a huge value in our society. That was never comfortable to me, I knew at a young age I was not going to be able to walk like anybody else.
The world is really built around people that can walk and speak and hear – the world is built around someone who is completely able bodied. The world should be built around everybody's needs, whether you're able bodied or not. Disability justice is about meeting people where they are and making sure the world we live in is built in a way that everybody can live their life the way they want to.
 I think that when you are a person with a disability, everybody else is making decisions for you, you seldom get to make decisions for yourself. That's from the minute you become disabled, through your entire life. People start telling you how you should be, how your life could be better if you did this. It's all about what other people think about what's best for you. And I think what's great about this fund and participatory grantmaking is that we will get to make decisions about what's right for each of us and for the movement instead of having an outside entity making decisions for us. We're participating in deciding what's important to us and what we need.
Shayla: It's really meaningful for me because it took me so long to accept and understand that I was disabled and because of that it took me a long time to have it accepted by others. It was hard to advocate for myself. This work is meaningful because we could help other people understand that they are disabled, that nothing is wrong with them, that there is nothing wrong with whatever their limitations may be—those deserve to be respected and honored. I do really believe this work will reduce the stigma of people being able to call themselves disabled. We can help reshape the world so the world is accessible to us.
Read more about the Disability Inclusion Fund at Borealis Philanthropy. If you would like to receive updates about the fund and find out how to apply, please sign up for our mailing list.