Pride month has come to a close–and while the continued existence and persistence of LGBTQ+ folks is always cause for celebration, last month forced a critical moment of reflection for all of us at Borealis Philanthropy.
In the beginning of June, we lost our constitutional right to abortion. However, for so many of us, the decision to overturn Roe v. Wade came as an expected next in line following 2022's onslaught of anti-LGBTQ+ legislation, including direct attacks on trans children, and unbearable and continued violence against migrants at the border.
At the end of June, news of the fifty-one migrants who died tragically in an abandoned tractor-trailer in San Antonio, Texas served as a stark reminder of the violence migrants face in this country, especially trans migrant women of color.
What we all must remember, especially now that parties and parades have wound down, is that we cannot vehemently celebrate the incremental advancement of some while ignoring the most marginalized members of our community. The fight for our collective liberation continues, daily, in ways, we might not always expect or anticipate, and we must reclaim the movement's roots in resistance and resilience.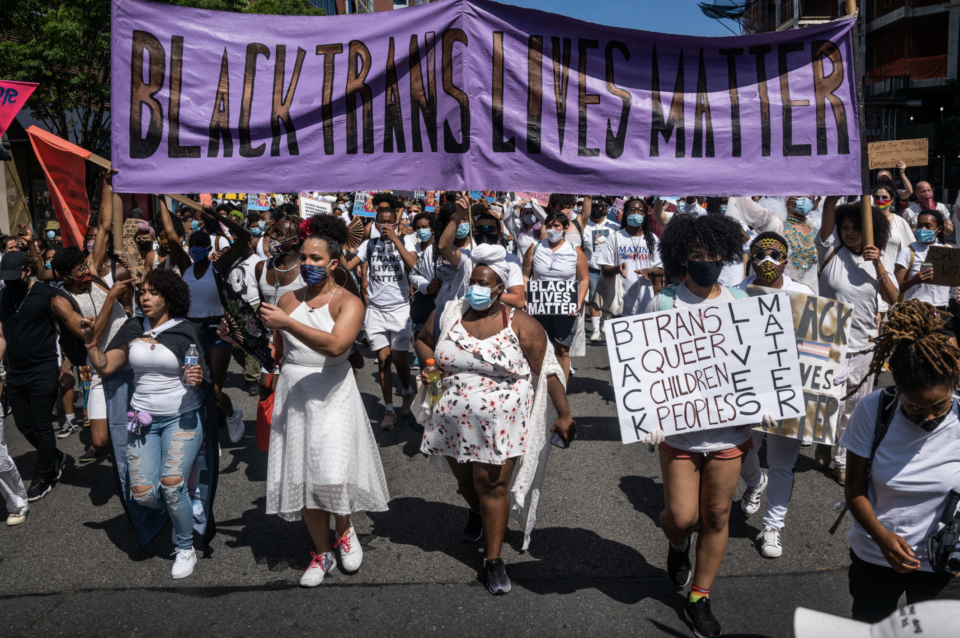 Source: Demetrius Freeman for The New York Times
Caption: Protesters filled the streets around the Brooklyn Museum.
From an intersectional perspective, immigration is a critical issue in the fight for queer and trans liberation. And at Borealis Philanthropy, we recognize that the bold, visionary, and intersectional leadership of Black and brown, trans, gender nonconforming, and disabled agitators and activists not only defines movement spaces, it pushes them to be more inclusive. We strive to shift our individual and institutional behaviors to advance all LGBTQ+ folks–centering the voices, experiences, and leadership of those most impacted by injustice.
This is why we are committed to resourcing the power-building and grassroots organizing efforts of our grantee partners, including Familia: Trans Queer Liberation Movement, SPARK Reproductive Justice NOW, Transgender Advocates Knowledgeable Empowering, and many more.
Speaking Truth To Power
When our grantee partner Familia: Trans Queer Liberation Movement's Executive Director, Jennicet Gutiérrez, was invited to this year's Pride Ceremony at the White House, she immediately declined. And she didn't just say no; she called out our Administration in an open letter, citing its inaction to help LGBTQ asylum-seekers and migrants currently detained in ICE detention centers: "You could easily stop their suffering by instructing the Department of Homeland Security to implement a policy of liberating trans people, people living with HIV and other medical conditions, as well as other vulnerable people."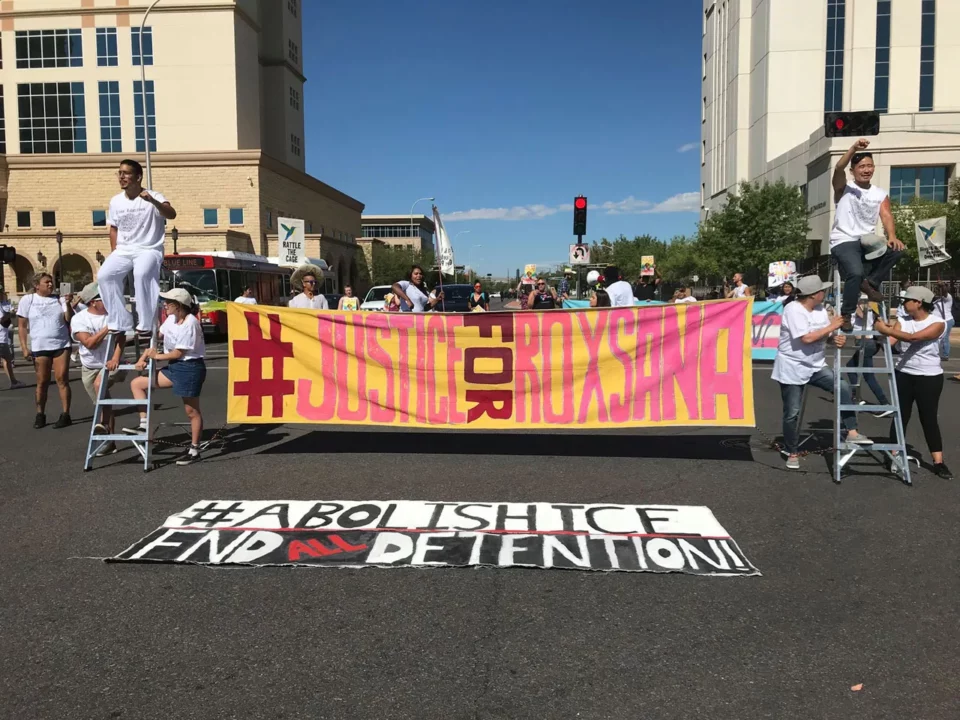 Source: Them.us; Photo Courtesy of Transgender Law Center
Caption: Transgender advocacy groups block an intersection outside of an Albuquerque courthouse protesting against the ICE detention of transgender immigrants.
At the border, policies like Title 42—which allows the government to turn away migrants seeking asylum because of the COVID-19 pandemic—reap devastating consequences on innocent lives. In Immigration and Customs Enforcement (ICE) facilities, LGBTQ+ folks are disturbingly unsafe. Trans migrants in these facilities are 97 times more likely to be victims of sexual assault and harassment, and their attacks aren't adequately investigated–if they're even investigated at all. As a result, these folks are often forced to fend for themselves in the general population or face solitary confinement, which has devastating effects on their mental and physical health.
In addition to physical abuse, many migrating trans women continue to suffer from negligence and lack of access to critical healthcare. Victoria Arellano, Roxsana Hernández, Johana Medina, and countless others have died because of the inhumane treatment they faced during detention. These women didn't have to lose their lives; movement leaders remind us that alternatives to ICE detention for LGBTQ folks, such as supervised release or community placements, could have saved them.
For Jennicet, inaction will not stand, and there is only one solution to this problem: "Ending trans detention and using … executive powers to protect LGBTQ people would have a greater impact on our community and would save many lives rather than hosting an event to deliver a well-crafted speech with broken promises."
"There is no Pride in detention," Jennicet relayed.
Source: washingtonblade.com (Washington Blade); Photo by Emilio Vicente
Caption: LGBTQ immigrant rights activists demonstration during the Queens Pride parade.
Ultimately, our celebration of Pride remains incomplete and unjust, while hundreds of our trans siblings are still being detained, misgendered, and abused in ICE detention centers. It's not enough to be aware of the indignities, humiliation, and threats of violence LGBTQ+ folks endure on their journeys and in ICE detention centers—we have a responsibility to uplift and resource the wisdom and leadership of those committed to fighting for our collective liberation.
Urgent Actions for Philanthropy
Now is the time to take action, uplift frontline organizer voices, and show up for LGBTQ+ liberation for all. We cannot be bystanders while the most marginalized folks in our community face the constant threat of violence and dehumanization.

We urge philanthropy to advance liberation by taking the following action:
1. Interrogate the role that you and your institution play in upholding transphobia, transmisogyny, anti-blackness, xenophobia, and ableism.
2. Center trans, queer, Black, and disabled folks—and all impacted communities that your grantmaking aims to serve—and define them by their joy, aspirations, and resilience, not by the impact of the systems actively working against them.
3. Fund organizations and organizers that work at the intersections of trans liberation, Black-led movement building, immigration justice, and disability justice and inclusion.
4. Give unrestricted dollars and long-term grants to trans and queer-led organizations so they can determine the best use of funds and implement strategies they (not you) set. And most importantly, then trust them to do the work.
Contact mberkowitz@borealisphilanthropy.org to learn more about how you can provide maximum and aligned support to grassroots organizers who are building intersectional movements.