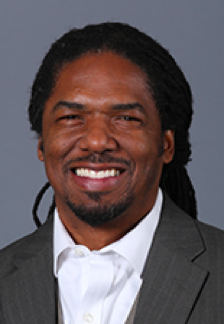 Last week, Borealis Philanthropy and Grantmakers for Effective Organizations (GEO) announced Marcus Walton, our Co-Director of Racial Equity Initiatives (REI), will be transitioning to a new and exciting role as the President and CEO of GEO.
We are thrilled for Marcus, and we will miss his leadership and his work with the REI team at Borealis.
Read our interview with Marcus as he shares what he feels proud of during his time at Borealis, what he's looking forward to seeing next from our racial equity initiatives, and what learnings he will bring to GEO.
When you look back on your time at Borealis, what do you feel proud of?
When reflecting on my experience at Borealis, I am very proud of the team we collectively built for the racial equity initiatives. Together, we defined values, identified accountability systems, established shared language and role clarity, agreed upon communications processes, and created a high-performing culture that contributed to early progress and seamless operations. The process we used to cultivate trust and rapport is one I will bring with me to my new role.
When you think about what's next for our racial equity initiatives at Borealis, what are you most excited about?
I am excited that the racial equity work at Borealis is being led by a dynamic group of women who share my personal vision for advancing racial equity in the philanthropic sector.
Maya Thornell-Sandifor, the current Co-Director of REI, will assume the role of Director moving forward, overseeing all of our racial equity funds. I am eager to see and support her leadership of the REI team which includes Kristell Caballero Saucedo, the Program Officer for the REP Fund, and Truc Anh Kieu, Program Associate for REI.
Ultimately, I know that this team will support grantees to continue working together cooperatively, learning from each other, and deepening capacity to advance racial equity in different sectors.
What learnings from your work at Borealis will you bring with you to GEO?
I have learned that creating a dynamic culture for change is critical to efficiently and effectively advancing a change agenda. Since this work is disruptive, by definition, staff is well served to be equipped with various frameworks, tools, and coaching support to manage disruption. We cannot fully invest ourselves into racial equity or justice work without being shaped by it, directly.
Working with the REI team at Borealis helped me grow as a leader, and I also learned a tremendous amount from all Borealis staff. Understanding the work of all of Borealis' donor collaborative funds helped me appreciate the value and complexity of intersectional work.
My experience at Borealis has also demonstrated the impact of developing trust with peers and colleagues responsible for the work. The result of that trust and open conversations within the REP Fund, for example, has been the creation of racial equity-informed investments that respond directly to the source of need for grantees and beneficiaries, alike.
I am grateful for the insights grantees and donors have shared with me in our work together, which have confirmed for me that racial equity work is people work. I am eager to bring this reflection and everything I have learned to my new role at GEO, and to continue building upon the relationships I cultivated at Borealis.