Hello from the REJ Fund Field Report, bringing you the latest updates on what we're learning from our grantee partners about the media landscape. This month we're looking at Indigenous media and two of our grantee partners, Indian Country Today (ICT) and Buffalo's Fire. Indigenous media is crucial in providing local news and a cultural connection to Indigenous people. And while ICT and Buffalo's Fire are models of success, many local tribal media outlets suffer from censorship, lack of funding, and Internet connectivity issues.
But first, we have some exciting REJ Fund news.
REJ Fund Updates
Borealis Welcomes Alicia Bell as Racial Equity in Journalism Director
Alicia Bell (they/she) will be joining the REJ Fund as its new director starting October 11. Alicia has served on the REJ Fund's advisory board, and we are thrilled that they will be helping to lead the next phase of the fund. Based in Charlotte, NC, Alicia was previously at Free Press where she has most recently been the director of the Media 2070 initiative, a vanguard media reparations campaign that is reimagining media. Stay tuned for an upcoming REJ Fund Q&A with Alicia to learn more.
Borealis is searching for a Racial Equity in Journalism Fund Program Officer
Do you dream of using your skills, experiences, and values to help strengthen the capacity and ecosystem of Black, Latinx, Asian Pacific Islander and Indigenous news organizations across the country? If so, you might be the Racial Equity in Journalism Fund's new program officer. Launched in 2019, the REJ Fund works to strengthen the capacity and sustainability of some of the most trusted and leading edge news organizations led by and for people of color to provide relevant, accurate information to increase civic engagement in the communities they serve. The Program Officer, as part of a team of three, leads the design and implementation of programming, grantmaking and other activities for the REJ Fund. Visit Borealis' career page to access and apply to this position. Please send any questions or referrals to recruitment@borealisphilanthropy.org.
---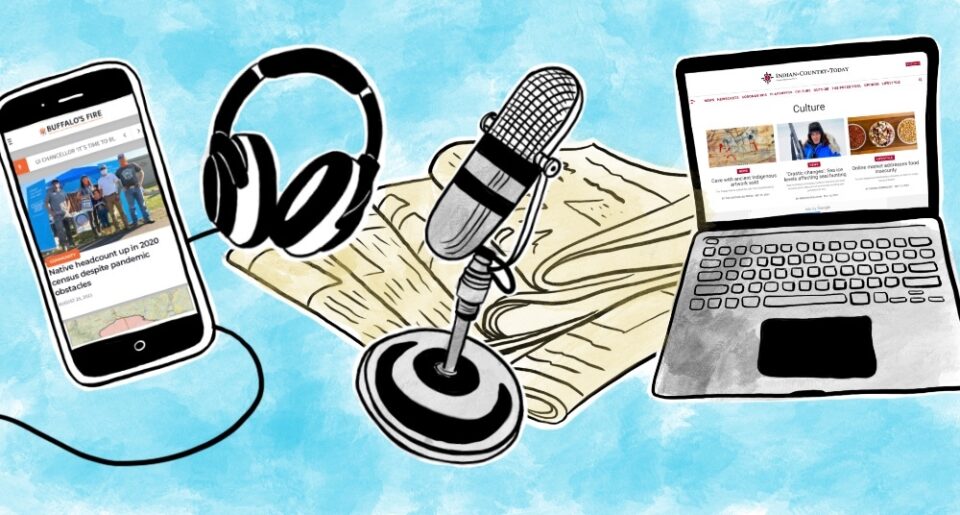 Native/Indigenous issues have been receiving a lot of press recently. There was coverage on outlets like NPR and the New York Times of the systematic abuse that happened at Indigenous boarding schools, Deb Haaland was named United States Secretary of the Interior, Cleveland's Major League Baseball team changed its name from the Indians to the Guardians, and Reservation Dogs, the first show to feature a mostly Indigenous team of writers, directors, cast, and production crew, debuted on FX.
But despite this visibility in the mainstream news, we wanted to know what is happening on the ground at tribal newspapers, radio stations, and websites where the majority of Indigenous people get their information about their communities.
Importance of Indigenous Media
Indigenous media is crucial to Indigenous people. For many, it is the only source of information about their communities and tribal affairs. Indigenous media includes print, radio, and digital and covers all news topics, not just tribal affairs. Health, climate, current events, arts, culture, and sports are all covered by Indigenous media. All of the stories come from an Indigenous perspective, which builds reader trust.
Often, mainstream media lacks the context or knowledge to accurately report on Indigenous issues. Stories about Indigenous people are either ignored or if they make the news, tend to be stereotypical and focus on alcoholism, poverty, violence, casinos, and drumming. NAJA released an analysis of New York Times' coverage of Indigenous topics from 2015-2021, which showed that more than half the articles used stereotypes.
Due to mainstream media's poor coverage of Indigenous issues, Indigenous media is THE place for Indigenous people to get accurate news about their community and issues affecting them.
According to a report released by NAJA, "Native audiences are more receptive to messages from Native media" and it is "their most trusted sources of information."
NAJA also reports that tribal media audiences have increased significantly in the past five years, due to citizens paying more attention to politics and health. Early on in the pandemic, for example, the Navajo Nation experienced a serious COVID outbreak, which the Navajo Times covered.
Cultural Links
For many Indigenous people, Indigenous and tribal media is not just a source of accurate news and information — it is also a connection to their tribe, culture, and identity.
Bryan Pollard wrote a piece for American Indian Magazine last summer which highlights the empowerment that comes from Indigenous media. He tells REJ Fund that for people who live on reservations, "Tribal radio is a drum that keeps the heartbeat of the community going and keeps everyone connected." And for those who do not live on reservations, tribal media "becomes an affirmation of identity" and is a way for people to stay connected to their tribe, their culture, and their language.
The 400+ Indigenous news outlets in the United States and Canada are crucial lifelines to news, culture, and community for many Indigenous people, both on the reservation and in urban areas.
In addition to advocating for increased and accurate coverage of Indigenous issues in mainstream news, we also need to support Indigenous-owned and local tribal news outlets because of their importance to Indigenous people.
Freedom of Press
Tribal news outlets, however, have their own set of challenges. While they may be able to understand and report on stories that the mainstream press has missed, the vast majority of tribal media suffers from censorship and lack of full independence.
Press freedom has been a long standing problem in tribal media. Editors and journalists who report on stories not approved by the tribal government potentially face consequences such as harassment, intimidation, funding cuts, and firings.
In 2018, Bryan Pollard via the Red Press Initiative surveyed tribal media producers and consumers to generate quantitative data to pair with the anecdotal evidence of censored press. What he found, unsurprisingly, was that while freedom of speech and press is valued, the reality is that press freedom in tribal media is inconsistent.
Jodi Rave Spotted Bear, who heads up REJ Fund grantee partner website Buffalo's Fire, has reported extensively on Red Press Initiative's findings and freedom of press issues in tribal media.
Some key findings from Red Press Initiative:
"Nearly 1/2 of tribal media staff responded that they were subject to intimidation and harassment when covering tribal affairs."
"Nearly 1/4 of tribal media staff responded that stories about tribal affairs or officials went unreported due to censorship, or that public relations staff influenced published news all or most of the time."
"Nearly 1/3 of these same staff responded that prior approval of stories by government officials was required all or most of the time."
Read the full report here.
The major driving factor in the lack of press freedom in tribal media is the fact that nearly all tribal media outlets are owned and run by tribal governments. It is this lack of separation between press and government that leads to censorship and influence on reporting.
Tribal governments can conflate their media news outlet with public relations, which is why in the statistic cited above, "Nearly 1/4 of tribal media staff reported that… public relations staff influenced published news all or most of the time."
Sometimes, the censorship is political. Buffalo's Fire chronicles the situation of Grand Ronde tribal citizen Mia Prickett who, along with 80 of her relatives, was unenrolled by the tribal council in 2013. Smoke Signals, the tribal newspaper, was prevented from reporting anything that would have told Prickett's side of the story. The editors of Smoke Signals recount how they most likely would have been fired for reporting on Prickett's story.
In addition to direct intimidation and threat of firings, editorial staff are also controlled via finances and budgets. According to the Red Press Initiative:
"Nearly 1/3 responded that the tribal government tries to control tribal media through their budget at least half the time."
Media staff are threatened with reduced budgets if they report on stories not approved by tribal governments.
Connectivity
Another issue faced by tribal media is Internet connectivity. Many Indigenous people living on reservations lack a reliable Internet connection or cell phone signal. And while tribes are working to build infrastructure and get their citizens connected, in the meantime, they have to make do with what they have. According to Bryan Pollard, this means that you will often see people sitting in McDonald's parking lots just to access the wifi so they can read the news, email friends, and look at social media.
This lack of Internet connectivity is one reason why radio is still a popular tribal media medium.
And as Indigenous people move off the reservation and spread out across the country and the world, it is crucial that tribes have Internet access so that they can digitize their media and make it accessible to tribal members in all geographic locations. People need to be able to access their tribal media via websites and digital radio if they can't get a print newspaper sent to them or tune in to a terrestrial radio signal.
Achieving Free Press
According to the Native media report written by Jodi Rave Spotted Bear, "An estimated 72% of all print and radio outlets in Indian Country are owned and controlled by tribal governments or tribe-owned entities." It is this lack of separation that leads to press censorship and freedom of press issues. Tribal media is financially reliant on tribal governments.
But turning tribal media into non-tribal government-owned entities is challenging. As Bryan Pollard points out, the traditional media business model that runs on advertising doesn't work in a reservation setting where the population is smaller, more rural, and more spread out than in urban areas. They can't attract advertisers the way media in larger cities can.
Pollard tells us that there is a strong need for innovation in developing a business model that can be sustained in a tribal setting, and he suggests a model similar to the Corporation for Public Broadcasting.
In addition to financial support, both Pollard and Rave advocate for policy changes that would formally separate tribal governments from editorial influence. Not many tribes have implemented such policies, but in 2016, Grand Ronde's tribal leaders passed an independent press ordinance after the fallout from Mia Prickett's unenrollment.
It should be mentioned that social media, of course, plays a role in the news and media consumption of Indigenous people. There have been anecdotal accounts of people using social media to circumvent tribal censorship and get stories out to readers. However, like all social media, accuracy and journalistic integrity are difficult to verify on these platforms.
Tracking Tribal Media
In addition to championing freedom of press in tribal media, we need to allocate more resources to studying and tracking tribal media. There is limited research on the Native media landscape, and Red Press Initiative's study of freedom of press was groundbreaking.
Anecdotally, we know that consumption of tribal media by Indigenous people is high and is the main source of news for people on reservations. But we don't have statistics or details to paint a more clear picture of audience demographics and how audiences are engaging with the media.
As Mark Trahant, editor for REJ Fund grantee partner Indian Country Today points out in his piece, "The Case for Indigenous Media," Indigenous media was completely left out of Pew Research Center's latest State of the News Media report.
This omission occurred despite the fact that according to NAJA, there are around 400 Indigenous news outlets in the United States and Canada. (Comparatively, there are 558 Latino news media outlets and over 100 Black newspapers in the United States.)
Indian Country Today
One success story for Indigenous media is REJ Fund grantee partner Indian Country Today, which last month reached 600,000 people and reported 850,000 page views. Started 40 years ago as an independent weekly newspaper called The Lakota Times, it has evolved to become a news and culture website owned and run by IndiJ Public Media, an Arizona nonprofit.
ICT is a model for Indigenous independent media on a national level and recently started a broadcast channel which can be viewed on their website as well as on public stations. ICT's independence means that they can bring unbiased and accurate stories about Indigenous people to their audiences. They cover a variety of topics with a mix of in-depth reporting and quick news bits.
For this piece we spoke to Rebecca Landsberry-Baker, Executive Director of The Native American Journalists Association (NAJA); Bryan Pollard who headed up the Red Press Initiative; and Mark Trahant, editor for REJ Fund grantee partner Indian Country Today. Additional documentation is from Jodi Rave Spotted Bear, editor for REJ Fund grantee partner Buffalo's Fire.
---
Partner Kudos
Congratulations to Jodi Rave Spotted Bear who was recently awarded a Stanford John S. Knight Community Impact fellowship for her work at Indigenous Media Freedom Alliance and Buffalo's Fire.
Sahan Journal was a case study for the Institute for Nonprofit News and the results are in! In just two years, Sahan Journal had soaring staff, fundraising, and audience growth.
Georgia Asian Times celebrated a record turnout of participants at their 25 Most Influential Asian Americans in Georgia awards gala in July.
Cicero Independiente was featured in a Poynter piece on their work to bring political discourse to Latinos in their town.
Documented and Latino USA were recipients of the Edward R. Murrow award for News Documentary for their series on immigration courts.