For our final issue of the year, we met with Aaron Dorfman, President and CEO of the National Committee for Responsive Philanthropy (NCRP), a Racial Equity in Philanthropy grantee partner. NCRP is a research and advocacy organization that promotes more equitable practices in philanthropy that center the well-being of people with the least wealth and opportunity.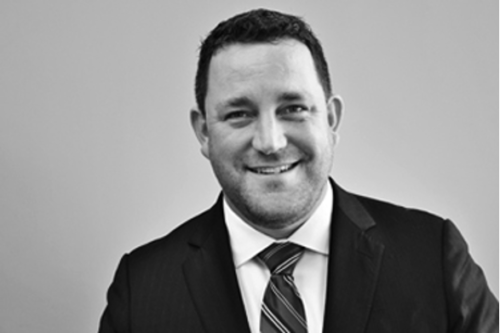 [Image description: A black and white photograph of Aaron in a black suit, white shirt, and striped tie smiling into the camera against a grey background. ]

"I do this work because I dedicated my life to advancing social justice and equity for all people."
For those who aren't familiar, what does NCRP do? What can people look to NCRP for?

Aaron Dorfman: NCRP is the only independent watchdog and critical friend of philanthropy. Our mandate is to hold up a mirror to philanthropy to help the sector realize what it's ignoring and what it's not doing. We're known for producing credible evidence-based research that makes a persuasive case for the best social justice philanthropy practices. We're also known for accountability reports that show who's doing well and which funders are falling behind. So we regularly analyze who are the top social justice funders and who's not doing any social justice funding at all.
So that takes the shape of things like our Grantmaking for Community Impact Project and the Leveraging Limited Dollars report that is the summary of that project where we spent three years studying what in fact are the benefits for families and communities when foundations invest in advocacy and organizing and civic engagement and racial justice work. And we were able to monetize what the benefits are to the community and show a return on investment of 115 to one. And dozens and dozens of funders have used that finding and those reports to protect or expand funding for those kinds of high-leverage philanthropic strategies. More recently a tool that we created that funders are using a lot is our Power Moves assessment toolkit. This has a strong racial equity and racial justice focus and it helps funders assess how well and to what extent they are effectively building power, sharing power, and wielding power in pursuit of equity and justice. Most recently, we put out a report called Black Funding Denied that analyzed community foundation support for Black communities.
We are not a funder association the way a lot of other PSOs are. We have a different place in the ecosystem, and we have to partner with all of these other groups to make real change happen. So the way I think of it is that NCRP creates pressure and demand for foundations to recognize that they must change and they must improve. We create the demand for them to want to get better on these kinds of social justice practices, and then we really rely on our other PSO partners to help them operationalize it.

What is NCRP's role in advancing racial equity?

Aaron Dorfman: In the fall of 2006 my predecessor at NCRP stepped down and that led to me leaving a 15-year career as a community organizer and taking on leadership of NCRP. And the board and I decided it was time for a real overhaul of the organization at that 30 year mark to really restructure and refocus the organization to achieve more impact. And one of the things that we decided to do was to absolutely prioritize racial justice, social justice, power building and systems change as our top goal. That had always been something that NCRP had advocated for, but it became the primary focus of the organization to ensure that philanthropy was more responsive to those with the least wealth and power and opportunity in our nation. So we went about building an agenda to try to make that happen in the philanthropic sector.

As a leader, what was important for you to prioritize while leading NCRP through its racial equity journey?

Aaron Dorfman: Early in my tenure at NCRP I was fortunate to participate in the 2010-11 Rockwood Leadership year long program. One of the things that we did was we came up with our own sort of personal leadership mantra, a kind of phrase you can repeat to yourself before every significant act of leadership that you're going to take on any given day and I actually still repeat that to myself now 10 years later. Mine is: I provoke with love to build movement towards justice.
And so, you know, lots of different parts of that are important. I think recognizing that our role is to provoke. [NCRP] are the provocateurs, so we have to keep that at our core and we have to do it with love. Many funders are honestly wanting to do the best they can with their money to create the most good in the world. We have to honor that and recognize that while also making sure that there is movement towards justice in what they're doing.
So I think that's been part of how I've approached it as a leader.
Another part—and this is one of our organizational values—is humility. You know, I need to recognize I don't have all the answers. I don't know all the truths, and I have to surround myself with other people who've had different life experiences than I have to maybe see things from a different point of view. We have an incredibly diverse multiracial team, both on staff and on the board, and both staff and board are a slight majority people of color.
We make sure and I make sure that everyone's perspectives are included and consulted before we decide on a course of action and move ahead. One of the interesting things we did about three years ago when the board was electing new officers to the Executive Committee of the Board of Directors, we decided it would be important to balance my power in the organization to set the agenda for what we were doing and how we were doing it. The executive committee is 100% people of color, and that's the crew that leads my performance reviews. Those are the folks that I consult when preparing agendas and discussions for the board meeting or before making significant decisions. And I think that's really important.
As a white person leading an organization committed to advancing racial equity, what have been the points of tension and what have been the moments of clarity throughout your leadership journey?

Aaron Dorfman: It's really important to know when to step up and when to step back both within our organization and with all our partners. For example, there are times when it's really important to have a white person with privilege challenging and calling on other white people, especially rich white people, to pay more attention to racial justice, and I have access to spaces that other people often don't. I need to use that privilege and that access to push an agenda when I can. There are also times when I'm not the right voice to push something so that might mean that we turn down a speaking opportunity for me. And we suggest that Jeanné Lewis, our vice president and chief engagement officer, be the person to author a piece or to do a speaking engagement. We have a super talented team, so thankfully, there's lots of people who can take those roles in those spaces

Aaron Dorfman: I think it's really important for any leader to have trusted colleagues who will truth-tell to them. Our three vice presidents (Jeanné Lewis, Timi Gerson and José Dominguez) do that for me on our team. Externally, how it plays out is there's an informal group of large national philanthropy-serving organizations, most of the ones that were on that joint statement calling for higher spending right when the pandemic hit. And after George Floyd's murder, we were talking: What should we do? Should we do another joint statement? And you know, one of the things I said to that group was, 'Hey wait a minute. I'm not really sure. We shouldn't be leading on this. We are a mostly white group. And, you know, ABFE's probably the one to be leading on this. Let's check in with them and see what they're doing and see if we can just amplify what they're doing and encourage all our members to sign on to ABFE's actions and statements.' And so that's what we did. And we actually got on the phone and we called white foundation CEOs and said, 'ABFE is going to be needing an influx of resources to deal with this increased demand in this moment.' I think we helped raise some money for them.
And we all signed on to their statement and amplified it. So sometimes that's the way you've got to go as a white leader is not lead, but back the leadership of people of color.
Often, we see white guilt freeze leaders who have the potential to be advocates of racial equity. What is one piece of advice you would give to them?

Aaron Dorfman: Talk to other white people about how to get over your that and figure out what you can do. It's not something that you want to burden your colleagues of color with and folks of color shouldn't have to help their white colleagues through that that.
But doing nothing is not an option. If you don't know what to do, reach out to another white friend or colleague and talk it through with them and figure out what are the next steps you can take. What's one thing you can do this week, this month, or next quarter so that you are taking action and moving forward.
These urgent times really require that white people with good intentions around racial justice not be [frozen], that we take action, and that we do the things that are in our power to do, and it's on us to use our support systems to figure out how to move forward.
How can organizations and people get involved with NCRP? We love to co-create content sessions at conferences, sometimes co-authoring pieces. And one of the things that I think is important is just to make sure we're aware of what you're doing that might intersect [with NCRP's work]. So if you're a foundation or PSO and you're doing something that you think we'd be interested in, send us a note. There might be a way that we can figure out how to leverage each other's work. We love to amplify great things that we are seeing from others in the field.
Interested in partnering with NCRP? Reach out to Brandi Collins Calhoun (bcollins-calhoun@ncrp.org) and Eleni Refu (erefu@ncrp.org).

Anything else you'd like to share with us?
Aaron: I really think there is an important role for organizations that are multi-racial in this racial equity advancement moment. We can't step back from pushing this conversation in the field. And we have to lean into it and keep pushing it while also lifting up organizations that are led by people of color. I think both are really important in advancing racial equity and racial justice in our society.
REP Network and Ecosystem At a Glance
The Diversity Among Philanthropic Professionals (DAPP) Survey is launching December 2020. Administered this year by CHANGE Philanthropy, the goal of this survey is to help the philanthropic sector understand the current climate and culture of their grantmaking institutions. Sign up to participate in this year's survey here. To view the 2018 DAPP Community Snapshots, go here.

Check out EPIP's recently published Inclusive Leadership Framework which identifies seven cornerstones of inclusive philanthropic leadership.
Women's Funding Network recently examined participatory grantmaking among gender-equity funders. To read their key findings on the project, check out their report Participatory Practice of Gender Equity Funders.
Investing in Native Communities, by Native Americans in Philanthropy and CANDID. In honor of Native American Heritage Month this past November, we are resharing this tool which aims to help philanthropy understand and connect with Native communities.
How to Give Feedback to Your Funders–Especially When It's Hard by Eleni Refu and Lisa Ranghelli of NCRP. Originally published in Blue Avocado, this piece encourages people working in nonprofits to directly share feedback to funders and offers concrete ways to speak up.
Black Funding Denied: Community Foundation Support for Black Communities. In this new report, NCRP analyzes 25 community foundation's grantmaking data from 2016-2018. Findings highlight the underinvestment in Black communities: only 1% of grants from these 25 foundations was specifically designated for Black communities.
Native Americans in Philanthropy: An Interview with Erik Stegman and Pat Eng of AAPIP. In honor of Native American Heritage Month in November, Pat sat down with Erik, Executive Director of Native Americans in Philanthropy.
Equity in the Center Upcoming Trainings:
Awake to Woke to Work: Building a Race Equity Culture Open Enrollment Sessions
Intersectional Allyship for Racial Justice: A Workshop for White Allies
More Than Fragility: A Deep Dive into Understanding and Dismantling Whiteness
February 2 & March 2 from 12-3 ET. Register

here

.