Meet Satonya Fair (she|her), President and CEO of PEAK Grantmaking. In this Storyletter, we learn how PEAK weathered multiple storms and Satonyas vision for a more collaborative philanthropy—starting with PEAK Grantmaking.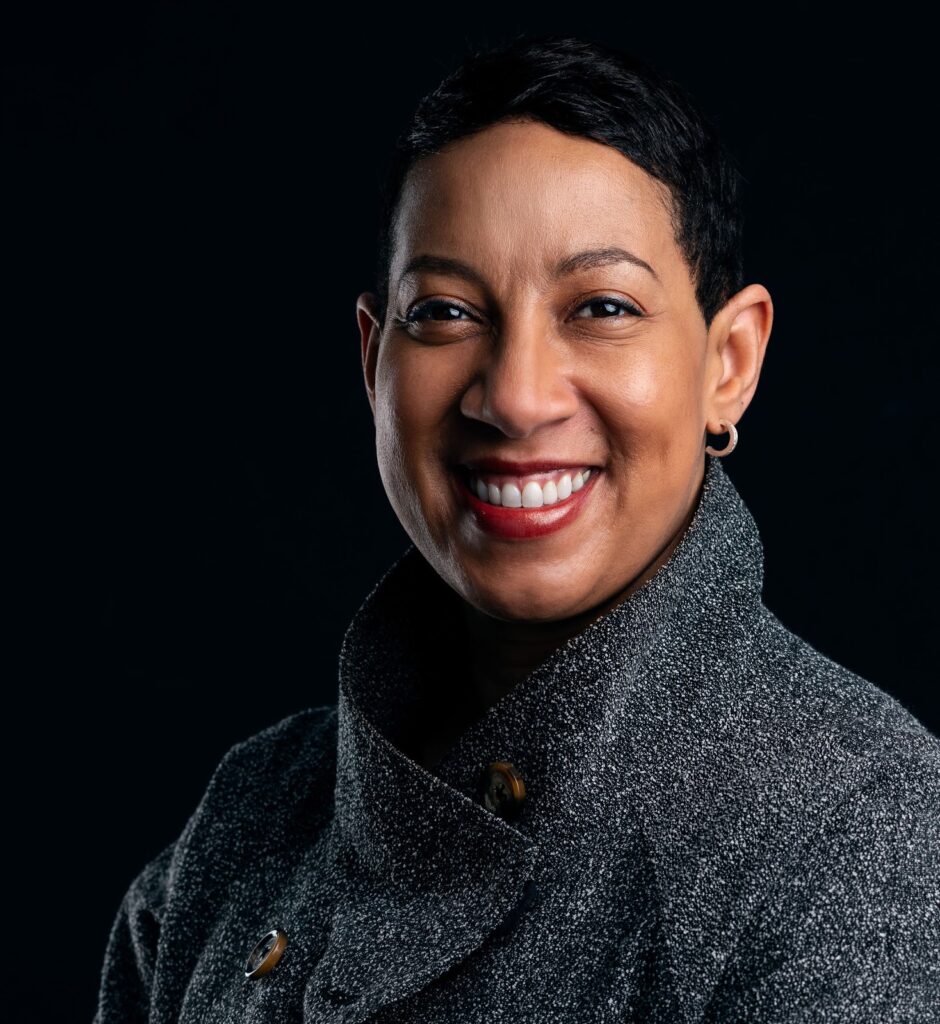 "I've been working with PEAK Grantmaking for almost 10 years, having been sponsor, donor, volunteer, and board member. I'm truly excited to be sitting in the seat at this moment [as President]. To be able to help influence the dollars going to the people, the communities, the families, the children, the causes that I am passionate about—this is the place for me."
[Image description: Satonya smiling against a black background. She is wearing a grey coat.]
Last year was a pretty big year for PEAK Grantmaking; not only was your 2020 conference interrupted as a result of COVID, but you also onboarded new staff and experienced a leadership transition in the midst of everything else. As you reflect on last year's work at PEAK, what are you most proud of?
Satonya: Our team was able to pull together and quickly convert what should have been an in-person event in Seattle into an online conference where thousands of people in our community still showed up and participated. I think that PEAK was leading the way for many other PSOs on how to flex into the moment. We were the first [organization] to cancel and not know what was going to happen. I'm so proud of how the PEAK team rallied. In a time without a leader, our board members all leaned in and provided stabilizing support—along with Dolores Estrada, our Chief Operating Officer—to support the team through what we know was not just a work-related pandemic. It was personal: People were being displaced and their families were being impacted economically, mentally, and physically. I see our staff as the heroes because they—along with 200 volunteers and our board—did everything they could to really make sure that we were successful. We ended the year with more members, friends, and new relationships than we started with.
We have a lot of proud moments. It was a proud moment to have a board that recognized that PEAK needed more from its next leader, in deciding to shift from an executive director to a president and CEO. Holding equity in the center and their hiring process were pretty significant. Through chaos, we got defined. And I think we also learned a lot by listening carefully to what our community might need from us differently and better. We learned a lot, and it has positioned us well to be able to go into this year knowing that, while we're still going to have chaos with a pandemic, we have a plan. For me, these have been the bright spots through the crisis.
What are the lessons PEAK has learned from its racial equity work, both internally and externally? What surprised you? Anything you'd approach differently?
Satonya: The biggest thing was just understanding that racial equity work is both inside and outside work. The organization has learned that we have to do the internal work, and that includes our board work around racial equity, while not losing what the community is asking of us at the same time. Are you truly living what you're saying? That's the key question. 

The second thing I would say is a lesson learned is that good philanthropy walks in the door and asks questions. You don't walk in the door telling them what your solutions already are for what you perceive are their issues. We meet members where they are. They're not joining PEAK because they've got it all figured out. They're joining to figure it out together. We have to walk in like we don't know who they are or what's important to them and just listen.

One of the things that I hear from PSOs who depend on memberships is that one of the reasons they are afraid of explicitly being more committed to racial equity work is that they fear they will lose members. As somebody who is living in an organization that has said, "Okay, we are going to continue advancing racial equity within our membership and also internally," have you received any pushback, and if so, how have you addressed it? 
Satonya: There are thousands of foundations. And so if, by chance, us being bold means that somebody decides they don't want to work with us anymore, I'm okay with that because I think if you're not willing to stand for something and take some risks then you probably shouldn't be in this area.

I have had so many interesting conversations with community foundation leaders who are very concerned about taking a strong stance on racial equity because they're worried that certain funds will start to disappear. But I also feel that an organization, particularly a community foundation, that takes a stand has so much to gain on the other side. You do have to prepare yourself for that.
Every leader should be willing to have difficult conversations with people. It definitely leads to tension and it comes up, but I'll be darned if I'll be the leader who somehow decides that we're not going to go in this direction because we're worried about the money. We'll figure it out.
PEAK has experienced members who contacted us and essentially said, "PEAK is moving into equity and that's not where we are", so they don't renew. At the same time, we get a call or an email after a presentation or resource release saying, "the way PEAK is speaking boldly about equity and having the resources and patience to support organizations from where they are is what we need. Send us a membership form." As a board and a management team, we have spoken candidly that we stand on our Principles. No compromising. There are thousands of foundations operating in the US alone. If we build it, "they" (those organizations that recognize the work we're doing might help support their ability to shift toward centering equity in their operations and moving to more effective practices) will come. We're sure of it.
Also, you need to have diverse funding streams (and some savings), so you can weather the storms. Equity is so important to my ethos. For me, equity is doing right. So, I'm all in for those hoping to do right by others and building their practices around a moral center. If it's not for you, we still want to know you and understand why, but we accept that our mission and goals will not be for all funders.
Moving into this new year, what is front of mind for you in terms of racial equity work and PEAK? What role do you see PEAK continuing to play (or beginning to play) in moving this work forward?

Satonya: I'm really excited about the influencer role. We're a small three and a half million dollar nonprofit, but the philanthropic community is coming to us, and I think we're ready and poised to support this equity journey with them—not to be the experts, but to bring the right people together around our members and around partners to propel us all forward. I see the opportunity for PEAK to help folks understand the operational side of the house. Without them, you're not going about your equity work the best way you can. It is a full-house participation sport. If you're really hoping to advance equity, but you haven't figured out equity within your own organization, well, that's a problem. So maybe the work we're doing is more inside [type of work] to help people get there.
Externally, advocacy and influence are spaces where I personally am very interested in helping PEAK be a leader in the sector. Second is bringing more PSOs together for deeper collaboration and resource-sharing than we have in the past. We need to work in symmetry, and strategically. As I'm listening to our partners, I hear some shared aspirations, and I think it's so important for us to elevate what it seems like we're all saying and trying to do, even though we might each take a different slice of the pie. This is going to be so important for philanthropy.
And I think that there are other ways to do philanthropy better. Let's have some critical partnerships that are not transactional, where we get with certain partners and funders and key stakeholders to dig in and go deeper and deeper, being complementary to what the other is offering, while solidly aligned around what we want that aligned contribution to be for racial equity.
As you might know, Borealis is going through its own leadership transition with a new president joining to lead the organization. As an organization who already went through something similar with you joining the PEAK team, what advice would you give to organizations that are going through a leadership transition and who are simultaneously undergoing a racial equity transformation? What helped PEAK stay the course?

Satonya: I think that because the organization was thinking about expanding the role at the leadership lens, the board spent quite a bit of time on its own, and with staff helping, to reprioritize and voice what their aspirations and hopes for a new CEO were going to be: what direction they really felt like the organization could, and should, go; and where they saw the deficits, the holes that we need to fill with the new leader.
And so I do think it was really important for the organization to make sure that even though we have a small staff, that staff had equal voice. I was interviewed by the full board and the full staff. And that was such an interesting experience because you can imagine how different people, especially with different tenures, brought very different questions to me, and everybody got a say.
But the thing is, I've been blessed with a lot of grace from the community and open arms to new ideas. I think they've been very open to me to not just keep doing what was being done, but rethinking everything. We need a bigger staff, we need more resources, we need to budget, and we need a four-year strategic plan. I literally walked in the door, proposing all of these different changes, but I've also had a good case for support as to my why.
Leadership transitions are really tough. We've now seen several funders bring in new leaders and those leaders not stay long. And so, the board and the staff support can be so critical, also making sure that you will find your road to walk together on.
And also, for me, having been on the PEAK board and then making this transition, it's a whole different relationship. I assume nothing. I walked in the door trying to get to know Dolores. I've known her for nine years, but I needed to get to know Dolores differently in my new capacity, and she me in my new capacity. And so we assumed nothing walking in the door. And I think that's probably a good suggestion for any leader. Walk in the door, and just start asking questions. Be open. Don't assume that you get it, got it, know it; because maybe you do, maybe you don't. And so, it's a really nice time to just be a receiver. And soon, you'll be able to start giving back. Ask a lot of questions, be in listening mode, and be open. Those are like recommendations to pass on to any CEO, but really to anybody coming in new to an organization: ask questions; don't have answers.
REP Ecosystem At A Glance
Centering Racial Equity in Grantmaking, a webinar co-hosted by EPIP and ABFE on February 26.
 
New Borealis Leader Outlines Bold Vision for Racial Justice Philanthropy, NPQ. Cyndi Suarez, co-editor of NPQ, launched a new podcast series that will feature women of color leaders. In this episode, Cyndi and Amoretta Morris discuss their visions for racial justice, liberatory power, and organizing philanthropy. [28M listen]
 
Check out Native Americans in Philanthropy's newly published report on philanthropy's response to the pandemic, "Indigenous Community Leadership in Response to COVID-19: A Call to Action for the Philanthropic Sector." Here is a summary of the key findings and 5 concrete actions for funders [10M read]
 
Call for Sessions: It's that time of year to submit your proposals. Submit a session idea for CHANGE Philanthropy's Unity Summit by February 26,  EPIP's 2021 National Conference,  and Exponent Philanthropy's annual conference by March 12.
 
Opportunities