Please meet Carly Hare, Coalition Catalyst and National Director of CHANGE Philanthropy, and REP grantee partner.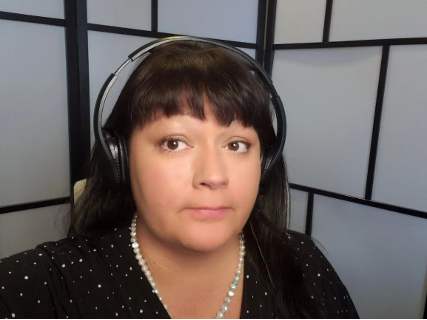 "I'm Carly Hare. I'm a citizen of the Pawnee nation of Oklahoma and a descendant of the Yankton Sioux community on my father's side, and <i kita u hoo <i ]a hiks is my Pawnee name, which means "kind leader of men." For me, it is in my Pawnee name why I do a lot of this work. [My name] has been something I've tried to live into and live up to as a mantle of: How do I hold roles and responsibility with as much grace and care and kindness, as I can, in those spaces? And how do I center our work that is from a collective community sense about rising up and addressing issues and inequities that significantly challenged our communities? My whole professional career has been in some vein of that, whether centering and working for native people or in racial equity strategy coalition in different ways, and the last 20 years has had an overlay of philanthropy as the kind of tool or throughline of what we were trying to shift and change."
[Image description: Carly smiling into the camera with headphones against a grey background with geometric black squares. She is wearing a black and white polka dot shirt and a pearl necklace.]
What do you see being CHANGE Philanthropy's role in advancing racial equity in philanthropy? What makes this network and its work important for the transformation of the philanthropic sector?
Carly: CHANGE itself is positioned to be a field builder and an influencer in different ways than the individual coalition partners are. We don't have members as CHANGE that are foundation members, like the other coalition members, or do work with specific foundations. This positions CHANGE differently to work as advocates and allies and agents in the field much differently. That allows us to amplify and advance conversations that we're having as a coalition and allows us to be more nimble with the other philanthropy-serving organizations to serve as an advocate and an ally alongside them and their own equity journeys.
Our relationship can be seen as two-pronged with other PSOs; there's a consigliere role working with folks to be council in their own process and helping them map out what resources they might need in their own internal journey, and cheerleading at times when they need that; and then there's the strategy about how they are actually moving their members programmatically and how can we help bridge the gap of like, here are the five or ten things our coalition partners are doing that might be aligned.
What are the tensions that come from leading a network that is grounded on values of racial equity and intersectionality?
Carly: We are a learning and peer network community, and that is primary to continuing to have an evolving conversation and evolving collaborative space. There isn't a static definition of what racial equity is or a static definition of what intersectionality is because everyone—and I talk about this a lot when I'm doing external work with folks that are newer in their journeys—every single institution has people that are operating within a certain bandwidth of what they know about and what their context is and what their relationship and empathy level is for understanding how to work with a certain community, a certain issue, a certain experience in the racial equity and intersectionality framework and context.
And then, when you add everyone together, you are like this broader kind of bandwidth that you operate in and while you need to be able to speak to the polar opposite ends—folks that are really deep into it and folks that just have no idea about what's going on in an issue—you've got to have things that allow those folks to enter into the conversation and feel connected. Neither one of them might be fully in it yet,then you're moving towards widening that bandwidth for everyone, so the content and conversation and then the work coming out of it begins to grow and deepen in different ways.
Carly: It's a balancing issue, we have to be flexible, to say what do we know and what do we not know and provide peer education with each other and creating an environment where everyone is holding wisdom into the work. Because expertise is one thing, but wisdom is a whole different thing, what does it mean for you to bring in and share that experience and conversation in the spaces? It is keeping a nimble and responsive structure that allows us to be ready and able to say, 'Okay, there's a piece here we don't understand. Which of the partners has a better understanding of it? Who is in the space? How do we do a collective education to make sure that we are centering the values we've all agreed to?' But we're continuing to evolve our collective and contextual understanding of racial equity and intersectionality in place and community. And that has been powerful for us.
CHANGE Philanthropy has been working on the Diversity Among Philanthropic Professionals Survey. Can you tell us more about this project, any findings so far, and how can philanthropy use it as a resource to change the way they operate?
Carly: We're really excited about DAPP in general because it's one of the things that hasn't existed in the field. We know that Council does the benefits and salary survey, which talks about the role types people have; they started including a race and gender framework within the last few years. But it's still reported by HR people. That can make it a little more challenging to say, that's an assumption, and you don't know what processes they have in place, and how they're polling folks, and you don't know how safe those environments are for people to be fully transparent and open about the extent of their identities in those spaces.
What we love about DAPP is that this is creating a tool for the field to have a deeper dive around understanding the full spectrum of identity (race, ethnicity, and gender, orientation, disability status, religious affiliation). We are asking some of the most robust race and ethnicity [questions] I've seen: questions where you actually can name all of your racial and ethnic identities in a place that normally is like, check a box that you feel is the one you are, and so many of our racial and ethnic stories are much more complex than that. So creating space for folks to be able to identify what that is, and having a conversation that allows a broader spectrum that isn't a binary gender conversation, and that has an orientation spectrum that is more inclusive of a wider representation.
Carly: This year we expanded the range of options of disability status partnering with the President's Forum on Disability Inclusion more intentionally about what that looks like. And then we added religious affiliation, tenure in the field, tenure at organization, and utilized the positions with the Council on Foundations so that we can have comparative data. Most excitingly, we created the Reception to Identities Index (RII) which creates a matrix for individuals to share how their experience has been related to their indemnity factors. Each respondent was asked to reflect on "How do you feel your organization as a whole, recognizes the components of your identity?" The responses in the RII includes Actualized-My identity is recognized and valued by my organization and I have agency to engage in an authentic way; Celebrated–My identity is both recognized and valued in my organization; Acknowledged–My identity is recognized in my organization; Invisibilized–My identity is unseen or ignored in my organization; Erased–My identity is recognized but neutralized or denied in my organization; and Exploited–My identity is selectively used by my organization.
We had over 120 foundations participate in the DAPP survey with a total number of respondents of 2,390. The foundations range in midsize and small foundations with a number of large foundations participated. So I think that's been really exciting to see what the spectrum looks like and where those folks are at, because we're going to get a better snapshot of the field.
Anything else you would like to share with us?
The moment we're sitting in now in philanthropy is a unique moment where we have had this national awareness of deep inequities, and philanthropy is being more and more aware of how it has propagated those or has not actually addressed those—particularly in response to COVID and then after the summer of racial reckoning and community organizing to really show the deeper disparities that most of us knew were in place, in existence, but the actual recognition of that coming into play. And even this last election cycle and the rise of white authoritarianism candidates and white supremacy and the challenges of the loss of power of a white dominant culture and structure, and what that means, and how we're having to respond to those reactions from a philanthropic investments framework, but also just in our communities and from a protection and safety framework.
All of those things, for me, are a deeper call for what philanthropy could be doing differently and doing better. I think the role that CHANGE partners will play is supporting those pathways, and being clear about strategies, opportunities, and actions that philanthropy can actually participate in and not just think about, and that includes an offseason for the long haul.
REP Network and Ecosystem At A Glance
"A Philanthropic Drive to Aid Black Women is Gaining Momentum," by Haleluya Hadero
for Philanthropy Digest. Organizations that focus on aiding Black women and girls have been historically neglected by philanthropy, but donors are tuning in as they focus on narrowing the racial wealth gap.
"Crowdfunding donors younger, less religious, study finds," from Philanthropy News Digest. A report released by Indiana University concludes that crowdfunding attracts are more diverse and younger donor pool.
Native Americans in Philanthropy welcomes Kristen Pratt as project assistant. Pratt is a proud member of the Osage Nation of Oklahoma and brings more than 10 years of experience in tribal governance, nonprofits, and federal grant management. NAP is also accepting nominations for new board members (deadline May 21, 2021). 
Conferences and Events
Equity in the Center's upcoming workshops:
Opportunities
Borealis Philanthropy is hiring for the following positions: Executive Assistant, Communications Director, Director of Racial Equity Initiatives, Director of Racial Equity in Journalism Fund, Black Led Movement Fund Program Officer, Disability Inclusion Fund Program Director, Racial Equity in Journalism Fund Program Associate, and Operations Director. View all open positions here.