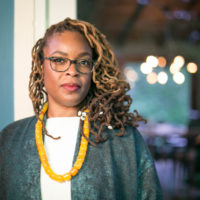 Prior to joining Borealis, Ain was the inaugural Policy Fund Initiative Officer for the San Francisco Foundation's Partnership for the Bay's Future which was charged with advancing tenant protections, preservation, and affordable production policies with jurisdictions, fellows, and community partners in the San Francisco Bay Area. Ain was also the founding lead on the SFF Shift the Narrative project, a multi-year collaborative strategy to shift the regional narrative on housing justice. Ain was previously the Associate Initiative Officer for SFF's Great Communities Collaborative.
Before moving into philanthropy, Ain worked for the City of Oakland Community and Economic Development Agency where for eight years she managed two redevelopment area-wide infrastructure grant programs for small, local businesses, in addition to streetscape and real estate development projects. In addition, Ain served as an inaugural member of the City of Oakland GARE cohort where she played an integral role in the establishment of city-wide departmental racial equity teams, including the development and facilitation of racial equity training modules in partnership with the City Administrator's office.
Ain holds a B.A. from Spelman College and a Master's degree in Public Administration from Baruch College, where she matriculated as a member of the National Urban Fellows program. She makes her home in Oakland, CA and is proud to serve as Vice President on the Board of the African American Arts and Culture Complex in San Francisco.