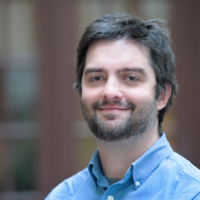 Dan has over nine years of experience in the nonprofit sector, several of which were spent developing the grant infrastructure for Rebuilding Together, a national critical home repair organization serving disabled homeowners, and working in accounting and operations for the Midwestern Higher Education Compact, a Minneapolis-based organization that works to increase access to postsecondary education for students throughout the Midwest.
He began his nonprofit journey as an AmeriCorps member leading volunteer teams in home repair and disaster recovery projects in disenfranchised communities throughout New Orleans and New York City. He has volunteered with several radio stations that emphasize providing a voice to the marginalized and a service to the disabled, including KRSM in Minneapolis and WRBH in New Orleans.
As the son of an immigrant, Dan is firmly committed to working for an organization that ensures fair immigration policies allowing individuals and families affected by humanitarian crises abroad to seek refuge in the United States. He earned a Bachelor's degree from Providence College and project management certification from the University of St. Thomas in Minneapolis. In his spare time, he enjoys working with rescue animals, particularly his dog, Stanley.