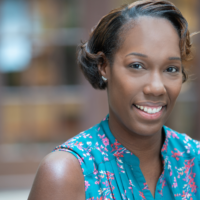 Jeree Thomas is a Program Officer for the Criminal Justice Initiatives.  Jeree was drawn to this work both in seeing family members impacted by gun violence and the criminal justice system and seeing her parents' commitment to serving their community.
Most recently, Jeree served as the Policy Director with the Campaign for Youth Justice, a national initiative dedicated to ending the prosecution, sentencing, and incarceration of youth in the adult criminal justice system. As the Policy Director she provided research, policy, and organizing support to families, local partners, and state partners across the country pushing to change their laws to keep youth out of adult courts, jails, and prisons. Before joining the Campaign, Jeree served as a Skadden Fellow and Staff Attorney with the JustChildren Program of the Legal Aid Justice Center where she represented children incarcerated in Virginia's juvenile prisons. She also led a statewide de-incarceration campaign called Re-Invest in Supportive Environments (RISE) for Youth.
In 2015, Jeree was selected for the Youth Justice Leadership Institute with the National Juvenile Justice Network (NJJN). In 2016, she was the inaugural recipient of the Youth Justice Emerging Leader Award from NJJN. In 2018, she was the co-recipient  of the Shaping Justice Rising Star Award from the University of Virginia School of Law. Jeree graduated from the College of William and Mary with a B.A. in Social Justice and Community Advocacy. She graduated from the University of Virginia School of Law with a concentration in Law and Public Service.