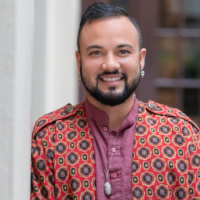 Mahida Guadalupe is the Program Associate for the Fund for Trans Generations. They have been working at the intersections of trans and queer liberation, racial and gender justice, healing justice and youth leadership development for over ten years. Prior to Borealis, Mahida worked as Operations Director at BreakOUT! which fights the criminalization of LGBTQ youth of color in New Orleans.
They also have worked as the Trans Right Organizer in Pennsylvania with the National Center for Transgender Equality where they organized a network of queer and trans-led organizations and collectives across the state around racial, gender, and economic justice.
In their spare time, they enjoy cooking delicious food, getting to know plants, doing ancestor reverance, spending time in nature and learning new crafts (currently pottery)!