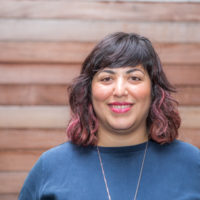 Maya is Borealis Philanthropy's Development Officer. Prior to joining Borealis, Maya was the Development Manager at Jewish Voice for Peace (JVP), where she helped lead the fundraising program, designed to build a powerful, grassroots movement in support of Palestinian human rights.
Prior to working at JVP, Maya worked in Healthcare administration and got her Master's in Public Health at the University of Washington and her Bachelor's degree at Hampshire College.
She grew up in Minneapolis, MN and identifies as a proud Midwesterner, though she has lived in Seattle, WA since 2012. Maya is currently on the board of Social Justice Fund Northwest, and appreciates the beauty of living close to both the mountains and ocean. She brings her love of fundraising, passion for human rights and commitment building resilient movements for justices to her work at Borealis Philanthropy.