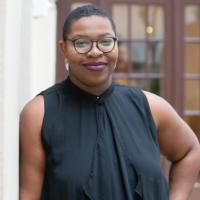 Rhiana Anthony (she, they) is a queer Black girl magician working toward collective liberation through community organizing, soulful facilitation, and healing justice. She holds a BA in Psychology with a focus in human development from the University of North Texas and a M.Ed. in Community Development and Action from Vanderbilt University.
Rhiana has a passionate desire to develop community and cultural interventions that transform the material conditions of Black people. She has activated this desire in a variety of roles, including Grief and Trauma Specialist for the Oasis Center at Pearl Cohn High School, community organizer for Cayce United and most recently as the Southern Regional Organizer for the Black Lives Matter Global Network. Rhiana currently contributes to the movement in various roles with The Icarus Project, Conjure Community Healing Arts, and Southerners on New Ground.
As a Black Southern organizer, abolitionist, and earth steward, Rhiana is dedicated to cultivating radically loving and inclusive cultures that heal.