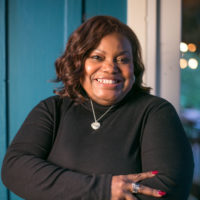 Tracie is the founder of AllDigitocracy.org, which focuses on the media and its impact on diverse communities. Prior to coming to Borealis Philanthropy,  she was also a Senior Fellow with the Democracy Fund, a philanthropic fund that focuses on strengthening democracy in the U.S., where she worked on the Public Square Initiative that seeks to support informed dialogue through nonprofit journalism investments. Tracie is also a 2016 JSK (Knight) Fellow at Stanford University where she researched how techniques used in online advertising to reach specific customers could be used by newsrooms to reach specific news consumers and to grow audience and ultimately, news revenue.
She's written regularly for the Columbia Journalism Review and her work has been highlighted by countless journalism and academic institutions, including Harvard's Nieman Journalism Lab. Tracie is lead author on white papers and other published research on the changing digital media landscape, including those commissioned by the Gates Foundation and Borealis Philanthropy.
Tracie's early career involved reporting and editing jobs at The Augusta Chronicle, The Austin American-Statesman and BlackAmericaWeb.com not to mention ad sales and circulation management as a Knight-Ridder Newspapers management trainee. Tracie launched Eclipse, a regional magazine and companion online publication in Dallas, Texas in 2004. Two years later she earned a journalism and public policy fellowship at The Ohio State University and then a fellowship on Capitol Hill on the House Judiciary Committee.
She earned a law degree from Georgetown University Law Center and clerked for the U.S. Department of Justice. Tracie's work and byline also regularly appeared in other publications including The Washington Post, Newsweek and People magazines. She received a degree in Publications Management from the Henry W. Grady College of Journalism and Mass Communication at The University of Georgia.