By: Maya Thornell-Sandifor
During the Democratic presidential debates at the end of June, candidates sparred over a variety of far-reaching progressive policy proposals on climate change, immigration, healthcare, gun violence, college loans, and more. As they debated what was and wasn't feasible and what could or couldn't be passed by Congress, one thing kept coming up for me, and that is these policy issues are on the radar of these candidates because of the work of community organizers and social change movement leaders. And those community organizers and movements are supported by us, philanthropy.  What if funders helped make these policy ideas a reality by removing any barriers in our support?
For me, the debates were a reminder that funders can do so much more to support groups on the ground to influence the policy landscape and ensure disenfranchised communities can bring their vision and voice into the legislative process.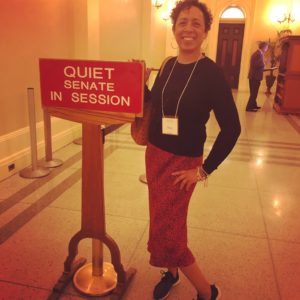 At the end of May, I received a crash-course in the world of policy-making and lobbying during my participation in a week-long intensive, Philanthropy & Public Policy Institute (PPPI) hosted by our peers at the Women's Foundation of California. The PPPI is a spinoff of the Women's Foundation's 9-month intensive Women's Policy Institute (WPI) state and Women's Policy Institute (WPI) local – two programs designed to train community-based advocates on the fundamentals of lobbying in the public policy arena through hands on learning. In its 15 years of existence, WPI fellows, all 400 and counting of them, have co-authored and helped to pass into law 32 pieces of legislation. The WPI is currently accepting applications: apply here.
The philanthropy institute is a shorter version of WPI, designed to encourage funders to think intentionally about deeper investment in funding lobbying and playing a role themselves to influence policy makers and legislation. Not since grad school do I think I learned so much in such a short period of time. It was an invaluable experience and I walked away thinking, we're not doing enough as a sector to influence policy at the state and local level.
There is a myth that runs rampant in philanthropy, a myth foundations often perpetuate, that 1) we can't lobby and 2) we can't fund lobbying. Neither are true.
And in fact, there are some foundations who REALLY understand the tool of lobbying and have used it to leverage their cause and the causes of their grantees to the fullest extent of the law. One step we have taken at Borealis is to remove unnecessarily restrictive language on lobbying from our grant agreement letters, which will give our grantees greater flexibility to engage in direct or grassroots lobbying within IRS guidelines.
Now that I know better, I'm hoping to encourage my peers to really think about how we can better support our grantees in their role as advocates. Thanks to my time at the PPPI, I can articulate the following list of suggestions:
Stop communicating that nonprofits can't lobby. Nonprofits can lobby and, in fact, if we want to see nonprofits addressing systemic causes rather than just the symptoms, we should be encouraging our grantees to take advantage of the IRS rules by choosing a 501(h) election. The 501(h) election is a simple form to the IRS which gives nonprofits breathing room and a specific way to measure and track their lobbying activities. We can also provide support so grantees have the technical assistance they need to understand IRS rules, such as Bolder Advocacy's various trainings on advocacy and lobbying for nonprofits.
Give general operating grants. Because general operating grants are not restrictive, nonprofits can use those grants to activate their voice to lobby for real, long-term change. Make sure your grant agreements do not contain restrictive language about lobbying and advocacy activities.
Fund research and communication activities. Funders can invest in strengthening grantee capacity to conduct research or public education activities to help make the case for legislation or policy change. The legislators and staffers we met at PPPI told us research from advocates and foundations is highly valuable in crafting legislation solutions and making the case to their colleagues. Legislators see nonprofits and foundations as trusted sources in what's happening on the ground.
Fund implementation. Getting legislation, regulations, or policy passed is only half the battle—on the other side is implementation. Many nonprofit organizations are involved in implementation efforts after legislation passes, but this piece of the work is often not funded or is sorely under resourced.
Support coalition building. When it comes to lobbying there is power in numbers. Coalitions of nonprofit organizations and constituents can collectively organize to move the needle on social issues. This power and base-building work takes time and resources. Funders can support co-operation among grantees and other partners by providing resources to give organizations the breadth and space to build relationships, plan, and organize.
Nonprofit foundations can lobby. Public foundations (independent, community, public charity grantmakers) can engage in a limited amount of lobbying activity and make grants earmarked for lobbying. While private foundations cannot lobby themselves or earmark funds for lobbying, they can make grants to nonprofits that lobby with general operating support. There are a lot of activities, like educating the general public about social issues that are not considered lobbying. Check out Bolder Advocacy's Advocacy Playbook to learn more about all of the rules and nuances.