February is Black Futures Month, and the Black-Led Movement Fund (BLMF) is inspired by the Movement for Black Lives' proclamation to use "this time to both consider and celebrate our Black radical history and to dream and imagine a world in which we are free and self-determined."
BLMF realizes we hold an important role in helping to make Black folks' access to freedom, safety and security more than a dream, but a reality. We also understand philanthropy's responsibility to resource the many folks on the ground working to create a world rooted in Black liberation. 
This Black Futures Month, we are proud to share that in the Fall of 2021 the Black-Led Movement Fund directed $3.897 million to 80 grassroots, Black-led organizations working to uplift all Black people.
BLMF invests in powerful local organizations that anchor progressive, Black-led organizing networks, such as Movement for Black Lives (M4BL), as well as the movement infrastructure that amplifies their collective work. We exist to ensure that more progressive, Black-led movement organizations have the resources, visibility, infrastructure, and leadership capacity to sustain their day-to-day work of organizing, advocacy, and collective care needed to combat anti-Black racism, cis-heteropatriarchy, and state violence in their communities and achieve transformational and lasting change.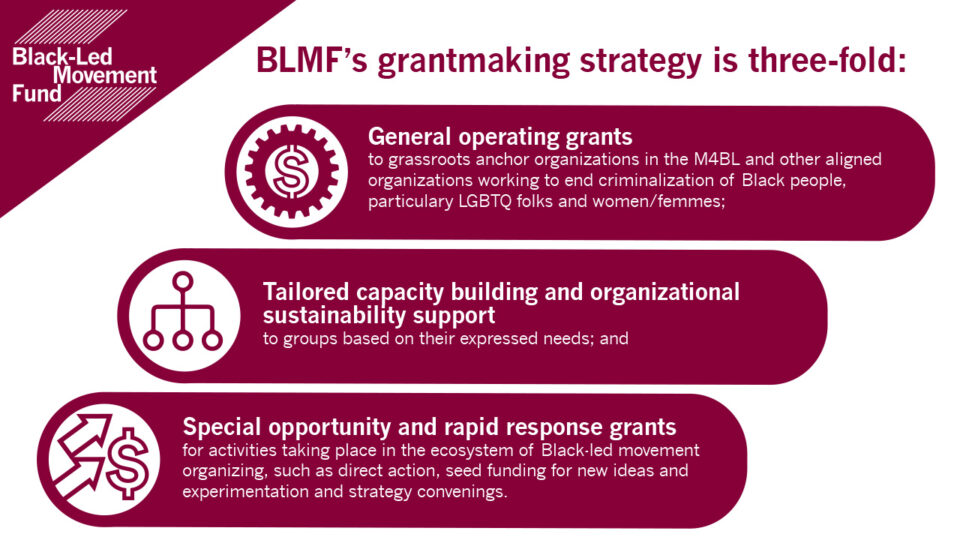 On top of continuing our general operating grantmaking in the form of core support grants, we were able to offer four special opportunity grants, enabling under-resourced movement organizations to experiment with new ideas and strategies, as well as over $1 million in rapid response funding to small, emergent and local organizations that connect to multiple movements, such as land and food access/security, im/migration, healing justice, and climate change. 
BLMF's current slate of grantee partners include:
33 Core Support Grants (general operating grantmaking)
4 Special Opportunity Grants
43 Rapid Response Grants
People's Budget Coalition
Thank you to our generous donor partners for committing to listen and respond to the needs of Black organizers and Black communities. And we remain in awe of our incredible grantee partners whose innovation and steadfast dedication to Black liberation is paving the way for a truly equitable world.
Join our efforts to fund Black-led movement work! 
To learn about partnering with Borealis Philanthropy's Black-led Movement Fund and the powerful work of grassroots groups and organizers please contact the Black-led Movement Fund at blmf@borealisphilanthropy.org or our Development Officer at development@borealisphilanthropy.org.