By Sandy Ho (Director, Disability Inclusion Fund), Julia Beatty (Director, Black-Led Movement Fund), and Ryan Li Dahlstrom (Director of Programs and former Director, Fund for Trans Generations)
Our communities—including Black, disabled, transgender and gender non-conforming, Native and Indigenous people, elders, and chronically ill—are dying.
This is not hyperbole. Our communities are dying because public institutions do not deem us worthy. This pandemic is not the first public health crisis our people have found ways to survive, but to be clear: whether we do survive should not be determined by our identities or perceived qualities of life.
As the pandemic wraps its arms around a third year, the distance between our institutions of public health and the communities they purportedly serve has only grown. Daily COVID headlines tell only part of the story, relegating our communities as acceptable losses. Our people understand the systemic and personal consequences of eugenics, racism, and ableism that pervades the public health systems and practices in this country.
To be excluded from systems of care is not new for us. Our communities and grassroots leaders have responded by protecting and providing care and wellbeing of our own: mutual aid, community care, and other ways of supporting one another when a public sector that should have helped us failed. The ingenuity of grassroots leaders who mobilized resources to our communities in response to this crisis have helped us survive. Along the way, we tracked our own data and archived our experiences to ensure that our own stories and narratives would be told.
A group of disability rights and justice leaders recently laid out in a powerful open letter to the Centers for Disease Control and Prevention Director Dr. Rochelle Walensky that public health care also includes our communities:
"People with four or more comorbidities are people with disabilities. People with four or more comorbidities are also disproportionately Black people, Indigenous people, Latina/o/x and other people of color, poor people, older people, and people who experience intersecting forms of oppression and marginalization that create barriers to quality healthcare, stable housing, and more."
Today, we write to our peers in philanthropy as longtime activists and the leaders of three bold social movement-supporting funds: the Black-Led Movement Fund, the Disability Inclusion Fund, and the Fund for Trans Generations. Our approach is based on building close relationships with our grassroots communities, creating spaces of trust, and prioritizing the leadership of those most impacted in the ways we resource.
Our collective future depends on centering the leadership, wisdom, and solutions of disabled activists.
We are here to say with unwavering conviction that this sector must be part of the listening, following, learning, and resourcing of grassroots leaders working to achieve collective care towards liberation for our communities of disabled, Black, and trans people.
Like public health and other community-serving sectors, it's time philanthropy recognizes the role it has played in upholding ableism, anti-Black racism, eugenics, and queer and transphobia and violence, and take concrete action to shift power and resources. We are humbled to be among a growing group of funders who have recognized the toll these harms continue to cause.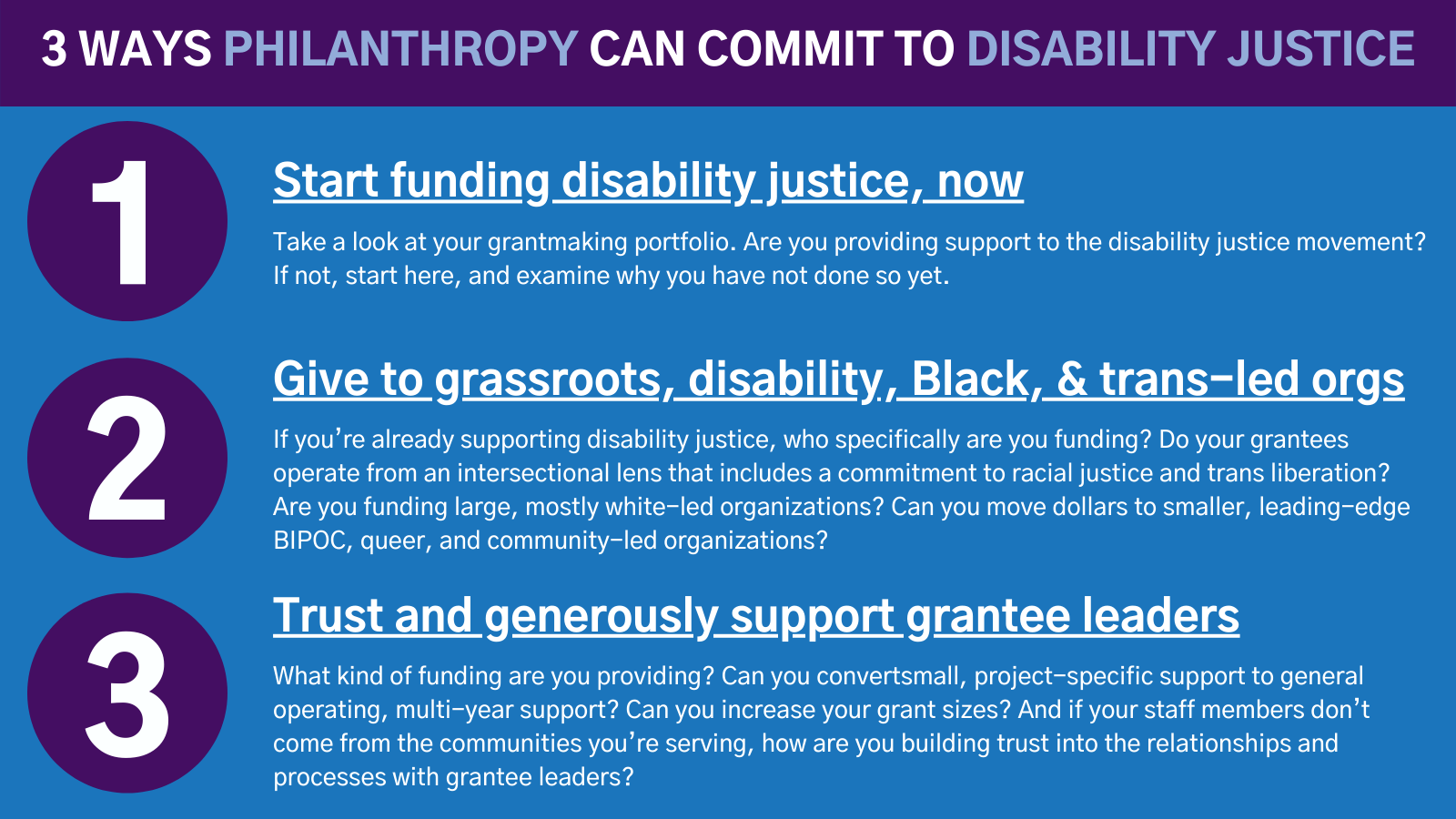 Now is the time to think creatively and boldly about how your foundation, and our sector, can commit more of its resources to the disability justice landscape.
At Borealis, our grantees have been doing this critical work, and continue to lead in this moment. Please consider supporting their work directly:
At Borealis, our grantees have been doing this critical work, and continue to lead in this moment. Please consider supporting their work directly:
We invite you to learn more about Borealis, and our nine donor collaborative funds.
As our ancestor Lucia Leandro (LL) Gimeno, whose fierce organizing was informed by their identity as an Afro-Latinx, gender non-conforming femme, reminds us, "Unless you've lived our experiences, you can't make decisions about our lives. And if you have, try not to forget what that feels like."