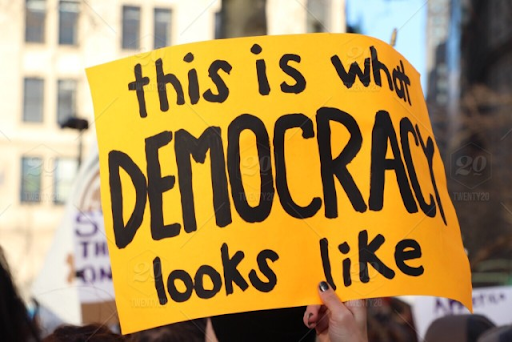 As philanthropy aims to resource a more equitable, accountable, and just society, it is essential that we grasp the weight of the U.S. Supreme Court's latest decisions. In its most recent term, the Court delivered ruling after ruling that further restricts our safety, self-determination, and joy. Our collective pursuit of democracy is under attack.
---
Curbed reproductive rights.
The Court's recent ruling in Mississippi overturned Roe v. Wade, eliminating federal protection for abortion. The decision is expected to result in an abortion ban in 26 states, and greater restrictions on reproductive access and care in several others. The Court also upheld Texas's "bounty hunter" law, allowing citizens to file civil suits against health care providers suspected of performing or inducing abortions.
Voter suppression.
In a decision that will undoubtedly impact the landscape of U.S. elections, the Court reinstated Louisiana's racially gerrymandered congressional maps, which a federal judge had previously struck down for violating the Voting Rights act. Using these maps, Black voters, who make up a third of the state's population, will control only one of its six congressional seats.
Weakened police accountability.
A series of decisions by the Court has weakened accountability for police officers in their interactions with people. The Court voted to reinstate qualified immunity for police officers, preventing liability for excessive force or murder. Other recent rulings eliminate our ability to seek recovery for emotional distress, weaken our Miranda Right protections, and limit our right to report unlawful detention or imprisonment.
Attacks on public health.
The Court's decisions on public health issues range the gamut; over the past several months, it has ruled that the current administration's vaccine-or-testing mandate was unlawful and struck down a century-old restriction on carrying handguns in New York. And as the UN secretary general warns that humanity faces "collective suicide" due to increasing wildfires and heatwaves, the Court also curtailed the Environmental Protection Agency's ability to regulate greenhouse gas emissions and combat climate change.
---
The Court's rulings are not restricted to these broad areas. It also recently voted to deny long-detained immigrants access to bond hearings; withhold Social Security benefits from residents of Puerto Rico; compel states to fund private religious schools; and allow state jurisdiction on tribal land, undermining tribal sovereignty. And more harm lies ahead. The right to privacy established in Roe v. Wade, for example, was used as the basis for legislation related to contraception access and LGBTQ+ rights. And next term, the Court is will be asked to approve the independent state legislature Theory, giving lawmakers the unchecked ability to gerrymander district lines. The Court is setting precedent for a less equitable and more corrupt America.
Marginalized communities have never been granted equal protection under the law—and thus, we understand that our fight for justice is not contained to the walls of the Supreme Court. But still, we recognize that the further erosion of our civil liberties will without question result in increased criminalization, surveillance, incarceration, and deepened and enshrined economic injustice for Black, Indigenous, People of Color, queer, trans, disabled, low-income, and rural communities.
Signs left by abortion-rights supporters line the security fence surrounding The Supreme Court on June 28, 2022 in Washington, DC. (Source: Nathan Howard/Getty Images)
At rallies across the country, a customary chant declares: "This is what democracy looks like." The Supreme Court's decisions—a "judicial coup"—do not represent the will of the people; grassroots movements do. At Borealis Philanthropy, we are humbled to resource this movement ecosystem. Our Black-Led Movement Fund, Disability Inclusion Fund, and Fund for Trans Generations grantee partners are advocating for equity and inclusion for all. Our Communities Transforming Policing Fund, Spark Justice Fund, Racial Equity in Journalism Fund, and Racial Equity in Philanthropy Fund grantee partners are demanding accountability from our institutions, and reimagining them in the process. Our Emerging LGBTQ Leaders of Color Fund and Racial Equity to Accelerate Change Fund grantee partners are creating liberatory tools, resources, and leadership practice. And across all nine Funds, these organizers, healers, advocates, and journalists are promoting community care and civic engagement in their work. 
This is what democracy looks like.
It is clear that the landscape in which we're funding is rapidly changing. To meet this moment, philanthropy must provide direct, long-term, and flexible dollars to community-rooted organizations and organizers who are building power to win policy changes, implement and defend these changes, and shift practice, narrative, and culture.
"We have the solution. We have the ideas. What we need is for you to redistribute." – Rachael Lorenzo, Indigenous Women Rising
Connect with Borealis Philanthropy grantees by accessing our Fund Twitter lists.
In addition to providing this direct support, we encourage funders to utilize the infrastructure of intermediaries like Borealis to connect with progressive grassroots movement leaders and pool and distribute aligned dollars for maximized impact.
Bolster the movement ecosystem by partnering with Borealis Philanthropy.
Our work ends when all people have access to self determination, safety, and joy. As we fund towards this abundant vision, we at Borealis remain committed to connecting funders to efforts that are co-creating a more just and democratic world for us all.