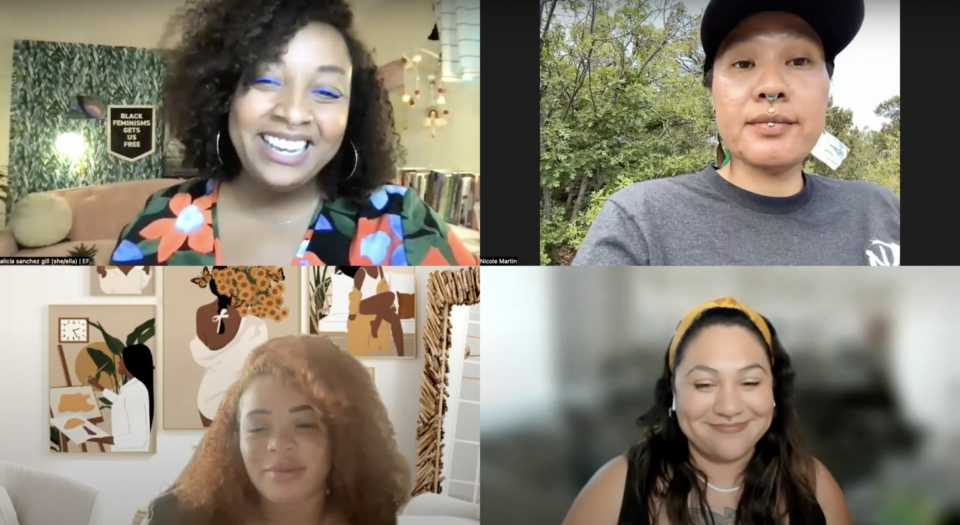 The Supreme Court of the United States (SCOTUS) has voted to overturn Roe v. Wade. The court's decision is not a weakening, but rather a complete obliteration of the federal protection for abortion. The Court's decision comes in a year when over 300 anti-trans bills have been proposed, the "worst in history for the number of anti-LGBTQ+ bills signed into law." The Roe rollback is particularly harmful for nonbinary and trans folks, who rely on abortion clinics for affirming health care, safety, and community.
Make no mistake: on every level, our right to self-determination and bodily autonomy are under attack. And we know that queer, trans, disabled, Black, Indigenous, migrant, and rural communities stand to lose the most.
Now is the time for philanthropy to act.
On July 7, 2022, Borealis' Emerging LGBTQ Leaders of Color Fund (ELLC) co-hosted We Are Each Other's Magnitude and Bond: Philanthropy Funding #BeyondRoe with Emergent Fund. Funders heard from grassroots leaders about the impact of this decision on trans and queer communities of color, including and beyond abortion access; connected and strategized with values-aligned funder colleagues and explored the role that philanthropy can play in bolstering the broader reproductive justice movement ecosystem.
On our call, ELLC grantee partner Dr. Krystal Redman (they/she) of SPARK Reproductive Justice NOW and Emergent Fund grantee partners Rachael Lorenzo (they/elle) and Nicole Martin (she/they) of Indigenous Women Rising explored how the SCOTUS ruling on Roe impacts their communities, what gives them hope for the long road to reproductive justice, and what philanthropy can provide.
Below, you'll find highlights from the donor learning session.
HOW IS THE SCOTUS RULING ON ROE IMPACTING YOUR COMMUNITY?
Watch: Rachael Lorenzo of Indigenous Women Rising: "The fall of Roe is absolutely concerning, and also the bare minimum. We also have Castro-Huerta, another Supreme Court case that attacked tribal sovereignty. So Roe is absolutely about tribal sovereignty, and I say that because Governor Stitt (of Oklahoma) warned tribes that he will take whatever action he can to prevent them from opening up abortion clinics on reservations … which signaled to the Indian country that this was an attack on tribal sovereignty, after the Supreme Court decided that over half of Oklahoma is, in fact, tribal land. So abortion with the fall of Roe—it's not just about rolling back the fallacy of protections for abortion access; it's also chipping away at our people's ability to govern ourselves."
WHAT GIVES YOU HOPE FOR THE LONG ROAD TO REPRODUCTIVE JUSTICE?
Watch: Nicole Martin of Indigenous Women Rising: "I feel hopeful. Because I know that this is spiritual work as well. So even though we're in a time where the United States government is going back to how they started colonization and putting [in place] all of these policies that relocated and assimilated and enforced violence on bodies … I think we have more tools—and we understand the colonizer's language—to be able to build something different—different than the suppressive system. That is what I'm hopeful for. I'm hopeful for more youth and more disabled relatives to be centered and uplifting this work, too."
WHAT DO YOU NEED FROM PHILANTHROPY AT THIS MOMENT?
Watch: Dr. Krystal Redman of SPARK Reproductive Justice NOW: "3 to 5-year recurring, non-discretionary, general operational support. But I also start from the initiation of a relationship too, as well. Just not even thinking about people's capacity and time and labor in writing these 10-page proposals … try to be creative as possible. I love how our supporters have shifted the ways in which they obtain information—sending me quick bullet points or jumping on the phone to have a quick conversation."
For additional readings and resources, see our #BeyondChoice toolkit.

In this critical moment, we at Borealis Philanthropy will continue to provide unrestricted support to bolster the reproductive justice ecosystem; call philanthropy into aligned action, and elevate the voices of those most impacted. We encourage you to partner with Borealis Philanthropy and Emergent Fund so that philanthropy can provide aligned and maximum support to grassroots organizers. To learn more about funding the movement ecosystem, contact Maya Berkowitz at mberkowitz@borealisphilanthropy.org and contact Emergent Fund at info@emergentfund.net.
Emergent Fund grantee partners that focus on Reproductive Justice. ​​Organizations with an asterisk (*) are also Borealis grantees.
Queer Crescent, California
New Voices for Reproductive Justice, Pennsylvania*
Taller Salud, Puerto Rico
SPARK Reproductive Justice NOW!, Georgia*
SisterSong, Georgia
The Knights & Orchids Society, Alamaba*
HEART Women & Girls, Illinois 
Tewa Women United, New Mexico
Indigenous Women Rising, New Mexico
Afiya Center, Texas
Mississippi Reproductive Freedom Fund, Mississippi
Lavender Phoenix* (formerly API Equality – Northern California), California
Trans*Visible, South Carolina 
UTOPIA (United Territories of Pacific Islanders Alliance), Seattle, Washington
ELLC Fund grantee partners that focus on Reproductive Justice.