Today's news is often filled with pain, grief, and fear of the future. And the mental toll from living, researching, and reporting on this news can be extraordinary and unrelenting. We know we learn the most and the best from and in the community.
We're sharing learnings on practicing community care from your fellow REJ grantees MLK50, Epicenter-NYC, and Cicero Independiente.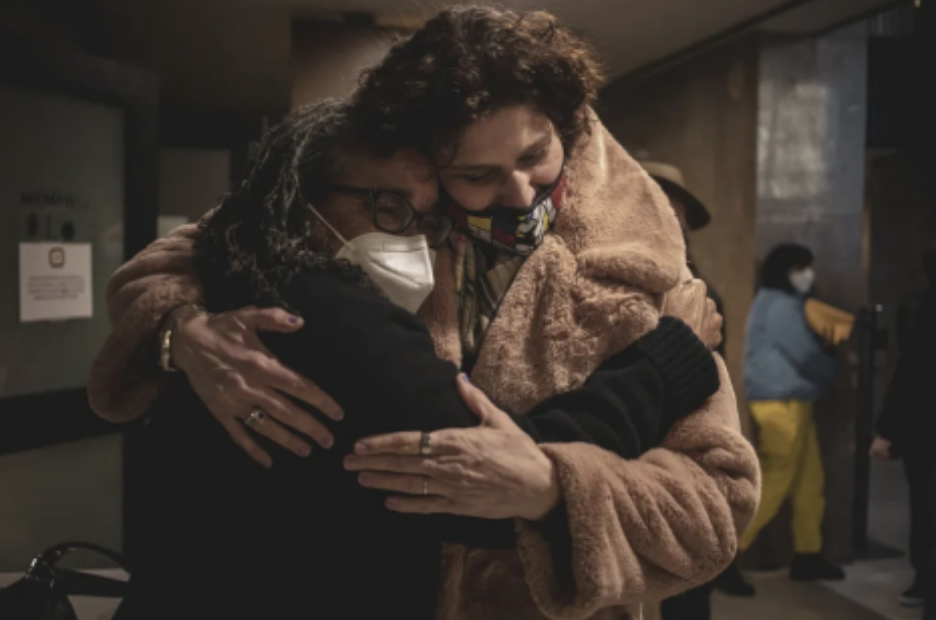 At the Root series by Visual Editor Andrea Morales at MLK50: Residents of the Uptown neighborhood embrace after organizing a protest against St. Jude Children's Research Hospital's proposed multi-story parking garage during a Memphis Shelby County Board of Adjustment meeting in January.
What's inspiring you in your local community right now?
EPICENTER-NYC: The weather! New York is getting warmer and opening up due to low Covid cases and you can just feel new energy. We are ready to reconnect as a community.
CICERO INDEPENDIENTE: We are deeply inspired by all of the organizing that is emerging and strengthening in our community. We see ourselves as part of this network of people and organizations that are using different strategies to ensure we can thrive in our corner of the world. We recently published a podcast highlighting the ways that people are organizing, channeling their rage at injustice into deep care for the community. There are definitely moments when we feel in low spirits and at least for us in those moments we turn to the people who live here as inspiration. There are a lot of efforts, ranging from a handful of people to larger groups, that are doing what they can to care for one another. From creating free fridges in the area to distributing masks, speaking out at public meetings despite facing intimidation tactics, or preparing seed kits for the growing season–we find it all to be very inspirational. We encourage others to take time to acknowledge all these efforts in their own communities, no matter how small they may seem because they are all breathing manifestations of change.
MLK50: Within the newsroom, our At the Root series is inspiring us to bear witness to movement making and ensure the first draft of our city's local history includes all Memphians. At The Root is a new MLK50 series by visuals editor, Andrea Morales highlights everyday radical action. As the writer and activist Angela Davis said, "radical means simply grasping something at the root." This visually-driven feature will be recurring. The resilience Morales' captures through stories like the joyful celebration of a queer elder.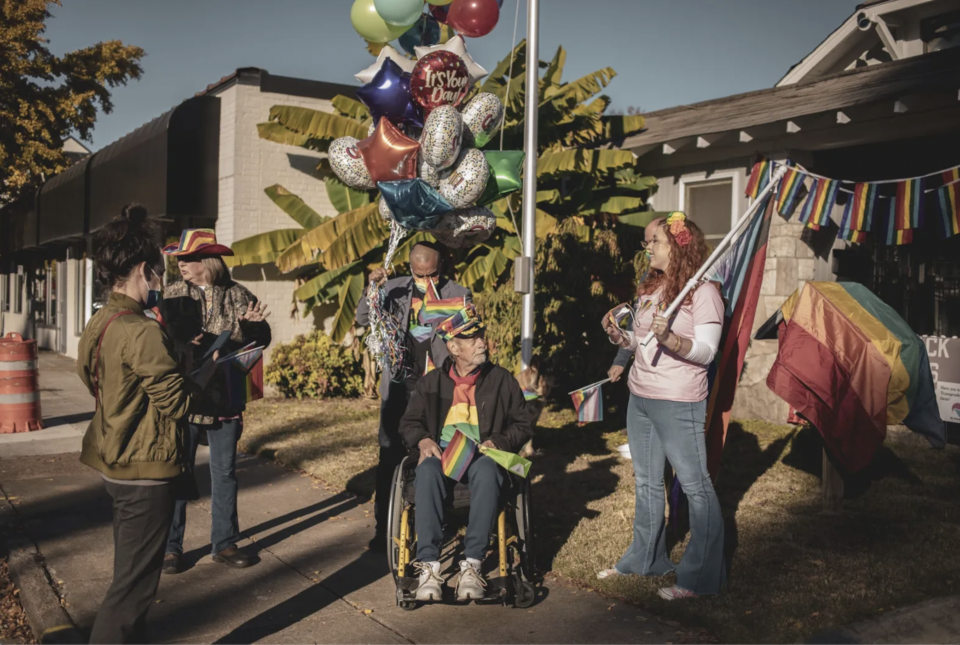 Herschel "Pau Pau" Gilbreath (sitting in wheelchair) being celebrated by his granddaughter, Megan Jones (wearing pink shirt), and friends and community members at a surprise party on the front lawn of OUTMemphis. (Photo: Andrea Morales for MLK 50)
What's inspiring your broader community?
EPICENTER-NYC: My children, my neighbors' children, the feedback we get from folks we've been helping saying we made such a difference in their lives and they are grateful, and by the way, could they ask us a few more things. This level of follow-up and engagement from a community is a huge honor. It's such a reversal of reporters calling sources and hounding them; I feel we have sources calling us to tell us what the next needs of the community are.
What advice do you have for folks running low on inspiration?
EPICENTER-NYC: Take time off. I think so many of us are in some form of constant caregiving and we rush from that to work and for those of us running BIPOC media outlets centering BIPOC audiences, the stakes feel really high and a form of caregiving as well. But we need to pause and make sure we don't burn out rushing from one crisis to another. So recharge and remember how you can be of service to your people.
How are you caring for your community?
EPICENTER-NYC: By meeting them where they are, whether that is a different language, a mosque, or church, via text message or Whatsapp. It's our job to find them and optimize information to the places they are.
CICERO INDEPENDIENTE: We started Cicero Independiente because we care about making Cicero better for all of us to live and thrive. We want people to feel and have access to the information, services, and resources they need to live healthy lives. We want to make sure people are involved in making the decisions that will affect their lives and we want people of future generations to know we existed and fought for a healthier future. We think our reporting is reflective of that care, in both the stories we choose to pursue and how we are doing our work with intention.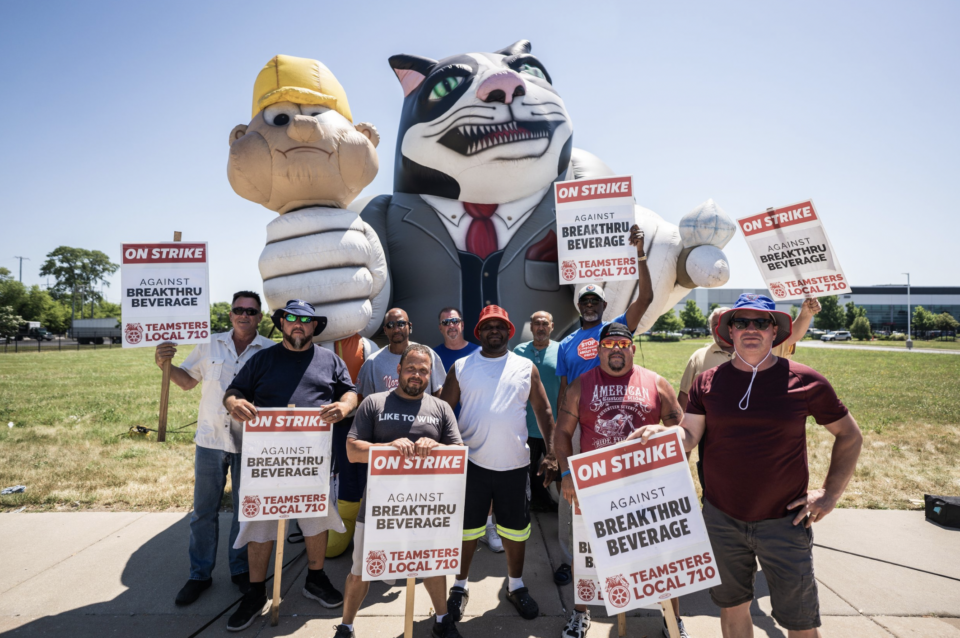 Breakthru Beverage employees and members of Teamsters Local 710 enter another week of strikes over job safety concerns and benefits denials. (Photo: Ankur Singh for Cicero Independiente)
MLK50: We believe fostering a sense of trust is a form of care, this includes participating in outreach events and producing journalism that takes our communities' story ideas into account. On March 13 we hosted a table at Memphis' Soul Food Truck festival to chat with constituents and pass out some swag. Meanwhile, our reporter Carrington Tatum and visuals editor Andrea Morales have been experimenting with deeper community engagement by distributing hard copies of Tatum's reporting on the upcoming District Attorney's race at the Criminal Justice Center. Through MLK50's reporting, these people learn that the district attorney is choosing to prosecute them for whatever their case is and that they have control over who that person is. Our reporting closes the gap between their experiences and the ways to access the power that shapes their experiences.
How do you know your community cares for and about you?
EPICENTER-NYC: They are taking care of me. My mother-in-law passed away three weeks ago and I have been floored by the most random people sending flowers, cards, and cookies. I love that our Catholic friends are having a mass said for her, our Muslim friends recited duas and so many others are just sending love in their cultures and languages. That's so very sincere and so appreciated. I will never forget feeling enveloped not just in warmth but in the world during this harrowing time.
CICERO INDEPENDIENTE: One way people show us care is by lending their gifts to support our continued presence in the community. Last year during our end-of-the-year fundraising campaign, different artists supported us by launching their own fundraising campaigns using their art and design skills. Some of their efforts were profiled in this article. We were so inspired by their efforts that and decided to do this more intentionally this year.