Historically, Disabled-led organizations, groups, and collectives have experienced outright exclusion from philanthropic support despite the breadth of social, political, cultural, and movement legacies that have contributed to well-being and justice in our society.
So how can philanthropy best support the Disability Justice movement?
We asked Disability Inclusion Fund (DIF), grantee partners, Chainless Change, Disability Lead, Inevitable Foundation, and L&J Empowerment to share their guidance for philanthropy and the impact that participating in the DIF has had on their work.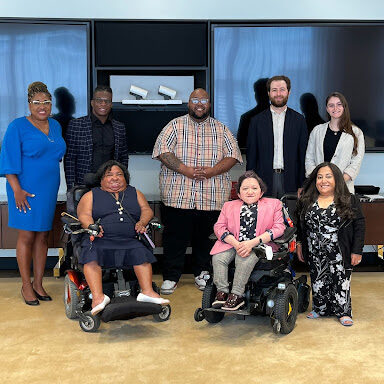 How has being part of the DIF cohort of grantees helped to expand and support your work in Disability Justice?
CHAINLESS CHANGE: As a young and emerging Black people with disabilities (PWD)-led organization steeped in systems to change work, the coaching we received in the DIF cohort, especially around organizing strategy, has been fundamental to the success of our grassroots efforts. Due to the pandemic, PWD who are incarcerated have been especially harmed by extreme levels of isolation and lockdowns, as well as physical and emotional neglect. And the challenges faced by PWD upon reentry have been compounded by the sociopolitical climate we are facing in Florida. The support we received from DIF encouraged our alignment with larger and more resourced organizations, which has allowed us to accomplish the wins that kept our small team going!
Additionally, being a part of the DIF cohort has allowed us to make inroads with other foundations that are genuinely interested in supporting systems-involved PWD. It has been an ongoing struggle to identify funders who will support our hybrid programmatic efforts. Atop the financial backing we received from DIF, the cohort experience has undeniably been paramount to our growth and formative success.
DISABILITY LEAD: As an organization focused on disabled leadership, there aren't a lot of organizations doing similar work, especially in our geographic area (Chicago/Midwest). Our ability to connect with other DIF grantees like Detroit Disability Power, San Francisco Senior and Disability Action, and others has been a game-changer. We are grateful for the exchanges we've had and our different approaches to building disability power in our communities and networks.
INEVITABLE FOUNDATION: Being a Disability Inclusion Fund grantee has allowed us to build the capacity to provide financial support, mentorship, and community for mid-career disabled screenwriters. It has also furthered our work to put disabled people in leadership positions in our organization and in the entertainment industry. In addition, we have counted on DIF's support to meet and connect with our team and program participants in-person after a year of working virtually, which significantly increased our sense of community and collaboration, and facilitated vital personal and professional connections between disabled creatives.
L&J EMPOWERMENT: It has helped to expand our direct services model to expand it to Atlanta, in addition, we have looked at the issues around disabilities and how we can make our barbershop more inclusive. We are looking at how we can make barbershops a better infrastructure in regards to building improvements, sidewalks, etc.
If you could share one thing with funders interested in supporting the Disability Justice movement, what would it be?
CHAINLESS CHANGE: Funders must understand that investing in ending mass incarceration is investing in disability justice. These issues are inextricably linked. The majority of individuals arrested are persons with disabilities. Whether we are stuck behind bars or are returning to society, we are routinely and unfairly criminalized, brutalized, and traumatized. Until those who hold access to power and resources see the criminalization of behavioral health conditions as being just as awful as knocking down an elderly woman using a mobility device, disability justice will never be realized.
DISABILITY LEAD: To funders who are interested in supporting disability justice, first I'd say, thank you! Your support is so needed. But I'd also ask how disability is currently represented within your own organization. Employing and having disabled program officers will bring a critical and needed lens. Their lived experiences are vital to not only supporting disability justice initiatives and grantees but all work you have committed to systemic justice initiatives.
INEVITABLE FOUNDATION: We encourage funders to put in the work to deeply understand what their grantees are doing with their funding and how much of it is going directly to disabled people. Within the disability non-profit space, it can be easy to point attention and resources towards established organizations that do not always center and empower disabled people and disability justice leaders. Since disabled people are already underrepresented, underemployed, and underpaid, funding organizations that have a tangible impact is critical. We also encourage funders to think holistically about organizations that are building disabled teams, since overhead costs that are actually compensation expenses for disabled people should not inherently be frowned upon.
L&J EMPOWERMENT: I would encourage funders to innovate and be inclusive as possible in regards to how society views disability. It should not be a one-sided approach but it should encourage a multifaceted approach to helping persons who are disabled and work towards reducing stigma and ableist language.
To learn more about partnering with the Disability Inclusion Fund contact Maya Berkowitz at mberkowitz@borealisphilanthropy.org.