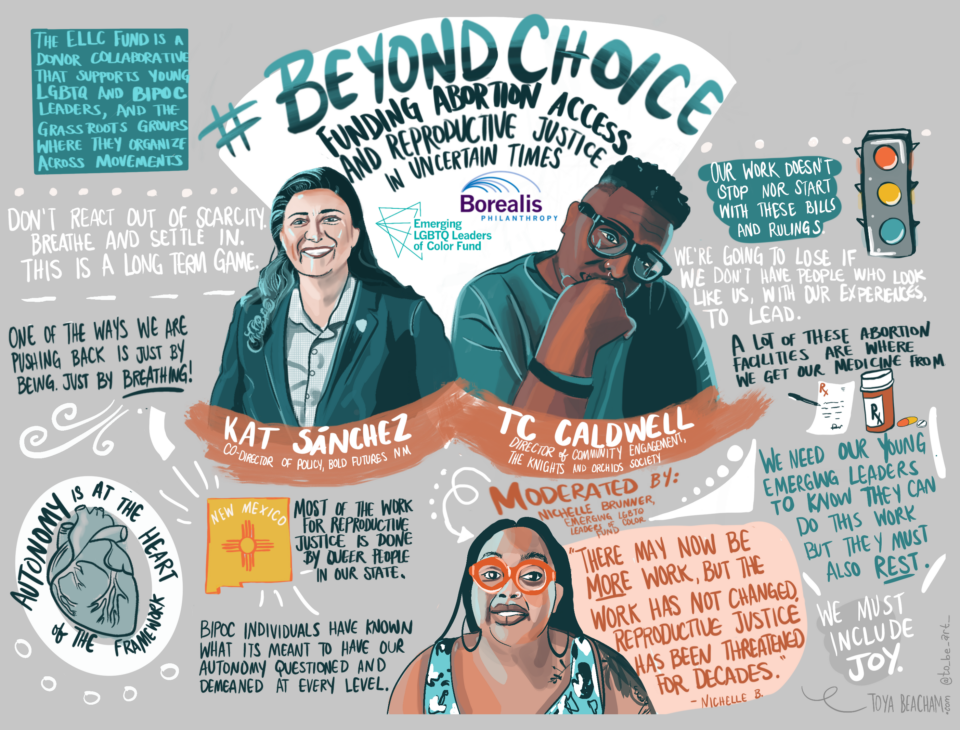 At Borealis Philanthropy, we envision a world where everyone has access to their bodily autonomy and self-determination.
On May 11, 2022, Borealis' Emerging LGBTQ Leaders of Color Fund (ELLC) hosted #BeyondChoice: Funding Abortion Access and Reproductive Justice in Uncertain Times, for funders to learn from grantee partners who are utilizing an intersectional approach to re-shape reproductive care; explore the role of philanthropy in supporting the movement ecosystem, and collectively reimagine a liberated future beyond Roe.
On our call, ELLC grantee partners TC Caldwell of The Knights and Orchids Society and Kat Sánchez of Bold Futures NM explored the current state, limitations, and potential consequences of overturning Roe v. Wade and shared their work of addressing reproductive care at its intersection of anti-Blackness, racism, transphobia, ableism, and classism.
For additional readings and resources, see our #BeyondChoice toolkit:

Below, you'll find informative clips from the #BeyondChoice donor learning session.
THREAT TO REPRODUCTIVE JUSTICE
On May 2, 2022, a leaked Supreme Court draft opinion indicated that the Supreme Court of the United States (SCOTUS) is set to overturn Roe v. Wade, eliminating the constitutional right to abortion. As drafted, the Court's decision would not be a weakening or dismantling, but a complete obliteration of the protective legislation. If the Court does, in fact, overturn Roe v. Wade as planned, all states will again become arbiters of their own abortion laws. An estimated 26 states are certain or likely to ban abortions.
Watch: TC Caldwell of The Knights and Orchids Society on how the fight for bodily autonomy and self-determination doesn't stop or start with Roe: "Our work doesn't stop or start with these bills or Roe. It's business as usual. Because our people don't stop or start with these bills and this ruling."
DEVASTATING CONSEQUENCES
While many perceive Roe v. Wade as a fortress that has kept abortion safe, legal, and accessible, Roe never granted full protection or access to abortion for LGBTQ, BIPOC, low-income, disabled, rural, or migrant communities. However, striking down Roe will have continued and devastating consequences for these communities, including increased surveillance, incarceration, suicide, and deepened and enshrined economic injustice. Non-binary and trans folks, who greatly rely on reproductive health providers for health care, will face increased barriers to gender-affirming care and broader LGTBQ rights will be at risk, since the liberty and privacy rights established in Roe served as the foundation for landmark civil rights cases, including Obergefell v Hodges, which established marriage equality as a constitutional right.
Watch: Kat Sánchez shares the impact of Bold Futures NM's work for bodily autonomy and self-determination: "In New Mexico, we are already absorbing many people who are coming here for access, for abortion care. In different forms. And with Texas next door, being so incredibly criminalizing to people in different ways, including gender-affirming care…"
INTERSECTIONALITY
We cannot afford to view this attack on abortion access in a vacuum. This draft decision is only the most recent action in the right's continued attempt to limit the bodily autonomy of cis-women, and trans and gender non-conforming people; economically devastate communities of color, gut voting rights; and criminalize Black, migrant, disabled, poor, and trans people. Simply put, this decision is the latest in a string of tactics aimed at securing the far-right's minority power.
When we fight back by funding intersectionally, we support organizing that fights for abortion access as part of the struggle for disability justice, racial and economic justice, and trans liberation.
Watch: Kat Sánchez of Bold Futures NM on how we must approach Roe v. Wade as an intersectional issue: " So I have to travel three hours if I wanted to get access to abortion care. So if I'm at an income level where I have to pay all of these other pieces, child care, time off from work, in addition, I need transportation. And it's not just access to abortion care that we're referring to. This could be access to gender-affirming care."
BENDING THE ARC OF HISTORY TOWARD JUSTICE
LGBTQ people of color working on the frontlines of the Reproductive Justice movement offer a vision that pushes us beyond single-issue and single-policy fights, beyond individual choice, and toward a world where everyone has access to bodily autonomy, safety, and wholeness.
We are indebted to TC, Kat, and the many organizers who have worked tirelessly to secure and offer inclusive and affirming reproductive care and who continue in their work to build a future that serves us all.
Here are three things that funders can do to support reproductive justice work today:
Trust LGBTQ and BIPOC leaders to develop inclusive and community-specific strategies and solutions.

Give unrestricted dollars and long-term grants so organizations and leaders can determine the best use of funds and implement strategies they (not you) set, and then trust them to do the work.
Provide rapid response funding, which is particularly critical in this moment, as the uncertainty of abortion legislation leaves reproductive justice advocates overwhelmed and under-protected.

Shift the narrative around abortion — and toward reproductive justice.

Fund Reproductive Justice organizing to secure the bodily autonomy for all people, including access to abortion, gender-affirming healthcare and safety for trans people, and beyond.
Use gender-inclusive language when discussing abortion and reproductive health care—for example, saying "pregnant people" is more accurate, inclusive, and straightforward.
Name abortion. Instead of vague conversations about "women's rights", "health" and "choice", it's time to openly discuss how all people who can get pregnant need access to safe and compassionate abortion care.

Resource LGBTQ and people of color-led organizations on the frontlines of the movement — in this critical moment and for long-term power building.

Fund power-building organizing at the community level — not only to win policy changes, but to implement and defend these changes, and to shift narrative and culture.
Fund LGBTQ and people of color-led Reproductive Justice organizations that are building power across communities and issues. See page 5 for a list of Borealis reproductive justice grantee partners.
Watch: TC Caldwell shares the impact of The Knights and Orchids Society's work: "We go back and get the breadcrumbs, we go back and get what the organizations and the churches and schools have left behind. We're a breadcrumb movement. What we're doing is training up the next leaders…. We want people to know: We see you."
Our society will not be free until the most vulnerable people are able to live in the fullness of their well-being, and can access the resources and care needed to live self-determined lives without fear, discrimination, or retaliation.
Please feel free to spread the knowledge by sharing this blog. You can also download and share our toolkit below.

Following the Supreme Court's official decision, we will continue to provide unrestricted support to bolster the reproductive justice ecosystem; call philanthropy into aligned action, and elevate the voices of those most impacted. We encourage you to partner with Borealis Philanthropy so that philanthropy can provide aligned and maximum support to grassroots organizers. To learn more about funding the movement ecosystem, contact Maya Berkowitz at mberkowitz@borealisphilanthropy.org.