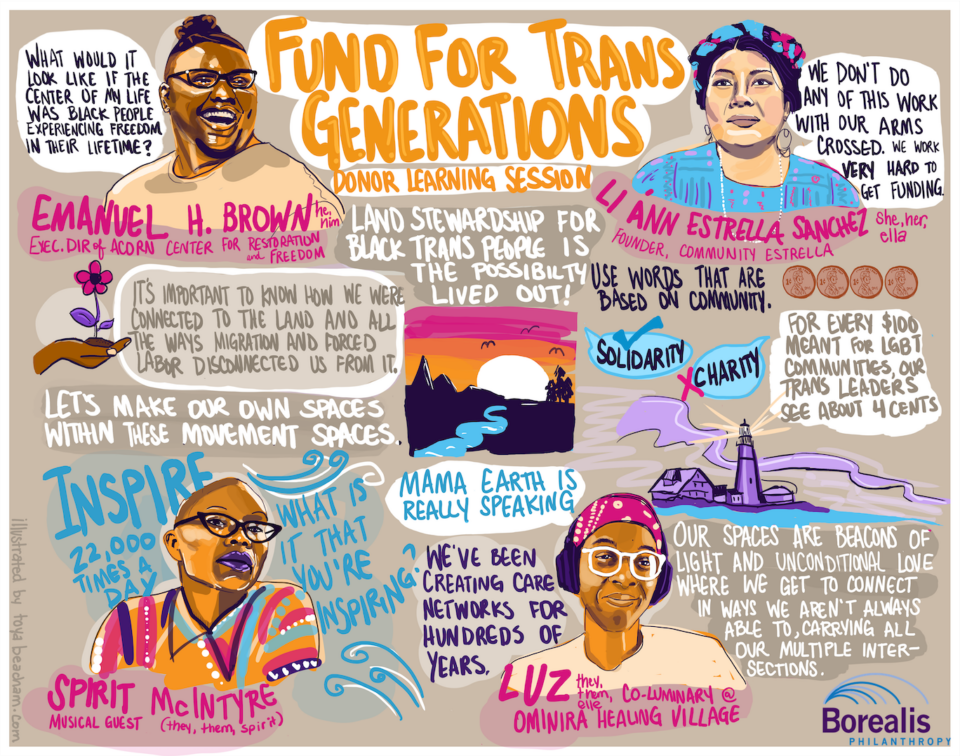 Since 2016, the Fund for Trans Generations (FTG) at Borealis Philanthropy has moved over $10M to trans-led organizing groups in the US. FTG believes in a world where transgender, gender non-conforming, and nonbinary people have the resources they need to live with freedom, safety, and self-determination. In addition to grantmaking, FTG also plays a vital role in creating donor learning spaces to bring along our donor partners and sector to be in alignment with trans movements on the ground.
To deepen our learning around trans community responses to anti-trans legislation, transphobia in public spaces, and the systematic attempted erasure of trans people,FTG brought together trans movement leaders who are taking care of and sustaining their communities, creating spaces of connection and restoration, and building new worlds that foster interdependence and collective liberation.
On September 21, 2022, Borealis Philanthropy's Fund for Trans Generations (FTG) hosted a donor learning session, Healing and Community Care Led By and For BIPOC Trans Communities to uplift the voices of organizers and healers who are stewarding land projects, creating healing spaces, and shifting the ways we understand community sustainability.
Our FTG grantee speakers included Emanuel H. Brown (he/him) of Acorn Center for Restoration and Freedom, Li Ánn Estrella Sanchez (she/her) of Community Estrella, and Luz (they/them) of Ominira.
Below, you'll find clips sharing insights from our speakers.
ON WHY LAND STEWARDSHIP IS IMPORTANT TO TRANS LIBERATION, AND FOR BLACK TRANS FOLKS IN PARTICULAR.
Watch: Emanuel H. Brown of Acorn Center for Restoration and Freedom: " [Land stewardship] offers places for Black trans people to anchor their dreaming. The minute they step foot on this land we see a shift. We see them say, 'if this is possible, whatever I'm dreaming is actually possible.'"
ON PHILANTHROPY'S RESPONSIBILITY TO RESOURCING LIFE-AFFIRMING TRANS-LED WORK AWAY FROM DEATH-DEALING INSTITUTIONS.
Watch: Li Ánn Estrella Sanchez of Community Estrella: "According to the data on LGBTQ funding, for every $100 that's supposed to go to the LGBTQ community, we only receive about 4 cents. We do everything to receive funding. I didn't even know how to write grants. There's amazing work we've been doing. We have become part of what the government is supposed to do. We're taking care of our communities and protecting our people."
ON CELEBRATION, JOY, AND COMMUNITY RESILIENCE IN AFRO-INDIGENOUS TRANS, NON-CONFORMING, AND QUEER COMMUNITIES.
Watch: Luz of Ominira: "During these spaces, we received positive feedback on how needed they were, especially for isolated folks during the pandemic and hurricanes. These spaces were a beacon of light and unconditional love, where we connected in ways we don't always get to connect. We got to celebrate our Blackness, we got to celebrate our indigeneity, we celebrated our gender non-conformity, and we committed to not only our healing but shared in each other's healing with consistency. We committed to showing up. That's what resilience is. Continuing to move beyond survival."
ON THE IMPOSSIBILITY FOR BIPOC TRANS AND QUEER ORGANIZERS TO SEPARATE INTERSECTING FIGHTS FOR JUSTICE.
Watch: Emanuel H. Brown of Acorn Center for Restoration and Freedom: "It's not separate, especially for Black queer and trans practitioners. Our trans, nonbinary, gender non-conforming kin were like, 'I don't even know how to do racial justice separate from queer justice separate from environmental justice. My whole life is impacted by all of those things on a daily basis, how could I be in these separate movement spaces that are only dealing with one aspect of that?'."
FTG grantee partners are leading efforts to bring safety, resources, and healing to their communities. In this overwhelmingly trans-antagonistic moment, FTG will continue to support trans movement leaders and call on philanthropy to listen to, trust, and invest in trans leadership through long-term, stable, and flexible funding.
To learn more about how you can partner with Borealis Philanthropy to bolster and expand the trans movement building ecosystem, contact Maya Berkowitz at mberkowitz@borealisphilanthropy.org to join the FTG donor collaborative or FTG team at FTG@borealisphilanthropy.org to learn more about our grantmaking.