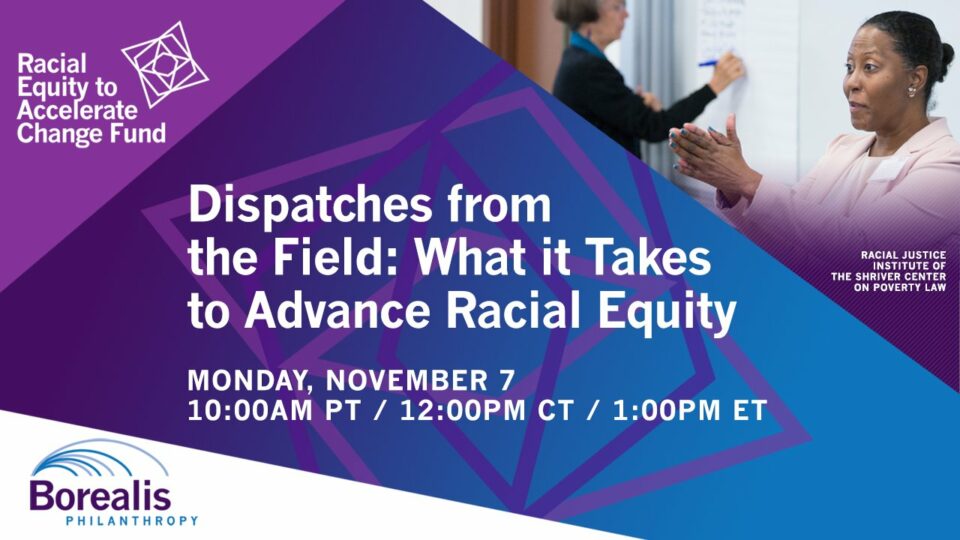 At Borealis Philanthropy, we believe that one of the most critical tools for upending white supremacy and anti-Blackness is to ensure that racial equity practitioners continue to be supported and compensated—and that they have the space to be with peers to dig deeply to understand the barriers to their work and dream up the world we know is possible once we overcome them.
On November 7, 2022, Borealis Philanthropy's Racial Equity to Accelerate Change Fund (REACH) hosted a learning session, Dispatches from the Field: What It Takes to Advance Racial Equity, with Kelly Bates from Interaction Institute for Social Change and Natalie Bamdad from Change Elemental, to explore the journey of racial equity, trends we should anticipate, and what's needed from philanthropy to elevate and prioritize this vital work.
Below, you'll find informative clips from the learning session.
HOW DO YOU DEFINE RACIAL EQUITY AND RACIAL JUSTICE WORK? 
Watch: Natalie Bamdad of Change Elemental: "We talk about racial justice and equity in three parts; first, it's the work to dismantle and repair systems designed to uphold white supremacy in all the intersections (patriarchy, ableism). It's also the work of cultivating the practices, the things we are doing, the ways we are, and how we show up in a world that builds a pathway to a future where race is not a determining factor of wellness, of health, of thriving—and where we are free. The work of being in a continuous and healthy relationship to our source … [and] with our emotions, to be in full possession and inhabit our bodies, to be whole, and be able to hold multiple stories about ourselves, each other, and the world, those are the practices of racial equity towards liberation. The third piece is holding a vision of what it looks, tastes, and smells like to experience this future while also contesting with the urgent problems in society today and the realities of our current conditions, like being faced with systemic racism and its intersections."
HOW HAS DEMAND FOR YOUR SERVICES CHANGED SINCE 2020? 
Watch: Kelly Bates of Interaction Institute for Social Change: "The summer and fall of 2020, after the gruesome and prolonged viewing experience of George Floyd's death, we experienced a peak in inquiries, as did our peers. It seemed like every organization came out of the woodwork and wanted racial justice and equity support. But not all of them were prepared for what that meant and how incredibly important it was going to be for them to dig deep in some very transformative ways. We were getting completely inundated, so we had to change our screening criteria for who we worked with. If you're coming to us for one shot, deal, or to speak to your board, not happening. We want to work with organizations that want to engage in this work for years and are deeply committed to a long-term process of change and justice. So to get to us, we have them connect by hearing a little about our work, and we chose them—and we had never been in that position before … we tried to work with organizations that were ready for change."
HOW HAVE FUNDERS AND THE WAY THEY FUND THIS WORK HELPED OR HURT YOUR ABILITY TO MEET THE MOMENT?
Watch: Natalie Bamdad of Change Elemental: "There's been an influx of requests and funding, and what has hampered our work a little bit is that the funding is slowing down for many of the Black-led groups that had received it initially—and money is coming in without an understanding of the broad ecosystem of racial justice and what is required to shift organizations and shift how we do our work. Funders often fund things they are very familiar with (toolkits or quantifiable interventions), which sometimes reinforces a culture of white supremacy. This isn't to say that those things are not useful—they are really important, but there is this whole other part of the work beyond countable things that go into transformation towards racial equity and liberation."
WHAT ARE SIGNS OF AN INSTITUTION'S READINESS OR LACK OF READINESS TO ENGAGE IN A RACIAL EQUITY ORGANIZATIONAL DEVELOPMENT PROCESS? 
Watch: Kelly Bates of Interaction Institute for Social Change: "I gotta start with the red flags. We're a 90% white organization. Can you help us? Red flag. People say, hey, you know we don't want everyone involved. Can you just work with our senior team? Red flag. Oh, can you come in for 90 minutes? Red flag. We had a lawsuit. We need to be in compliance. Red flag. We don't have dedicated resources for this. Red flag. Here is an RFP, but we don't want to talk to you about this extractively. Can you just submit your proposal to us? Red flag. These are things that give us pause.
We want to work with people who recognize that they're willing to leverage, build and shift power, decision-making, and leadership to BIPOC communities. Your commitment is one thing, but are you ready to change how you fundamentally do things? Are you, secondly, willing to demonstrate desire and readiness to change? Your journey's already started. You've already started building capacity for processes around us. Your leadership is fully involved. Your board is at least ready to go there when called. Do you have senior staff champions? Do you have money and time? Do you have a project manager? Do you have a shepherd or a convener who will lead that process forward? And do you see racial equity and justice as fundamental to achieving your mission, strategy, and programs? Do you know this is going to be hard work? Do you know that you might be scared and sad sometimes? It might be brutal. It might be joyful. It might be legendary. Those are the kinds of things that we're looking for—people who want to be in a relationship and are willing to change and have a deep humility. Bottom line. Are you willing to shift power, including yours?"
WHAT WOULD YOU LIKE FUNDERS TO KNOW ABOUT THE FUTURE OF RACIAL EQUITY AND THE ROLE THEY CAN PLAY IN SUPPORTING IT?  
Watch: Kelly Bates of Interaction Institute for Social Change:
1. "We often talk about how to make rich organizations browner, well let's talk about how to make brown organizations richer. And how do we equitably redistribute power and authority and change inside institutions?"
2. "We need time as organizations and leaders to address trauma, burnout, harm, and conflict inside our organizations. Organizations need funding to not only do racial equity work but to do it in ways that foster well-being, and they're going to need to be resources for that. If we don't address the harm inside of organizations, good organizations will continue to fold."
3. "Design for the future instead of against the oppositional forces. Once the midterms happen, people will start to get in fear, and we're going to feel like we're in some urgency. But how do we design for laboratory spaces? How do we design for laboratory communities? How do we design for a racially just future? What is it that we want to build?"
The REACH Fund supports the work and vision of these committed practitioners. We invite you to learn more about how you, too, can sustain and propel the efforts of an interconnected national network of liberation practitioners by partnering with the REACH Fund. To learn more, contact Maya Berkowitz at mberkowitz@borealisphilanthropy.org.