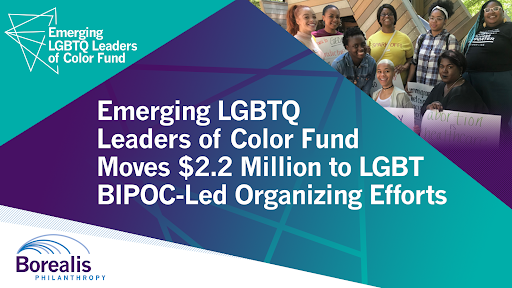 Established in 2015, Borealis Philanthropy's first-ever fund, the Emerging LGBTQ Leaders of Color (ELLC) Fund, proudly supports young queer and trans leaders of color who envision and implement organizing strategies at the intersection of movements, thus helping these spaces to become more connected, inclusive, and powerful. In Fall 2022, the ELLC Fund awarded $2.2 million in grants to 29 organizations, representing its largest annual grantmaking to date. 
The Fund's latest awards include its generating operating support grants to grassroots organizers and organizations whose work and goals range from ending the deportation of refugees with records of convictions to creating participatory budgets to invest in youth. This year, the Fund is excited to welcome five new grantee partners to its interconnected cohort of leaders. These new partners are combating housing insecurity and discrimination against trans people, developing restorative justice alternatives to youth detention, and more. In keeping with the ELLC Fund's commitment to supporting emergent movement leadership and organizing, four of these new grantee partners have annual budgets under $750,000.
The Fund's latest awards also feature its Young Trans Women of Color Leadership grants, which invest in trans leaders who are organizing across movements and issues. The Fund's Fall 2022 docket includes five renewal grants specifically for trans women of color leaders who are pursuing goals that range from ending the surveillance of migrants to creating community safety alternatives to policing.
In 2022, the ELLC Fund also launched a reproductive justice rapid response fund to help LGBTQ BIPOC organizers to adapt and respond to the impact of the repeal of Roe v. Wade on queer and trans communities, including and beyond abortion access. Thus far, this fund has raised $230,000 for this essential work, and moved $70,200 to 11 organizations that are building community alternatives to healthcare and abortion access, leading education and electoral work, and developing mutual aid networks. The rapid response fund will continue to distribute funds through June 2023, as the landscape of abortion and reproductive care access will continue to shift and evolve.
In this overwhelmingly queer- and trans-antagonistic moment, funders must listen to, trust, and invest in BIPOC LGBTQ leadership—and provide long-term, stable, and flexible funding to sustain and strengthen the work of our next generation's leaders. To learn more about partnering with Borealis Philanthropy's Emerging LGBTQ Leaders of Color Fund, please contact ELLC@borealisphilanthropy.org.
Interested in joining the ELLC team? The Fund is currently hiring a Program Associate to support programming, administration, grantmaking, and other operational activities. This role will be responsible for leading the administration of the fund, cultivating relationships, corresponding to and fielding inquiries, and conducting research on topics for proposals. Those passionate about supporting movement work behind the scenes are encouraged to apply. Learn more and apply here.