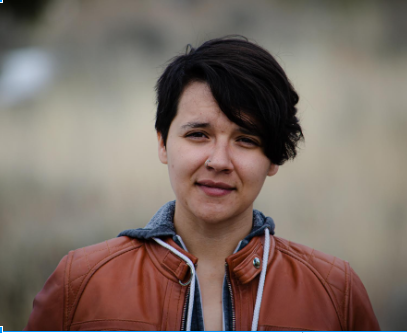 The Emerging LGBTQ Leaders of Color (ELLC) Fund is thrilled to welcome Steph Beeman (they/she) to our team as Program Associate! Their recent work includes a relaunch of experiential outdoor learning programs for teens in Montana—including the development of customized systems such as Salesforce, management of an annually changing cohort of volunteers and staff, and intentional cultivation of donor and funder relationships. This work inspired Steph to seek work further within the philanthropic complex.
In prior roles, Steph carved out a passion for business and program start-ups. At Montana State University, where they earned a B.S. in Business Management and Marketing, Steph launched a support and mentorship program for Horatio Alger Scholarship recipients, as well as a new scholarship and associated support program designated for students native to Montana who were otherwise unlikely to receive scholarships. In the private sector, Steph ran an internationally recognized motorcycle shop for several years—eventually taking it to South Dakota, where they played a part in the 75th Sturgis Motorcycle Rally and organized the Iron Horse Rodeo World Championship. Steph also spent a number of years at the helm of their own brand of confections, Bee Sweets, which they distributed throughout southwest Montana.
As the ELLC Fund's new Program Associate, Steph will be elevating and supporting the work of young trans and queer leaders and the organizations they lead to building inclusive and impactful social justice movements. We spent some time learning about what brought Steph to the ELLC Fund and the principles that guide their work. Learn more below!
Where do you come from? (place of origin or growth, racial and/or ethnic identification etc.)
I am a Native Montanan and proud Assiniboine living just south of my own ancestral lands in Whitehall, Montana.
Does your identity or background inform and influence your work? If so, please feel free to share how/why.
My identity and background absolutely shape my work as I strive to bring Indigenous (and, in general, 'other') ways of being to attention and to cultivate acceptance of those different ways of being.
What's your role at Borealis Philanthropy? What do you do?
I am the Program Associate for the Emerging LGBTQ Leaders of Color Fund. My role functions to facilitate the movement of resources and support to the grassroots organizers and leaders that we work with.
What brings you to Borealis Philanthropy?
I was drawn to Borealis by my own dissatisfaction with the nonprofit complex. Seeing Borealis' work in disrupting philanthropic traditions inspired me to engage with this effort towards more equitable and more meaningful philanthropy.
What excites you about being part of the ELLC team?
What doesn't excite me about this?! Coming from a predominantly white and male institution, I feel so seen already on this team. I am so eager to learn from Dani (while I can) and Nichelle as we walk through this first year together. I am also thrilled to be bringing a unique background to the team and see where I can enrich our fund's experience.
What do you like to do for fun?
I am a lover of so many activities and experiences. On most days you can find me adventuring (or snuggling) with my dog, cultivating my plants and garden, or hunkering down with a good book or movie. I love to build legos with my partner, and bake bread and sweets to share with my people.