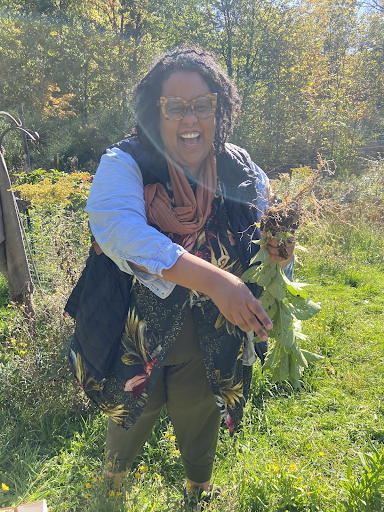 The Racial Equity to Accelerate Change Fund is thrilled to welcome Ribkah Naga as the new REACH Program Officer! Most recently, Ribkah served as the founder and senior consultant with Atete Consulting, working with clients to expand engagement and racial equity strategies on community development projects, impact investing, and leadership development programming.
Prior to her consulting work, Ribkah held the position of Associate Director of Organizing, Engagement, and Capacity Building at the Center for Science in the Public Interest. In this capacity, they established and directed a Powerbuilding Fund, which provided funding exclusively to grassroots BIPOC-led organizations. These
organizations aimed to address power structures that perpetuated racial inequities by leveraging cultural traditions and strategies, with a particular emphasis on narrative change and other power-building strategies. During their tenure, Ribkah also led a year-long effort to revamp the organization's grantmaking strategy and process to align with equity best practices.
Ribkah's professional background includes roles as a program manager at CommonHealth ACTION, program manager at Health Share of Oregon, policy analyst at the Oregon Health Authority's Office of Equity and Inclusion, and legislative analyst for Oregon State Representative Lew Frederick. They hold a Master of Arts (M.A.) and a Bachelor of Arts (B.A.) in Political Science from the University of Texas at Dallas.
Ribkah is deeply committed to moving investments to the South, uplifting the stories of black queer and trans ancestors, and practicing community herbalism. Learn more below!
Pronouns
they/them and she/her
Where do you come from? (place of origin or growth, racial and/or ethnic identification etc.)
I come from a maternal line of femmes & nonbinary folks that committed their lives to fighting oppression. Their actions include engaging in frontline resistance to Italian invasions, subverting gender roles, and leading Indigenous spiritual practices and Earth-based traditions.
My parents immigrated from Addis Abeba to Boston in the early 1970s to attend college. They later moved to Texas in the 1980s, where I was born and raised. I currently live in Savannah, Georgia.
Does your identity or background inform and influence your work? If so, please feel free to share how/why.
My identities – being Black, Ethiopian, and queer, absolutely inform how I spend my time and move in the world. I know what it means to be excluded from history, face discrimination, and be targeted for simply existing. I am also aware of how short life is, so I am extremely discerning about how I spend my time.
When it comes to my greatest influences, I am incredibly grateful for the long lineage of Black feminist scholars and writers that I continue to learn from – including bell hooks, Toni Morrison, Audre Lorde, Alexis Pauline Gumbs, and Zora Neale Hurston. They remind me of the strength of community, belonging, and support networks.
What's your role at Borealis Philanthropy? What do you do?
I am the new Program Officer for the Racial Equity to Achieve Change (REACH) Fund. We resource racial equity practitioners – facilitators, healers, and capacity builders, working with nonprofits to apply a racial equity lens towards dismantling institutional racism, building race-conscious organizations and leadership, and designing internal and external strategy, policy, and cultural change. In this role I hope to amplify the incredible work of the REACH partners grantees and strengthen the ecosystem of racial equity practitioners.
What brings you to Borealis Philanthropy?
A deep interest and commitment to resourcing racial equity practitioners has led me here. I've spent the last 12+ years working to advance racial equity & powerbuilding strategies within philanthropic intermediaries, leadership development programs, and government.
Often, I have been hired for an external facing role only to find myself unable to move any transformative work without spending concentrated time on improving internal organizational culture. I have seen this work be too heavy for a few committed folks to bring to fruition. Without broad organizational support, the efforts often lead to the biggest supporters suffering from burnout and unsustainable, short-term changes – often seeing a ping pong of three steps forward, four steps back. However, I know this work is succeeding all over the country, and I'm excited to support those leading those wins.
What excites you about being part of the Racial Equity to Accelerate Change (REACH) Fund team?
The work of REACH grantee partners is far beyond one framework, approach, or organization. Instead, REACH grantee partners are committed to deep systems change, working to expose and address how white supremacy culture is showing up in relationships, organizations, and movements. I am most excited to learn about the work of the REACH grantee partners to build new ways of working towards justice & liberation and deepen the Community of Practice.
What do you like to do for fun?
I enjoy cultivating my garden where I grow medicinal herbs, ancestral vegetables, and native flowers. Outside of that, you can find me hanging with my nibbling, seeking the stories of hidden black queer & trans ancestors, and cupcakin' with my partner.