We are excited to share that two of our fabulous team members, Ana Conner and Kiyomi Fujikawa, have transitioned out of their roles at Borealis to become the new Co-Directors at the Third Wave Fund! The Third Wave Fund is an activist fund led by and for women of color, intersex, queer, and trans young people supporting important youth-led gender justice organizing.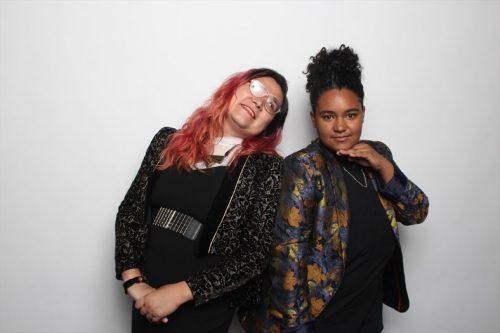 We are incredibly proud of Ana and Kiyomi, and we will miss them and the powerful work that they led at Borealis. In Ana's role as the Senior Program Associate for the Transforming Movements Fund and the Black-Led Movement Fund and Kiyomi's as the Senior Program Associate for the Fund for Trans Generations, they both exhibited thoughtful leadership and were committed to moving resources to under-resourced leaders, communities, and movements.
Read our interview with Ana and Kiyomi as they share what they feel proudest of during their time at Borealis, what they look forward to at the Third Wave Fund, and the collaborations they are excited about:
When you look back on your time at Borealis, what do you feel proudest of?
Kiyomi Fujikawa (Kiyomi): When I started at the Fund for Trans Generations, there was a dearth of philanthropic support for trans communities. Ryan Li Dahlstrom [Program Officer for the Fund for Trans Generations] and I jumped in to turn dollars around as quickly as possible. We made the decision with our advisory committee to fund as many groups as we could rather than focusing on a few institutions. I feel really proud of how quickly we were able to dive in and proud to see the powerful work folks were able to do when they were supported. It's been really powerful to see how organizations and grantee partners are growing, learning, evolving, and being able to learn from all of them.
Ana Conner (Ana): When I think about my proudest moment, I think about pulling together the Centering Black Lives in LGBTQ Grantmaking session at Funding Forward 2018. Many of the funds at Borealis really strive to make sure that our grantmaking is intersectional, that multiple people are at the table. And we also recognize that doesn't happen across the board in philanthropy. I saw an opportunity to build across Borealis and talk about the importance of centering Black lives in grantmaking, particularly in LGBTQ grantmaking. Bringing folks together at Funding Forward was such a success. Working across funds can be hard at institutions when you're just focused on your own work, but I found that Borealis is a community where folks want to engage with each other, and ultimately see the importance of fostering collaborations and de-siloed grantmaking.
What learnings from your work at Borealis will you bring with you to your new roles at Third Wave?
Ana: One thing that I've learned is the importance of de-siloed approaches to grantmaking. Through the Transforming Movements Fund I learned how important it is to support organizations across different movements with general operating support and with specific support for leadership and organizational development, which is often ignored by philanthropy but is most needed. Part of that is having the emphasis on sustainability and not necessarily on impact. I've learned that the most important thing is the relationship building. It's about philanthropy connecting with organizers on the ground to really understand what is needed. That's something that I really love about Borealis, that we follow the leadership of frontline communities and try to implement those learnings in how we continue to support the movement. I have so much gratitude for Ale Martinez [Program Officer for the Transforming Movements Fund] and Julia Beatty [Program Officer for the Black-led Movement Fund and Communities Transforming Policing Fund] for showing me how it's done and committing to this work.
Kiyomi: I actually think back to my first interaction with Borealis as a grantee of the Transforming Movements Fund. The general operating support, the leadership development dollars attached, it felt amazing. I had never really considered working in philanthropy because I didn't see myself there until there was the opportunity to be part of the Fund for Trans Generations team. I learned that grantmaking could be really different than what I was used to. I learned to not be scared of funders. My default before was the song and dance that you perform for funders. I know that grantees still have to do that work, but now I understand what it means to see funders as your cheerleaders and advocates. There were other places I had seen that, but at Borealis I got to live that experience and that was really powerful. Working with my team, Ryan Li Dahlstrom and Aldo Gallardo at the Fund for Trans Generations, has been so fabulous; I've seen what working with queer fam can be like. The level of connection we've had has been super powerful and reflects what it means to bring our whole selves to the work.
What will be your role at Third Wave? What are you most excited to work on at Third Wave?
Kiyomi: We're going to be Co-co's: Co-directors. Ana, guide me on the lineage of that?
Ana: It comes from the Co-co's at FIERCE back when I was a member. FIERCE is an organization based in the Bronx that builds the leadership and power of lesbian, gay, bisexual, transgender, and queer (LGBTQ) youth of color in New York City.  Co-co's means co-director and co-director – Krystal and Dulani were the co-directors at FIERCE and that's what they called themselves. I want to lift up their legacy, and the impact they had on my leadership development. In terms of roles, at Third Wave, Kiyomi will be holding more institutional and programmatic work and I'll be holding the individual grassroots fundraising and communications work. In our model, it's going to be about collaboration. We recognize that at Third Wave the staff, the board, the resource mobilizers, the donors, and everyone in that network is so full of leadership—and we want to make the work happen together.
Kiyomi: It's always funny to talk about our vision because we don't think that the solutions for our movement, for philanthropy, or for our world should come from just one or two people. Bringing more voices to the table is core to our thinking. We want to practice and live the values that we're supposed to be funding and supporting. There are so many contradictions in philanthropy, and there is so much strength when you lean into those contradictions. We don't want to be about choosing between living your values or getting the money.
Ana: Third Wave has an amazing legacy already – we hope to build off that legacy of supporting grassroots organizing, supporting youth-led work, and sex worker led-work. Philanthropy can be something that is for us, by us. Philanthropy doesn't have to be this scary thing that only rich, white donors or big philanthropic institutions own, it can be a way to community build and share what you've got to support movements. Kiyomi and I hope to continue the work of making philanthropy more accessible to those that it is in service to.
Borealis and Third Wave have worked together as partners in the past – what types of collaborations do you look forward to working on?
Kiyomi: Y'all can't get rid of us, we're gonna come around knocking! Working with Third Wave at Borealis has been great, we've overlapped with rapid response funding, and sharing proposals and reports and streamlining grantmaking processes so grantees don't have to apply to multiple funds. We've talked about how activist funds and public foundations need to work together in this time—the more collaboration, the stronger we can be. I'm really excited to be part of this interconnected web of progressive funders.
Ana: I want to stay in community and build together across Borealis and Third Wave. In this moment we feel that building across intermediary and community foundations is really important, necessary, and ultimately will support grantees and movements more holistically.
Kiyomi: If you're a grantee or a prospective grantee, or just a fan who is part of the movement of Borealis and Third Wave, we would love to hear from you and would welcome your ideas too – we can think of a lot of ways to strategize together, and the way we get there is with as many folks as possible.