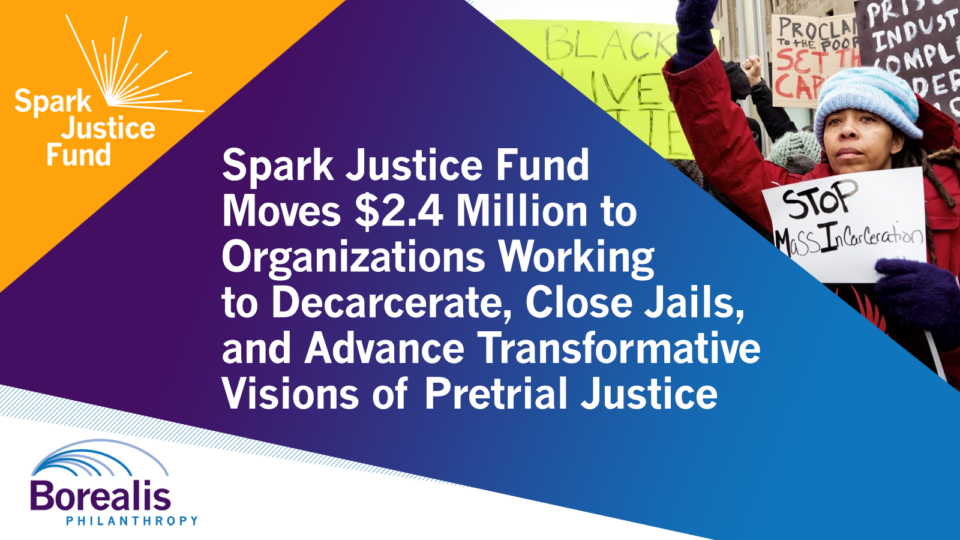 Established in 2019, Borealis Philanthropy's Spark Justice Fund (SJF) proudly resources grassroots groups working to decarcerate, redirect resources for jails to community, and transform our collective vision of community-led safety. This month, the SJF awarded $2.4 million in flexible general support and organizational development grants to 13 grassroots organizations leading powerful and transformative work in these areas. 
Last year, the SJF refined its focus to better meet the needs and momentum of the movement to end mass incarceration. Its original mission centered around ending cash bail and unjust pretrial detention policies—but the Fund quickly realized that liberation is possible only through simultaneous fights to deconstruct the many systems that inflict violence on Black, Indigenous, and People of Color communities, and redirect resources into life-saving and community-centric visions of safety.
As a result, the SJF expanded its priorities to also include the areas of policy reform and budget advocacy; jail campaigns; community-led alternatives to incarceration; mutual aid efforts; and leadership development of directly impacted individuals. This year's grantee cohort reflects the incredible wisdom and ingenuity of grassroots leaders who are employing diverse and complementary strategies across these areas to win long-term, holistic reforms.
The SJF's grantee partners are organizing locally, statewide, and regionally to address the unique issues facing their communities. Their work spans the United States, with organizations in 14 states, including Arizona, Ohio, Florida, Tennessee, Missouri, Texas, Pennsylvania, Massachusetts, Georgia, Louisiana, California, Texas, Illinois, North Carolina, New York, and Maryland. While the SJF supports both emerging and growing groups alike, it continues to prioritize resourcing nascent groups that have had limited access to national funding streams, with 35% of grantee partners having budgets under $350,000.
As an intermediary funder, the SJF strives to take its guidance, always, from movement. "What sets Borealis apart from many other funders is that they are really listening, fully understanding the experience of the black-led and formerly incarcerated-led experience as well as the cultural barriers that often are not present for our white counterparts," says Out For Justice Executive Director Nicole Hansen-Mundell. "They really trust us and recognize us for our experience and expertise as leaders in this work, as such they invest and fund us appropriately."
Criminalization and incarceration are wide-reaching issues that intersect with almost every facet of our lives. As we work towards our collective liberation, funders must listen to, trust, and invest in the leadership of those most impacted—and provide long-term, stable, and flexible funding to sustain and strengthen the work of their organizations. To learn more about partnering with Borealis Philanthropy's Spark Justice Fund, please contact SJF@borealisphilanthropy.org.