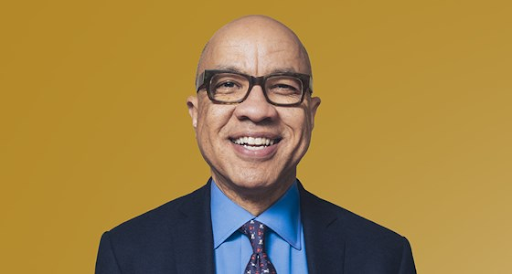 This month, DIF checked in with Darren Walker, President of the Ford Foundation and Co-Chair of the Presidents' Council on Disability Inclusion in Philanthropy, to hear more about how Ford is approaching this work and what philanthropy might accomplish together. 
1. What brings you to this work? What does participation on this table mean to you?
Our mission is to fight poverty and inequality in all its forms, which cannot be done without including disability, as poverty and disability are causes and consequences of each other. Disability rights are deeply intertwined with many of the movements philanthropy has long supported. There is no justice without the inclusion of people with disabilities.
That's why we incorporate a disability lens across all our grant making, as well as supporting organizations that are specifically focused on disability issues. We also launched the Ford Foundation's first-ever Disability Rights Program, which focuses on advancing economic justice; strengthening disability organizations; building a pipeline of diverse disability leadership; and countering disability stigma.
2. Share 1-3 key lessons learned related to disability and justice. How have you applied these lessons at the Ford Foundation?
The Ford Foundation is one of the largest donors of disability rights, and we strive to be a philanthropic leader in our ongoing work to build a culture of inclusion across our organization and in the world. And it's precisely because of this commitment that we need to continue to hold ourselves accountable and rigorously assess our progress, so that we can learn what's working, what's not and why. Throughout our journey, we have observed a few key ways that people and organizations both within the philanthropic community and beyond can advance disability justice:
Commit to accessibility in every way possible: Inclusivity goes beyond where we invest our resources, it must be ingrained in the way we operate, how we communicate, and how we approach our work. Making conscious efforts to eradicate ableist practices and languages across the board is an important first step toward supporting disability rights in everyday practice.
Educate ourselves continuously: Undoing and unlearning ableism in our organizations, in the social justice space, and in the nonprofit and philanthropy sectors takes real commitment, time, curiosity, and hard work. Becoming a truly accessible organization is ongoing, relational, and requires universal engagement.
Center inclusivity and collaboration across all of our areas of work: We are stronger together, especially when seeking to spur systemic change. And it's imperative that we empower the people working on the ground who are closest to these issues when working to forge a path forward toward a better, more equitable future. It's only by joining forces with the disability community, and also supporting disabled people in our organizations and causes, that we can build a stronger, more united front and increase attention for disability rights organizations seeking greater visibility and support from the funding community.
3. What are you looking forward to philanthropy accomplishing together?
Philanthropy needs to fully commit to people with disabilities, not only in its grantmaking, but in every aspect of its work and its culture. We need a fundamental and shared understanding that when we embrace disability justice, we embrace justice for all.