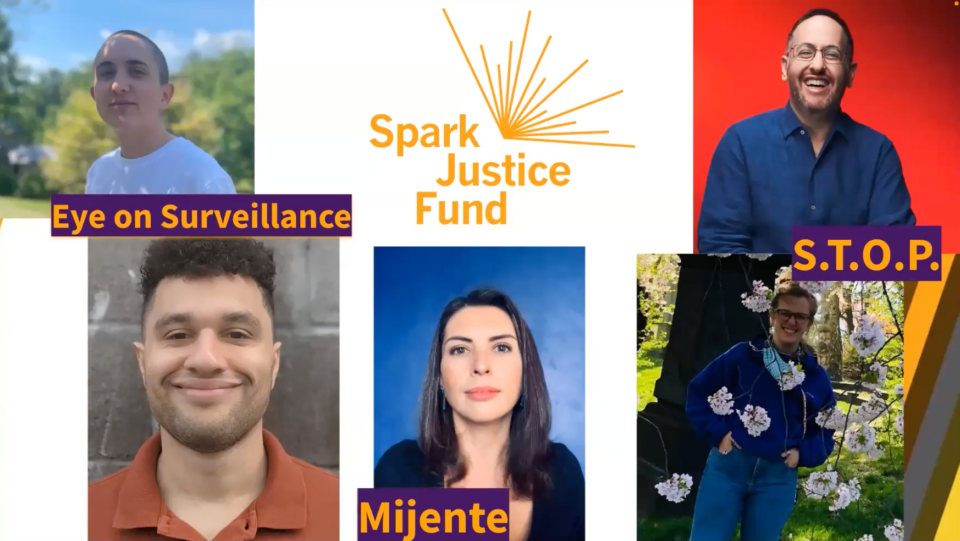 On November 30, 2022, Borealis Philanthropy's Spark Justice Fund (SJF) hosted a donor learning session, The Fight Against Surveillance: Our Neighbors, Our Safety, to explore the impact of mass surveillance on marginalized communities, organizing efforts to tackle this rising threat against our neighbors, and how funders can support the frontline fight against mass incarceration.
We heard directly from activists leading anti-surveillance and decarceration fights on the ground, connected with value-aligned funders to explore the intersection of surveillance, and deepened our understanding of prioritizing funding for strategies to ensure community safety.
Our SJF grantee speakers included Sam Van Doran and Albert Fox Cahn of S.T.O.P., Lucy Blumberg and Marvin Arnold of Eye on Surveillance, and Jacinta González of Mijente.
Below, you'll find clips of their insights.
WE KNOW THAT CRIME STATS ARE A MEASURE OF CRIMINALITY, NOT OF HARM. HOW HAS YOUR WORK BEEN IMPACTED DUE TO MEDIA BAITING AND THE "CRIME ON THE RISE" NARRATIVE?
Watch: Albert Fox Cahn of S.T.O.P.: "…the crime stats that fuel this narrative often are created and controlled by police departments. And there are times when crime is rising, and there are times when crime is falling, but it's not always clear to us as members of the public what the reality of it is versus just the PR. But beyond that, in moments when there is a perception of people not being safe, regardless of the reality, we see politicians quick to turn to these surveillance solution campaigns….we have to work day in and day out to hold elected officials accountable when it comes to these surveillance technologies because, in times of perceived safety, they recognize these as the scams and the boondoggles and the violations of civil rights that they are. But in the moments when perceived crime rises, those are the times when we see a lot of people who would otherwise support us, you know, eager to buy into the surveillance bottom line."
WHAT IS THE LONG-TERM VISION FOR THIS WORK, PARTICULARLY AROUND ALTERNATIVES TO THE CURRENT SYSTEM? HOW DO YOU ENGAGE MEMBERS IN HELPING TO DEFINE THAT VISION?
Watch: Lucy Blumberg of Eye on Surveillance: "Eye on Surveillance is a really broad coalition, so many folks are working on alternatives to safety—that means true safety for everybody, and that doesn't rely on surveillance and policing. So our members are working on things like advocating for better schools, affordable housing, stronger labor protections, and the Universal Basic Income program in New Orleans. More assistance for people who use drugs and all these things that are evidence-based and proven to keep people safe in a way that leads to safety for everybody and not just a veneer of safety for a few."
MIJENTE IS LEADING THE #NOTECHFORICE CAMPAIGN. WHAT DOES IT TAKE TO DO THIS WORK WELL? WHY IS THIS SO IMPORTANT TO YOUR ORGANIZATION?
Watch: Jacinta González of Mijente: "We didn't come to this because we were surveillance experts. We came to this because we were talking to communities impacted by this, and we were seeing how ICE was shifting into our communities. We started to see that after we fought against the sheriff, the sheriff was no longer collaborating with ICE. ICE was going into the neighborhoods directly. And so people were asking us, "How did they get my address? How did they know what car I drove? How do they know who my cousin was?" That's what led us to uncover that tech and data companies were collaborating with ICE and building up this deportation machinery. And that's what led to the organizing. So when you ask me, what do we need to do this work? Well, I would say one is the connection to the community. There are so many rabbit holes. We could be researching companies and technologies and surveillance for years and years and years, but having connections to communities that are facing surveillance and fighting back against those policing systems makes sure that the work that we're researching—-what we're trying to come up with—is relevant to how people are feeling."
Without swift intervention from philanthropy, we can only expect more invasive surveillance in our lifetimes—and with it, the criminalization of a spectrum of communities, particularly Black, Indigenous, and People of Color; queer and trans folks; and migrants, and the exacerbation of our country's incarceration epidemic.
Spark Justice Fund is proud and humbled to bolster anti-surveillance organizing in our role as a philanthropic intermediary dedicated to ending mass incarceration and developing alternatives to jail while promoting true community safety—and we invite you to partner with us to sustain and propel the efforts of these activists, agitators, and builders. To learn more, email contact Maya Berkowitz, at mberkowitz@borealisphilanthropy.org and Sade Dumas, at sdumas@borealisphilanthropy.org.