"We struggle with each other to build unity so we can struggle against the real enemy: genocide, white supremacy, and oppression."

Alberto Retana, Community Coalition, CHANGE Philanthropy Unity Summit, Oct 2023
Borealis Philanthropy joins hundreds of foundations and peers in philanthropy who have signed onto the Philanthropy Open Letter for Humanity and Justice in Palestine and Israel demanding an immediate ceasefire.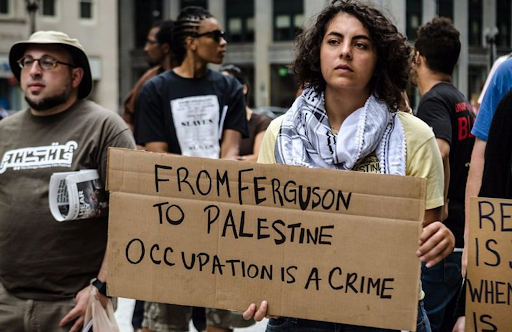 Image by Sarah-Ji/Flickr.
While many news outlets weaponize state-issued propaganda amidst our information overwhelm, we must not be confused. We know that systemic oppression is the real enemy. We are able to work across our differences and intersections.
We must understand that the imperialism that supports genocide and genocidal attempts is the same imperialism that undergirds war in Sudan and the dishonoring of treaties and land grabs across tribal nations woven through the United States. It allows state support of anti-LGBTQ and anti-abortion extremists; It perpetuates the harassment and murder of Black trans women; It wields inexplicable attack against fat and disabled bodies, as well as a neverending surge of ableist anti-LGBTQ legislation, and unwarranted RICO indictments for any kind of activist opposition. And it is the same culture that allows for disproportionate investment in harmful disinformation platforms while divesting from the innovative, necessary BIPOC-led and serving journalism that tells our communities' truths.
Today, it is easy to feel alone and overrun by the force of the systems we are up against. It is easy to feel overwhelmed in our daily roles, and removed from struggles that seem foreign to our own or too far away for us to have an impact. But, we must move forward together.
Across the board, social justice movements are up against years of research, messaging, and policies coordinated specifically to subjugate, criminalize, and disempower marginalized communities. But if we have learned anything from our work with our grantee partners and allies, it is that when our attempts feel futile – as Angela Davis notes – we must know that it is "in collectivities that we find reservoirs of hope and optimism."
Across the sector, we see individuals – in their downtime, on their breaks, balancing the load of life and day jobs – also taking up the heavy lift of educating and organizing for our mass freedoms.
Philanthropic institutions – funders across all sectors – must commit to a sustained collective effort bolstering connected movement strategies. When we look at what is occurring right now from Atlanta to Palestine, unfortunately, we are seeing patterns. And the patterns show us that now is the time to use all of our varied efforts to strengthen collective power.
As Borealis Philanthropy fights for liberation and self-determination – especially for Black, Indigenous, trans, femme, fat, and disabled people – we know liberation is upon us; we align in solidarity with Palestinian people and all oppressed people.
Against all odds we commit bravely to creating change. And, we know our success is dependent upon finding the piece of the future we know is possible and bringing that into being now.
Our radical imagination can conjure a world beyond violence that our children's children may live to know… For the children of Gaza, and children around the world surviving violence, imagination may be the only safety they can access. For all of us, imagination is also the bridge from this moment to the future we're calling forth. And it is already beginning.

Resonance Network
We have skills and tools to build the future of our dreams.
Most importantly, we have the people.
We encourage you to:
Join us here to receive educational tools around what's happening in Gaza or find other ways to creatively resource collective liberation.