Sandy Ho — Program Director of the Disability Inclusion Fund
July is Disability Pride Month. This is also the month many in our disability communities mark the passage of the 1990 Americans with Disabilities Act, a cornerstone of our country's civil rights that still, more than three decades later, experiences threats.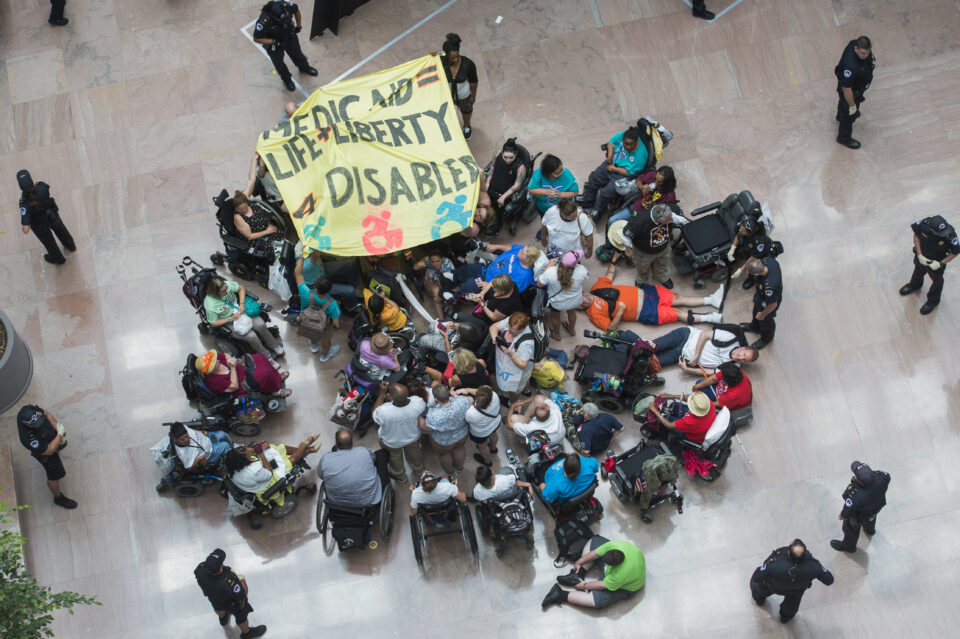 UNITED STATES – JULY 25: Demonstrators gather in the atrium of Hart Building to protest the Senate's health care bill on July 25, 2017. (Photo By Tom Williams/CQ Roll Call) Creator: Tom Williams | Credit: CQ-Roll Call, Inc.; Copyright: 2017 CQ-Roll Call, Inc.
On the heels of last month's Supreme Court rulings on affirmative action, student loans, and LGBTQ+ rights, I began this month unclear of what disability pride means at this moment in our communities and movements. And I wondered about a future reality where pride isn't felt, seen, or experienced as some kind of bartering chip for our disabled communities' righteous and just aspirations.
The Disability Inclusion Fund values include intersectionality, leadership of those most impacted, and radical inclusion. Our participatory practices move general operations funding to U.S.-based disabled-led organizations working hard to arrive at collective liberation from ableism. More than an occasion for celebration and revelry, disability pride is a reminder that no one gets to claim pride on their own. Our collective disabled freedom is intertwined with Black and Brown trans liberation, and made possible by LGBTQ+ activists who first organized on the frontlines.
In a recent survey with 53% of DIF's grantees responding, our partners identified priorities across five areas of work such as digital organizing and social media; funder research; board development; strategic planning; and disability justice political education.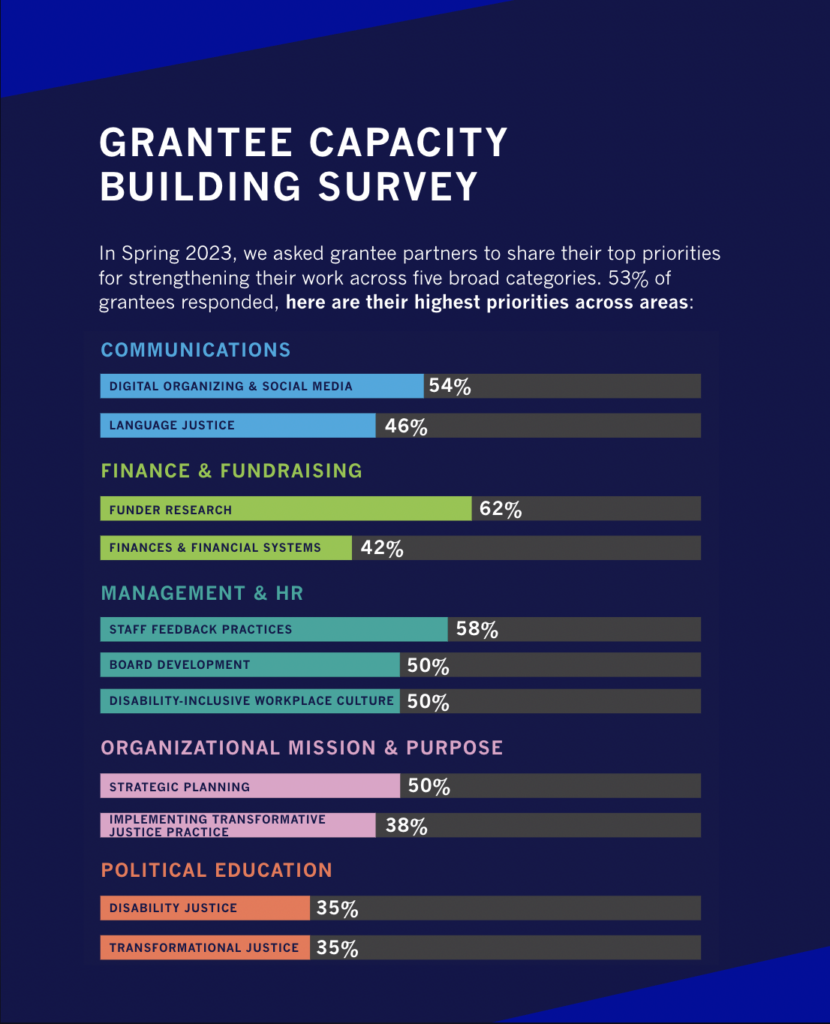 From that same survey, our team learned that this year's DIF grantee cohort is mobilizing across movements and sectors including affordable housing, voting rights, equitable access to assistive technologies, supporting formerly incarcerated Deaf and/or disabled people, the education and safety of disabled Native American children, access to healthcare for autistic BIPOC trans people, advocating for Medicaid expansion, and alternatives to guardianship, just to name a few. Disability pride was not named one of the top five issue areas for DIF grantee organizations this year. Why? Because our communities that are led by Black and Brown, Indigenous, poor, unhoused, trans, queer, incarcerated, immigrants, and historically marginalized disabled folks know that disability pride isn't the destination, but rather part of our process.
Disability pride can be found when our narratives are told with authenticity by us, for us, and with a disabled lens at every stage of production. It can be learned and passed on when our lived experiences are incorporated into decision-making at all levels of research and policy-making. Even on the days when it is hard to find any semblance of pride at all, as it was at the end of June, our movement's fierce sense of collective solidarity, and a disability justice commitment that "no body gets left behind" keeps my own disability pride kindled.
I began July unclear about the role of disability pride in the work of freedom, but here's what our movement leaders have demonstrated time and again: this is a moment to respond with greater boldness and clarity about our disabled truths: that collective access, sustainability, cross-movement solidarity, and other disability justice principles will continue to guide all of us towards liberation.
To peer funders in this sector who are already investing in the incredible breadth and depth of disability movement work happening—or those just beginning your journey of disability justice, rights, and inclusion, how does pride manifest for you? As you consider the importance of Disability Pride to the movement's goals, here is my guidance for how philanthropy can share power with disabled folks, contribute to deepened visibility of disabled communities, and act as a co-conspirator in dismantling ableism:
Fund in cross-movement ways—and, in doing so, dismantle your own institutional silos. We must get out of the mindset that cross-funding is too messy, impossible, unmeasurable, and the false notion that "only disability funders can do disability work." Until our philanthropic sector more closely resembles our communities, movements, and those on the frontlines—in both representation and values–our roles in support of social justice will remain unfulfilled.
Consider accessibility not as a check-box destination, but a constant practice and regimen that can unlock resources for liberation. Our communities need resources to create, implement, and lead on the solutions against some of the most entrenched problems in our society. All of us, no matter where we are in our disability inclusion and accessibility journeys, can do more to improve our own practices. For example, by developing a more accessible application process, offering multiple formats, having plain language versions, including an ASL call for proposals application, and welcoming applicants to submit their materials in a more accessible way for them to ease their burden.
Fund with general operating dollars and in ways that are committed to organizational growth and advancement, especially among emergent BIPOC and disabled-led organizations. We know that the brilliance of disabled movement leadership will ensure that all of our social justice movements are more accessible, equitable, and accountable to disabled communities. Resourcing with general operating funds means supporting a long-term disability justice generational strategy. Organizations that are nascent and have a limited capacity to scale-up in ways that support their mission-driven solutions do not have the time, staff, or resources to complete tedious and lengthy funding applications. How can funders reimagine and expand our own expectations to act as true partners in movement?
Fund joy. Fund rest. When the DIF team explores disabled-led joy and thriving disability futures, the conversations always turn towards community bonding, taking rest and time for reflection, and ensuring that everyone in an organization–no matter their role–has access to self-determined joy. Learn more about what funding joy can look like and the impact that it can have here.