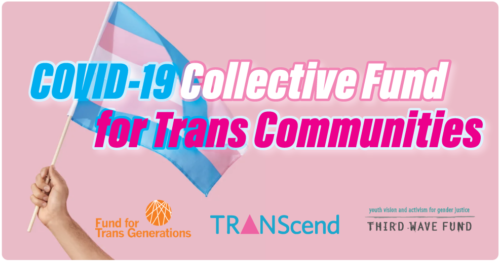 Borealis Philanthropy's Fund for Trans Generations, Destination Tomorrow's TRANScend Community Impact Fund, and Third Wave Fund are announcing the launch of the COVID-19 Collective Fund for Trans Communities to get financial resources to trans-led organizations and transgender, gender nonconforming, and non-binary communities who are organizing in response to the COVID-19 crisis.
These three funders are collaborating in order to ease burdens for trans-led organizations applying for grants amidst the COVID-19 crisis. The collective has created a common application for potential grantees so that they can submit one application to one place for review. Funders will review applications and collectively decide how to resource prospective grantees. If you have already applied to FTG's Rapid Response Fund, Third Wave Fund's Mobilize Power Fund, or Destination Tomorrow's TRANScend Community Impact Fund, your application will be shared across these funding partners.
"We have created this unified application process in response to the need identified by organizations in the field for less burdensome applications," said Ryan Li Dahlstrom, Program Officer for the Fund for Trans Generations at Borealis Philanthropy. "Organizers and leaders have long asked for funders to collaborate and streamline processes on the back end, so that they can spend less time writing proposals and more time focusing on their vital work on the ground. We hope this collective is a step in the right direction and that more funders will join us."
The total amount of money we have available for grantmaking by this collective of funders is over $1 million, and growing. 
The Fund for Trans Generations, TRANScend Community Impact Fund, and Third Wave Fund bring long-term, trusted relationships and connections with trans and queer communities and movements, valuing and centering the leadership of trans communities and leaders in our grantmaking. 
This collective of funds will prioritize trans-led organizations across the U.S. with a strong racial justice focus and youth/intergenerational leadership, with particular consideration for those who lack access to national and/or local funding streams. 
"As this global health crisis evolves every day, we see how COVID-19 is disproportionately impacting trans and gender non-conforming communities, in particular Black and brown people," said Alex Lee, Program Director for Grantmakers United for Trans Communities (GUTC) at Funders for LGBTQ Issues. "Our communities are already made vulnerable because of disinvestment from society and government. This is a moment for funders to increase investment in the kind of intersectional, power-building, and innovative trans-led organizing that will win liberation for all of us."
Some examples of activities that may be supported by this collective's grantmaking include, but are not limited to:
Mutual aid and care support networks

Healing and virtual wellness spaces

Online/virtual programming needs 

Living stipends for members and/or staff

Survival needs i.e. food, rent support, shelter, utilities

Organizing and advocacy
Grant sizes will range based on requests for funding, and there is no budget cap for applicants. 
If you are a donor interested in contributing to this collective, please contact ftg@borealisphilanthropy.org. 
How to Apply:
Click here to access the common application.
Applicants can begin applying for funding via the common application on Thursday, April 30. The application will be open as long as funds are available. 
Applicants will receive responses to funding inquiries within two to four weeks. 
Grant range: up to $10,000; larger grants can be made on a case by case basis. For example, partnerships or coalitions can request up to $20,000. 
For more information, visit our webpage for the COVID-19 Collective Fund for Trans Communities.